SEO for beginners – Phase one
Keep a blog update with relevant content about your business is, like we previously explain in here, an excellent marketing and disclosure strategy.
A blog with original and relevant content, like Google itself says, is your best chance to conquer distinction among so many others and get audience.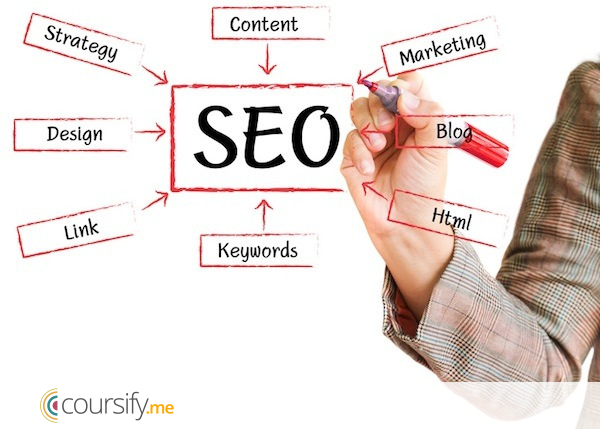 How to improve your blog position in search results of search engines
Google and others search engines are an important source of visitors for websites and blogs. When searching for a subject the user generally access the first options that appear like results, giving preference to the organic results and not to the paid ones.
SEO (Search Engine Optimization) is a set of actions disclosed by Google about how to improve a website position on search engines results. Despite the term have already become known, how to apply SEO techniques is a doubt that hits a lot of beginners bloggers.
To help, we list some techniques taught by Google that can make all the difference in the number of visits that your blog will receive. Read with attention.
Get your own domain 
Configure your blog own domain is a good way to transmit more professionalism and authority about your space. Having a domain is cheap and it means that your blog address will no longer have the .blogspot.com or wordpress.com in the name, it will really look like a website.
Redirect your address with WWW and without WWW 
By configuring a domain to your blog you can choose to use WWW or not. Even that it doesn't make any difference to Google, both ways should redirect to your blog. That is important so that the index properties of both address be consider to your blog. That way, if someone creates a link to an address with the same name of yours, but without the WWW for example, you are the one who receives the SEO benefits.
Sign up in tools of Google Webmasters 
One thing is for sure, Google try to help. To help blog and website webmasters, Google make available several free tools that offer features to configure information on your blog and even let you know when something is wrong. All you have to do is access https://www.google.com/webmasters and register your blog. A tip that we consider very useful is to select the "message forwarding" option that sends to your email warning messages.
Be careful when choosing your domain 
The domain that you choose may already be use before and in case of have been badly used (to send spams for example) it may have been punished by Google, which will definitely disturb the index process. To avoid that to happens, search for the domain name on Google and in case the first result is not the domain main page it probably means that it has been punished by Google.
Insert a Google Analytics code 
Important tip! Add a code of an analysis tool on your blog, like Google Analytics. Analyze traffic data, number of visits, average time spent on the site, the posts that were more accessed and other information's is very important to help you to improve each time more to make your blog a reference source. To make you a reference professional.
These are some first tips to who is developing a blog and want to begin with the right foot. Like this is a vast subject we will talk about it on a sequence of posts about SEO techniques. Keep up with our updating's to know more about how to improve your experience like a blogger and put your blog between the first options on the search engines.
Coursify concerns with your results. To know how to put your course online keeping your identity so that it can be easily found, get in touch with us though the email hello@coursify.me, we will do our best to help you.