Black Friday Coursify.me – Big discounts to create online courses
The Black Friday is coming and if we're talking about lower prices, let's lower prices for real!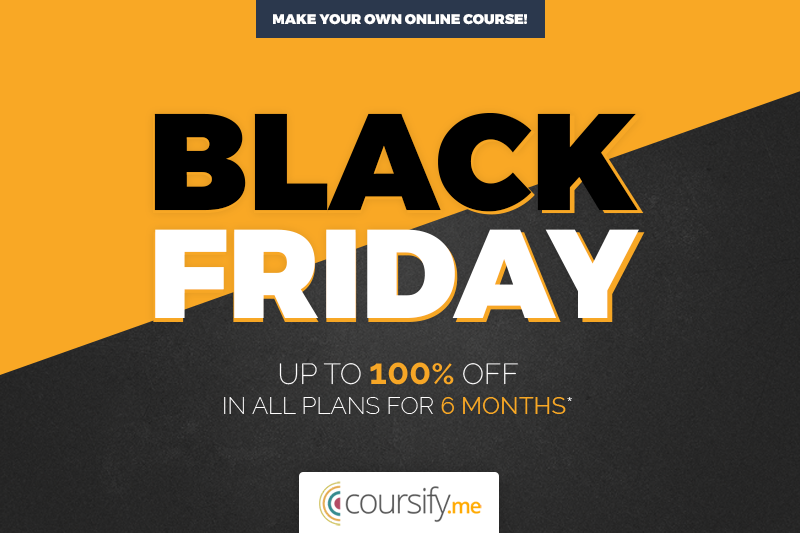 Black Friday Coursify.me is your chance to have your own business
The Black Friday Coursify.me is your chance to profit without investing anything.
From Thursday to Sunday (11/26), new customers will win a super discount on tuition fee at the signing of the Pro and Business plans.
Pro or Business monthly plan: 6 months free monthly fee
Pro or Business annual plan: 70% discount on monthly fee
By signing these plans you have access to all standard Coursify.me features and some exclusive ones, such as custom domain in the Business plan.
This is a unique opportunity to create and sell your online course into a complete online learning platform.
To know all the resources to which you will have access, visit our website:
If you are looking for an extra income, or even start your own business, this is the time to create your online course and invest in your future.
Business owners can also take advantage of this unique opportunity and start training their employees in a practical and economical way. Without spending with displacement, overtime and classes material.
Anticipate your new year projects and enter 2018 with more money on your pocket, and the best, doing what you love.
The offer begins today (11/23) and runs till 23:59 pm on Sunday (11/26), enjoy!
In case of doubts consult our regulation or contact us, our team is at your disposal.
We look forward to have you with us.
Regulation:
1 – Black Friday Offer valid from 23 to 26 November 2017.
2 – Discounts do not apply to 4% charge (Pro Plan) and 2% charge (Business Plan) of the total value of sales.
3 – Offer valid for new subscribers or to an upgrade on the current plan.