Learn what equipment to use to produce videos for your online course
Video content popularity increases every day and for Distance Learning professionals, producing videos for online courses is the best way to create a material more attractive to students.
Although the intention is good, there is still a lot of doubt about what equipment to use and how to produce videos of good quality, without it being necessary to hire help.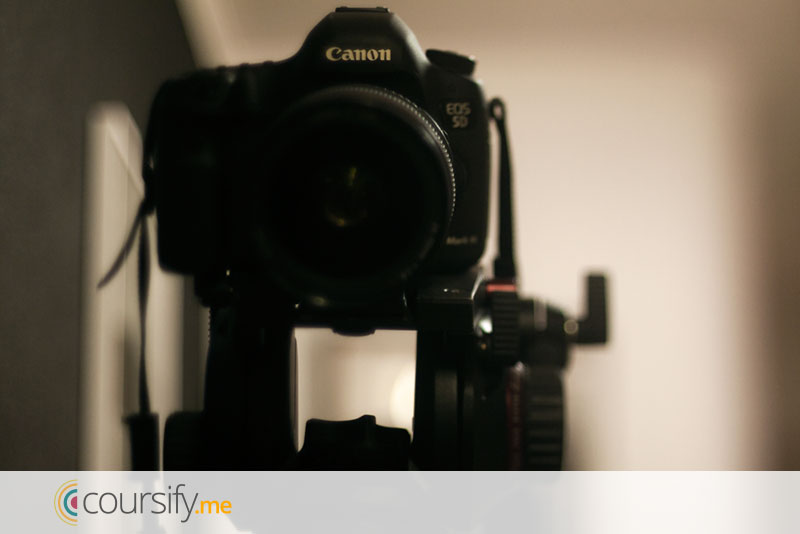 Equipment to produce videos – Interview with Nizar Escandar
To talk a little bit about what are the best equipments to produce videos, we invited Nizar Escandar, owner of eMania, online store specializing in cameras and equipment for photo, video and movie. 
With extensive knowledge on the subject and years of experience in this market, Nizar answers the most frequent questions regarding equipment for video recording and gives good tips for those who are new or amateur in the subject and wants to know how to produce a good material. Check out:
Which cameras you recommend for who wants to start to produce videos at home and have little or no experience? And microphones?
The camera more recommended to produce videos is the Canon T5i. There are already more advanced models like the T6i, which adopted a body more robust and professional, however, controls can be complicated for those who do not have experience with DSLR cameras (cameras with professional quality).
The Canon EOS Rebel T5i has entrance to microphones so there is no need, for example, for audio recordings with external recorders and post-editing. In addition, it has silent and automatic focus system, which lets you focus on objects and people without the need of others. The retractable LCD also facilitates the monitoring of the recording by the cameraman.
There are compact models or versions prior to this, or even DSLR cameras from other brands as Nikon D3200, which also provide professional results, but Canon has assistance in national territory, greater ease of finding compatible accessories, in addition to have the best prices.
When it comes to the capture of images, which are the best cameras on the market? In your opinion, what would be the best of more affordable price?
To capture a good image with DSLR cameras it takes more than having a good camera. For this reason, it is not possible to indicate a list of cameras that are better or worse, because when it comes to capture image with quality, the important is the lens that is being used along with your DSLR camera.
To capture quality images the photographer must have an idea of composition, it is crucial that he knows what he want to capture and seek appropriate lenses for this, in addition to having a basic understanding of ISO, aperture and focus – the basics.
The cameras most recommended for amateurs to develop this idea are the cameras semiprofessionals of line rebel from Canon, as the Canon EOS T5, which is geared for beginners and allows exchanging lenses, or the Camera Nikon D5500, Sony Alpha SLT-A77 or the line Sony Nex. With time and experience, the photographer can opt for professional models with more tools and facilities.
What are the main equipment needed to produce videos with quality?
To produce videos with quality it is essential, in addition to the camera, that the cameraman has control over the lighting of the environment, being of the utmost importance a good source of light. Windows and light bulbs are not enough.
The Softbox is a box of tissue that stores in its interior Led lights and folds it light for the object (focus of recording), allowing direct it or spread it, according to the recording environment. The Softbox for studio is an essential piece for those who are looking for produce videos with quality, because it allows controlling the basic lighting in simple production and assists in the composition for more professional results.
Tripods for camera and accessories from photo and video also are critical. With the tripods you stabilizes the image, softbox and other accessories that may assist your work, but you will need at least that the camera has its own tripod and preferably avoid let her loose on tables and surfaces that can generate results unpleasant and very amateur.
Finally the microphone, be it lapel pins, shotgun, hand or any other model, the audio is fundamental to produce videos with quality.
What equipment are needed to build a studio video production at home?
Are the same listed above. The difference is that in a studio you need accessories that are more specific. For a studio, in addition to the basic equipment, it is recommended to use background for professional results in closed environments, such as the residential. It is easy to apply and you can "close" your studio after you finish the recordings.
Other than that, it is impossible to indicate with greater precision equipment for studio, since they vary according to the need and type of recording that will be made.
There are microphones with a more affordable cost that you would recommend to record audio? Is there any software or application that can help in this process?
The same here applies to cameras. There are various microphones models (Shotgun, directional, lapel pins, hand), each one facing a specific type of recording. Currently on the market, the microphone Rode VideoMic has gained more space to be compact and capture directional audio. It is not a model totally professional, but produces a good result and helps those who have no knowledge in this area.
Link: http://www.emania.com.br/microfone-shotgun-rode-videomic
Could you give some general tips on how to make a good recording and capture of audio?
The first step to produce videos is to verify how the recording will be made. For example, in a recording in a closed area, where there is nobody else, a lapel microphone is a better choice. But in an open place or in the case of a footage that involves a lot of action, directional microphones can be the best option, but the lapel pins wireless also would work.
When choosing the recording location, or the type of footage that will be done with more frequency, seek a microphone facing for that environment can help a lot, but only buy the microphone and put in the camera does not solve everything. It is also necessary to understand a little about the type of microphone purchased. Find out about the range, sensitivity, the amount of noise reduction it provides, among other information on the appliance, can help record best audios.
There isn't a software that helps to improve the audio capture with microphone, this usually is most often found in digital recorders, in the case of cameras that do not have a microphone input. Monitor the quality of audio being captured requires professional equipment for wireless transmission and a little more knowledge.
In summary, always seek to understand more about the recording process and equipment being used to produce videos, only in practice the problems will arise for which the cameraman find out what needs improvement and what equipment will meet these needs.
Reference in the market of products for photo, video and movie, visit the eMania website and find equipment to produce videos and much more:
Free platform for hosting online courses, the Coursify.me has all the features that you need to provide the best eLearning experience to your students.
Visit the Coursify.me website, know all the tools that are at your disposal, register your course and start to conquer students and make a profit doing what you like.