Coursify participates of Bett Brazil Educar 2016, the largest Show and Educational Congress of Latin America
Happens from May 18 to 21 in São Paulo Expo Exhibition & Convention Center, the Bett Brazil Educar 2016, the largest Show and Educational Congress of Latin America.
Bett Brazil Educar has provided an outstanding framework for discussing education in Brazil, with Bett's 30 years of experience in education technology in London, and Educar's reputation for aiding the development of teachers within the domestic education market.
Bett Brazil Educar combines the best in products and services for education with a selection of International Congresses and Seminars always ministered by leading experts, making it the perfect place to highlight the brand of your business.
Coursify will be at the event to expose our platform of online education and learn even more with the best professionals in the segment.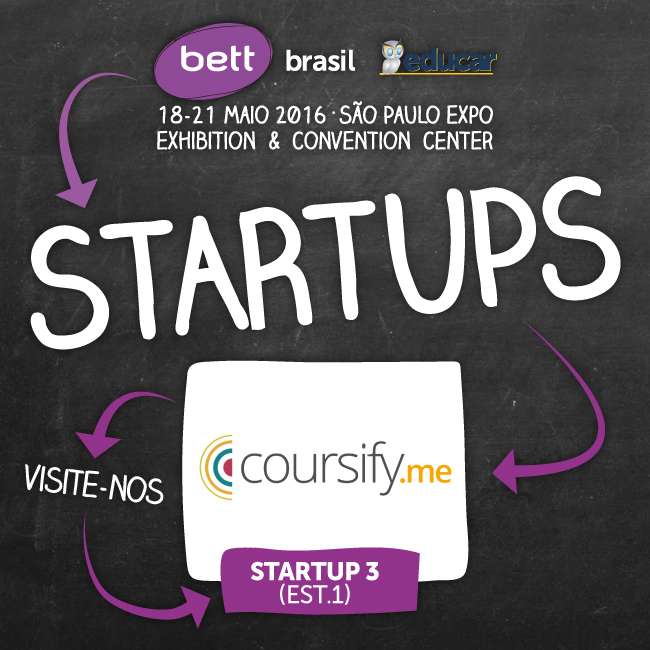 Bett Brazil Educar 2016
Educar has over 20 years' experience in the education industry and has become renowned as the must-attend event for those in education. Educar is recognised as a major meeting point for educators, entrepreneurs and distributors of education products and services from across Brazil and Latin America, attracting around 15,000 attendees every year.
Congress
The congress agenda count with more than 165 lectures, table debates, interviews, courses, panels and 230 lecturers.
In this edition the theme will be "Better Education, Better Society" and the programming was organised in five axs:
Profession and Teacher Training;
The School Practices;
Educational Policy and Curriculum Innovation;
Learning: Life Cycles and School Cycles;
Management and Social Quality.
The event will bring together the best and most qualified speakers, panelists and speakers around this challenging theme and inspiration: Better Education, Better Society. It aims to contribute to the professional training of teachers, inspire them and provide subsidies that improve their performances and practices in order to improve education and improve society.
Show
From principals, vice chancellors and IT directors, through to heads of business strategy, library services and pedagogical leaders, exhibiting at the event means new business and oportunities.
The event attracts Latin America's highest level buyers and decision makers in the public and private education systems, all on the lookout for the latest products and solutions from across the world.
The highly international range of exhibitors at Bett Brazil Educar will span:
Content and tools for teaching and learning;
Data tools for leaders and administrators;
Devices, equipment and infrastructure;
End-to-end solutions for education decision-makers.
Brazilian educational institutions already understood that innovate their business is no longer a choice, it is a matter of survival.
The one thing that they still need to understand is that innovation includes technologies, but is not limited to it. That way, any institution can search for solutions to innovate and improve their activities, regardless of their investment potential, size or structure.
Coursify
Bett Brazil Educar, in partnership with Educare, features a unique space that will bring together the most innovative and impactful startups on the Brazilian scene. The event it will present a different, open and inviting format that will help people to network, engage in dialogue and interact with startups.
Coursify will be present in this space with interactive exhibitions and product demonstrations. Do not miss the opportunity to visit us and learn about new technologies that can meet the needs of your company or your customers. We look forward to your visit!