ELearning market in Brazil and in the world
We talk a lot about the growth of the eLearning market in Brazil and in the world and how the advancement of technology creates a scenario in which people are looking for a more flexible method of education, in which they can take classes at anytime and from anywhere.
This new reality puts distance education in focus, both as a learning opportunity as business opportunity. In addition to individuals interested in a more practical way to learn, companies are using online courses as a way to train employees and professionals as form of entrepreneurship, transforming knowledge in a new business.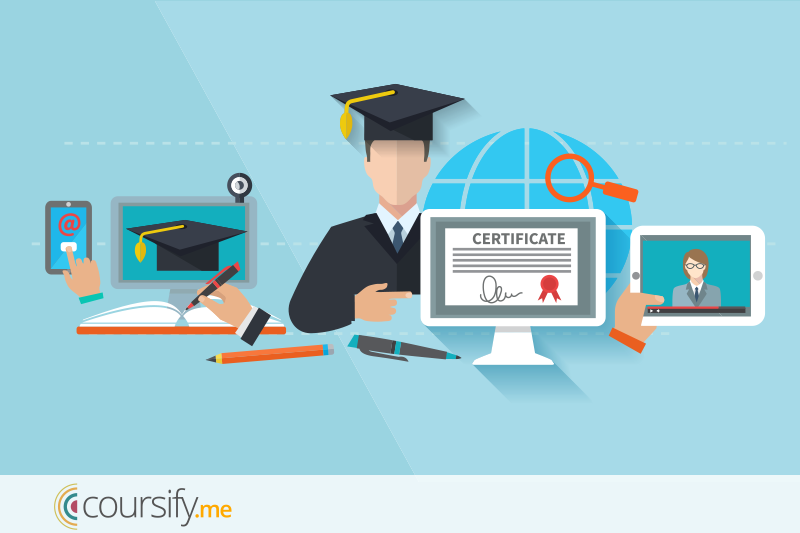 Trends and data on eLearning in Brazil
For you to have a concrete idea about the growth of the eLearning market in Brazil, we have made an analysis of the evolution of the number of courses, registrations and investments in the sector. The source of this research is the Distance Education 2014/2015 Census, where were analyzed 226 institutions exclusively educational and 15 educational and suppliers.
ELearning courses
In 2014 were offered 25.166 courses (between the institutions analyzed). In this case, the free courses were the most traded, with a total of 19.873, being 12.475 corporates and 7.398 not corporates. Then we have the regulated courses blended or online disciplines, which totaled 3.453 online courses, in addition to 1.840 regulated distance courses. Check out the percentage data in the following chart: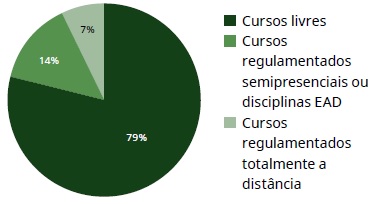 Registrations in eLearning courses
The total number of registrations is to convince those who was still undecided. Only in 2014, the online courses totaled 3.868.706 new registrations, being 519.839 (13%) in the regulated distance courses, 476.484 (12%) in the regulated blended courses or online disciplines of regular courses and 2.872.383 (75%) in free courses, with an average of 154 registrations per course.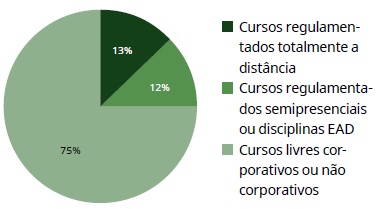 Investments in eLearning
As regards investment performed in the sector, 51% of the institutions that operate in the sector have increased the resources directed to improvements and/or implementation of the distance learning modality in compare to the previous year.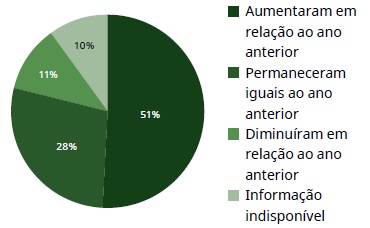 With relation to the type of course that was the focus of investment, the majority of institutions worked with regulated fully online courses, with 36% of the total, as the following graph: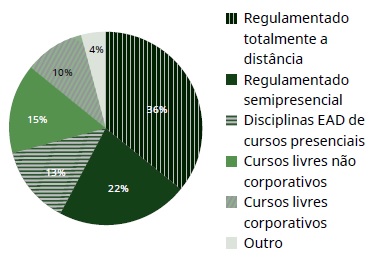 The investments of 66% of the institutions with focus in the area of technology and innovation, such as the quest for a eLearning professional platform. See in the graph the proportion of institutions in relation to the area of greatest relevance in terms of investment in distance education in 2014: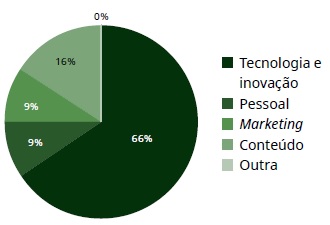 All these data show that the market of distance education in Brazil experience constant growth, constituting a great option of investment for companies, teachers and students.
To complement, studies of Hoepers Education show that the economic crisis has not affected the eLearning market in Brazil, making the distance education more resistant than the classroom education.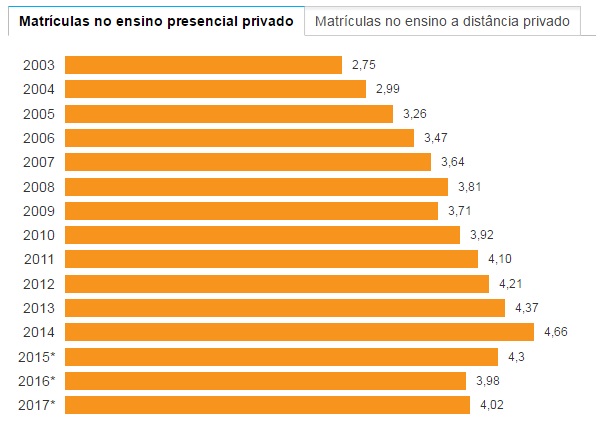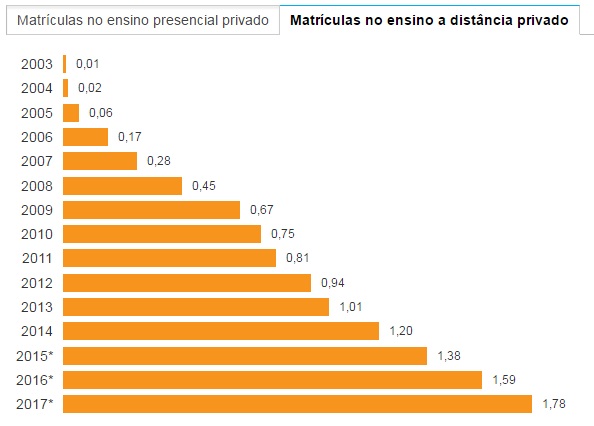 Source: Hoper Educação
Aware of this reality and confident in a future where access to quality education, independent of factors such as location and time, is increasingly easy, Coursify.me is working to provide to our users the best and most complete eLearning platform of the market.
Our team provides support and ongoing updates for teachers and students to have a great experience and reach your goals with ease. If you have interest in getting to know our LMS platform, visit our website and sign up.
ELearning International Market
We talked here about the eLearning market in Brazil and its excellent levels of growth, investment and commitment by an increasing number of students, teachers, universities and companies.
But what about the eLearning International market? How distance education is seen in the rest of the world?
ELearning International Market: data and trends
A report on eLearning Market Trends and Forecast 2014 – 2016 released by Docebo, provides a detailed segmentation on business opportunities in Africa, Asia, Australia, Europe, North America and South America.
The research is backed up with facts and figures top trends, topics and predictions for each area, and gives a comprehensive overview on the eLearning international market: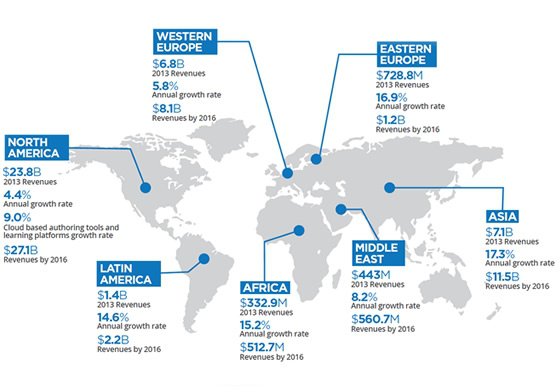 In a new research were carried out the growth forecast for 2016 – 2021 and the countries that have the highest rates of development are: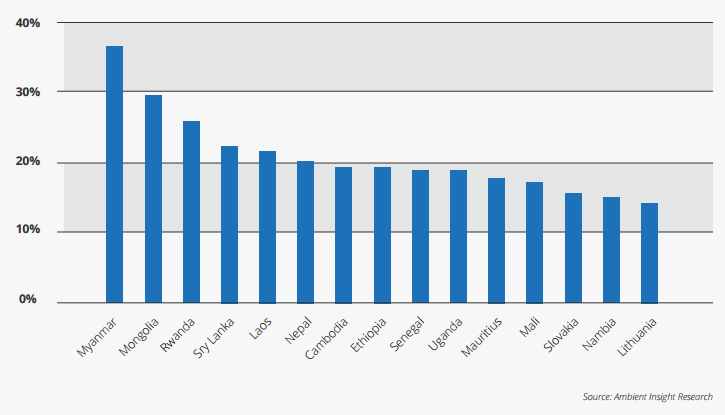 The adoption of the SaaS (software as service) model is playing a pivotal role in reshaping the entire industry and has a huge influence on increasing the eLearning market size. Analyst reports show evidence of SaaS Industry growth and this trend will continue for at least the next three years.
There are 3 main reasons for seeing this upswing in SaaS:
Speed of implementation
Savings on capital expenditures
Savings on operational expenses
The online education is done through platforms that operate in SaaS model. These platforms, known as LMS, Learning Management System, are responsible for hosting courses and schools online and offer all necessary resources for the teaching and learning within virtual world.
Major trends in the eLearning international market
According to the LMS technology become more and more sophisticated, the eLearning international market changes, evolves and presents the trends that gradually reflect on distance education in different regions of the globe. Check out some of the top eLearning trends in 2016:
Mobile Learning
Mobile learning, or mLearning, is one of the main reasons company owners launch learning management systems. These leaders want their employees to have the luxury of accessing training resources on any device, at any time, from any place. It's estimated that the mobile learning industry alone will grow to over $37 billion by 2020.
Gamification
Of all the eLearning trends, gamification is perhaps the most fun. After all, who wouldn't want to spend time gaming? It offers a welcome break from the hectic day. At the same time, gamification in the workplace promotes training and knowledge retention; and it does a great job of bringing elements of entertainment and relaxation to any type of online training.
Video-class
There is an estimate that, nowadays, people spend more than five hours per day watching videos. Data indicate that the traffic dedicated to the consumption of online videos will reach 80% in 2019. In this reality, there is no doubt that use videos in online classes is an idea that is sure to attract many students.
Big Data
According to an article published by Learnnovators, Big Data (as it relates to eLearning) is defined as "the data produced by learners interacting with the learning content". This data is collected through Learning Management System and other media. This year, Big Data has been a big trend in eLearning international market, and it will continue to be one as time passes.
Competency-Based Learning
Employers and employees alike are becoming enthusiastic about competency-based training. This is because it helps employees get promoted quickly. The opportunity to self-assess, determine skill sets, and what skills will be needed to advance one's career provides motivation for the learner, and greater value for the organization whose learners are more engaged in training and developing demonstrable skills.
As you can see, the eLearning international market keep growing with optimism, already well established even in the corporate middle.
SaaS for hosting online courses, the Coursify.me is a complete platform for teaching and learning online and already counts with various professionals and students enrolled. In a market in full expansion, the return on investment and success is promising and expected in a short time. Visit the Coursify.me website, register and host your online course for free!