How to become an online teacher
Elearning can open up interesting opportunities for those who already teach face-to-face or for anyone who would like to become an online teacher, lecturing about a subject they have mastered.
The flexibility that online education offers allows you to get started in this market even if you're not sure you want to be a full-time teacher, or if you're still working at your regular job.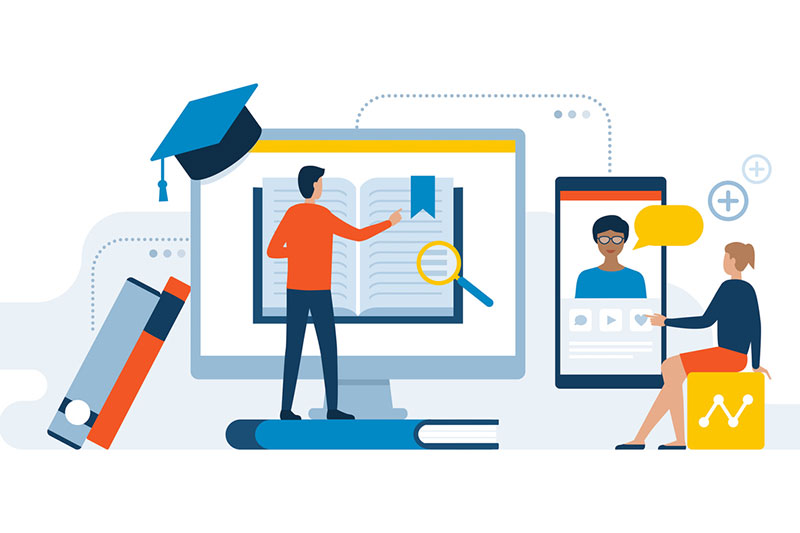 Resources needed to become an online teacher
When we talk about the resources you need to become an online teacher, we are mainly talking about technology.
Most Learning Management Systems (LMSs) used ​​to host online courses only require a good Wi-Fi connection, a computer and, as even for online classes students still like to see and hear their teacher, we strongly suggest a camera and microphone.
Educational technology has evolved in recent years, facilitating and improving the quality of distance education.
Cameras and microphones built into our computers, the ability to watch videos quickly and easily, Virtual Learning Environments that allow organization and access to educational material, these are all technologies that most people already have access to.
Importance of the Learning Management Systems for online teaching
LMSs are platforms specifically developed to enable online teaching and learning. 
This type of software offers several features that transform it into a true virtual classroom, such as the possibility of creating an online school with different courses, divided into modules and lessons.
– Practical guide for creating and selling online courses
A good LMS, like Coursify.me, allows you to provide classes using different media formats, such as videos, audios, graphics, slides, links to reading material or external media, among others.
In general terms, a learning management system is the key to making life easier for the online teacher, who will need to make their classes as simple as possible for their students. 
Among the features that a good LMS offers are:  
Interactive course content
If you've attended hours of lectures with just a few exchanges of slides to entertain yourself, you'll appreciate a big advantage of online learning over traditional classes: interactivity.
Online classes have evolved and simply reading text-laden slides is a thing of the past. 
LMSs must allow video classes, chats for questions and discussion, resources that allow live broadcasts, application of quizzes and tests, in short, everything that contributes to active learning. After all, in online education it is even more important to keep the student interested and engaged, as it is very easy to turn off the screen and go do something else.
– 6 Strategies for Engaging the Student  in Online Learning
Mobile access
For workers – a large percentage of online learners – the ability to access content anytime, anywhere makes a big difference.
Being able to take a class on a lunch break, on the train ride home, or even on a business trip can be a huge benefit, and one that the best online learning programs should offer.
Technical support 
Encountering barriers and difficulties is one of people's biggest fears when it comes to learning online. 
For those unfamiliar with technology, issues related to computer and software use can be a real concern.
Good LMSs understand this and provide their own technical support team. This resource is available for students and the online teacher, who may also face difficulties in creating and offering their courses, or charging for enrollment, for example. 
Removing this burden from teachers allows them to focus on their classes, while students can rest easy knowing that there is help with any problems they may encounter.
How to Adapt a Classroom Curriculum for eLearning
Online teaching requires special considerations in class formatting.
If you already teach in person, you will find that much of what you say to students in the classroom now needs to be translated into text, or, at the very least, into a video script. 
You'll also need to know what technology options are available to make sure you're taking advantage of everything your LMS offers to make your classes great. For example: Does your learning management system allow links to YouTube? Can students interact by asking questions in each class? Is there a way to create tests and questionnaires? 
– Tips for using technology in education 
In addition to knowing the features of the platform you will use, here are some ways to ensure a successful adaptation of your classroom curriculum to online classes:  
Divide your classes into smaller "portions". 
One-hour classes are unlikely to hold a student's attention and motivate him to even begin. One suggestion is to break down what you normally teach into daily one-hour classes, into videos of about twenty minutes each. 
Prepare activities and reading materials accordingly.
Remember that you won't need to hand out papers or limit reading assignments to what's in textbooks. In an online environment, you can give students links to read articles, YouTube tutorials, TED Talks, blogs – whatever you find interesting and useful.
Use varied teaching resources.
As an online teacher, it can be more difficult to interact with your students enough to get to know each one's learning styles. One thing we all know is that there are people who learn best by reading, others by listening and others by practicing, so try to include a variety of tasks and materials to ensure each student has the opportunity to learn in the way that is best for them. 
Plan activities according to class size.
As with face-to-face classrooms, you want to know how many students you will be teaching, as this will affect the types of classes and assessments you conduct. For example, short-answer or essay tests can be challenging to assess in large classes. Class size will also shape course material asynchronous (recorded) versus synchronous (live). Is it possible to ask your students to submit work? Is it possible to organize group activities? Do you have time for correction and evaluation of activities? 
Make all your classes available.
One thing that the online teacher must always keep in mind is that, unlike physical classrooms, distance education is made precisely for those who need time flexibility. Even if you offer live lessons, it is very important that they are always recorded and available for your students to see when they can.   
–  Learn how to record videos at home
Communication on eLearning
All professionals have working hours and the online teacher is no exception. Be sure to advise your students on how they can get in touch with you and when you will be available to attend them.
It can be interesting to set an agenda just so they can ask questions and interact live. You can organize a Google Hangout at the same time every week, for example. Or hold weekly Lives on social media where you can read and answer questions live. However, if your audience is very large, we suggest that you ask someone to help you, it is not easy to speak and read comments at the same time.
Many professionals also create closed groups on Facebook and use direct communication tools like Telegram. That way, students can also interact and help each other with their difficulties. 
It is important to set a schedule for the course and make all expectations clear so that students understand their responsibilities as well, especially in an online classroom where things can seem less formal. 
It's also a good idea to ask for feedback on how they're doing and what they need, and make changes based on those responses to make your course even better.
It can be difficult to predict how the eLearning experience will be for students, so asking for information can go a long way towards achieving great results, both for you as a teacher, as well as for them and your future classes.
– Ways to communicate with the student in online classes
Tips for becoming an online teacher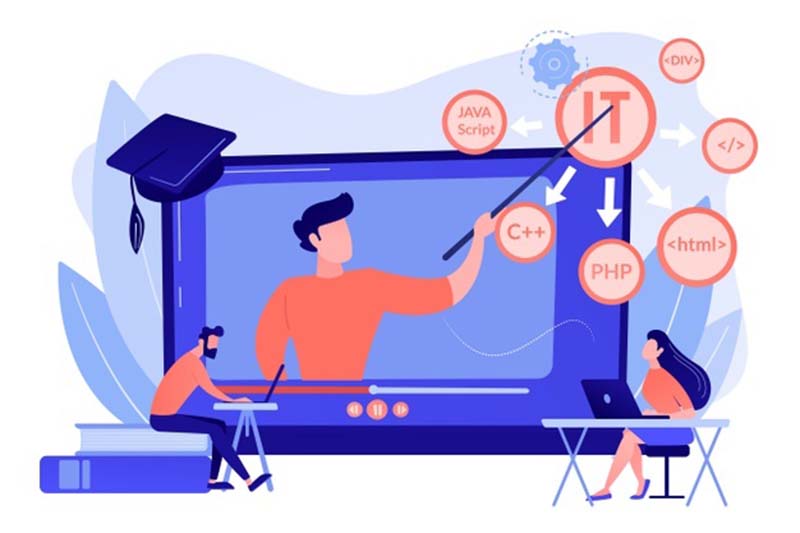 If you decide to become an online teacher, the first step is to become familiar with the technology needed to teach online.
Do you know how to put together a slideshow? Share your screen? Transfer controls to a student giving a presentation? Start a live stream? 
Talk to people who understand the subject, watch tutorials and ask your LMS support team for help, if necessary, to make sure you understand how to perform the basic teaching functions within the platform.
Also, here are some simple tips to get you through this journey:
Don't be intimidated by the process. 
It may take a while for you to learn the steps, but eventually teaching over the internet will become automatic, and you will be able to take advantage of the skills you acquire with each new class you make.
Many softwares support your first class, such as a technician in your live session if you need help. Knowing that there is someone to turn to can help you relax and enjoy your first class a little more.
Being an online teacher means being able to teach from wherever you are, anytime, while still experiencing the student-teacher interaction of a classroom. Learning new technologies can be stressful, but focusing on the rewards sure makes it a little easier.
The platform you are using is the best way to ensure that you are enjoying all that eLearning has to offer for you and your students.
With the right LMS, you not only reduce errors and hassles when working with the system, you learn ways to save time, add variety to your lessons, and get positive feedback.
Complete eLearning platform, Coursify.me is the ideal solution for those who want to create, sell and advertise courses on the internet.
Serving companies and professionals in more than 60 countries, the platform is a dynamic and customizable Learning Management System.
– Whats is an eLearning Platform
To learn more, visit our website, test the platform and start your new career as an online teacher.