Screen Recorder: which is the best to create online courses
Screen Recorder is a software that allows you to capture and share videos from your computer screen.
Resource commonly used to create tutorial videos, learn about the advantages and what are the best screen recorders currently on the market.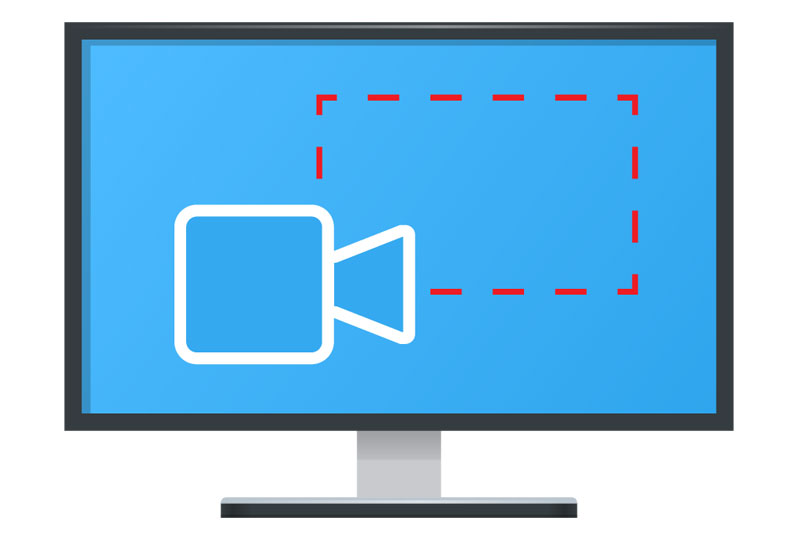 Why use video in eLearning
Videos are quickly becoming the most widely used tool for transmitting information online.
In fact, by 2019, it is estimated that 80% of global Internet consumption will be video content.
We will have video conferencing, distance learning videos and probably more videos of cats in social media.
What justifies all this love? Well, video is the ultimate show and tell. A combination of audio and visual elements that work together in a magical way to engage people with different preferences for learning new information.
People can absorb information from various stimuli, including visual, auditory, written and kinesthetic.
Some prefer a combination of visual and auditory instruction, others learn best when reading, and then there are those who like to be more hands-on in the learning process.
– How to record videos at home
Now, the best thing about the video is that it includes elements of all these learning styles into a single tool. This makes video one of the most engaging eLearning tools available.
Audiences are expecting more than monologues and slides within their eLearning courses. They're looking for highly engaging content.
Living up to these expectations may seem daunting, but it's also an exciting opportunity to infuse "movie magic" in your learning content.
What are the best free screen recorder
There are several free screen recorders for download on the Internet.
The most basic software simply capture what's on the screen and saved in AVI format, but the most advanced tools also enable editing, picture-in-picture, live streaming gameplay and optimization.
However, be careful, many free recorders add watermarks on the screen and allow you to record a number of videos before they started demanding payment.
So it is important to research the options and choose the right software before you start recording.
To help you select the best screen recorder, we analyze five of the free softwares most used today.
OBS Studio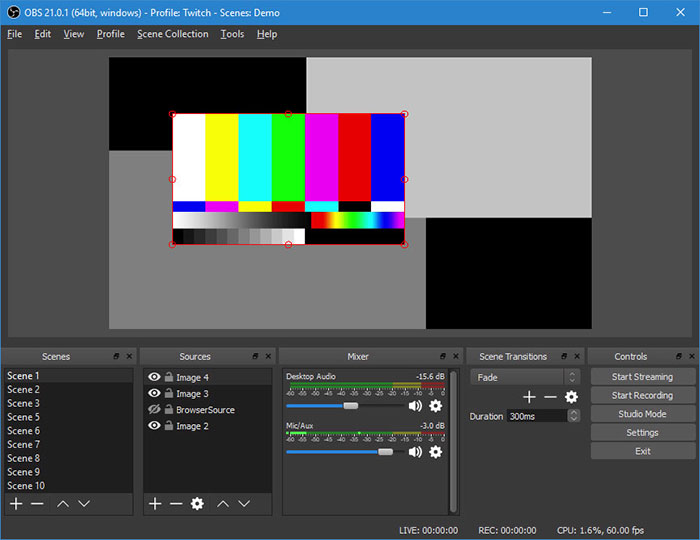 The OBS Studio is an excellent screen recorder to capture or make live broadcast of what happens on your computer.
Among its main features include:
HD streaming and recording;
No restrictions on video length;
Powerful and easy to use configuration options;
High performance real time video/audio capturing and mixing;
Intuitive audio mixer with per-source filters .
For gamers, the OBS Studio is easily the best screen recorder software.
Unlike FRAPS, hugely popular (which only allows you to record for 30 seconds unless you buy a license), the OBS Studio is open source, and has no use restrictions.
The software supports both streaming as recording in high definition, without limitations on the number or length of your creations.
You can broadcast live to Twitch or YouTube, save projects and return to them later,  or encode your footage in FLV format and save it locally.
The OBS Studio is able to capture videos in full screen mode with customizable hotkeys to control the recording.
The software can also make full use of multi-core CPUs to improve performance and can record 60 frames per second (or even more).
It may take a while to get you set it up exactly as you want, but OBS Studio is by far the best and most powerful screen recorder for players and creators of online videos.
FlashBack Express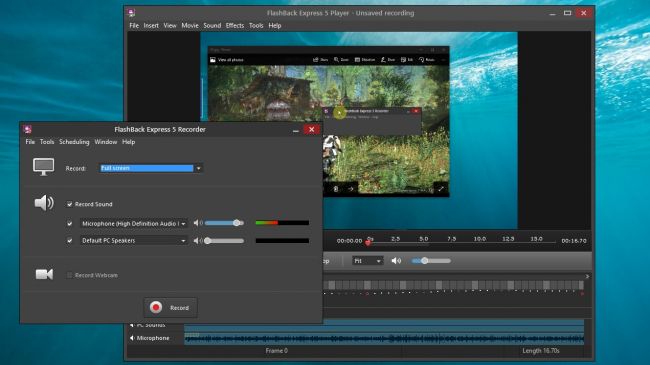 With many features, the FlashBack Express is ideal for creating seminars, demonstrations or training materials, allowing you to add text, sound, commentary and more.
Key features:
Well designed interface;
Built-in video editor;
Allows users to take notes while recording, quickly and easily;
Start and stop recording at set times, or when applications run and close;
Record a commentary using a microphone, PC speakers or other sources as you record your screen.
Despite being a free version of a paid program, the FlashBack Express does not put watermarks or imposes time limits, and comes equipped with features and tools that rival many premium programs.
Its interface is less intimidating than OBS Studio, so if you have never used a screen recorder before, this is an excellent choice.
The software allows you to record the entire screen, a window, a selected area or a webcam.
When finished, the recording will appear in a simple editor where you can cut and edit as you like, and then export the material to YouTube, an FTP server, or your computer.
In addition to these relatively conventional resources, the recorder can automatically obscure passwords entered on screen, replace your silly wallpaper with a plain one, hide messy desktop icons, and highlight your mouse pointer to make it easier to follow.
There is no time limit for your recordings unless you decide to set one, which can be useful if there is a chance you might accidentally leave the recorder running.
You can also choose to break long recordings up into chunks – a brilliant touch that helps you avoid creating huge, unwieldy files.
One limitation of this screen recorder is that it allows you to save the video in WMV only. To save in another format you must purchase one of the premium versions of the program.
Apowersoft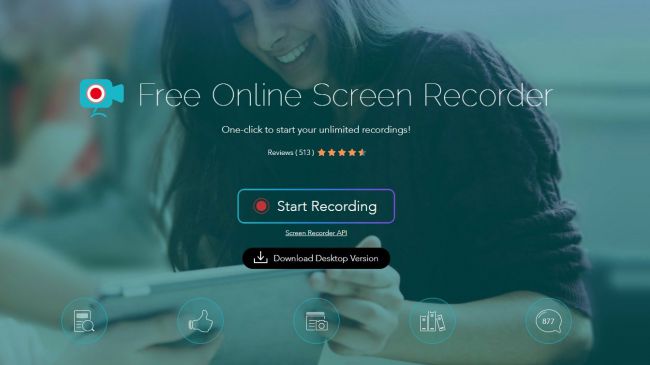 Free screen recorder  in-browser, no need to download the software to use it.
Advantages of the program:
No time limits or watermarks;
Lots of export options as MP4, WMV, AVI, ASF, FLV, MPEG, VOB and GIF;
Capture video and audio simultaneously;
Record multiple webcam videos side-by-side using chat services like Skype, GoToMeeting and others;
Add lines, text, information, highlights and more easily and quickly;
Add colors, shapes, notes, arrows and icons while recording.
If you want to record a presentation, demonstration or tutorial, the Apowersoft is a great solution.
The first time you use Apowersoft Free Online Screen Recorder, you'll be prompted to download a small launcher application.
You'll then be provided with a control bar packed with more options than you'll find in most desktop screen recording software.
The program allows you to capture footage from your desktop or webcam and audio from your PC, microphone, both or neither.
You can record the entire screen, select an area manually or select one of the preset resolutions – ideal if you're shooting a video to YouTube, for example, and do not want to use a separate video editor to edit it later.
– How to get more views for your lessons on Youtube
The Apowersoft also offers customizable keyboard shortcuts for greater speed and convenience.
You can choose whether or not include the cursor in the recording and even add notes while capturing.
Once you're done, you can save the recording as a video file or GIF, upload it directly to YouTube or Vimeo, or send it to Google Drive or Dropbox.
– Why use Vimeo to create great videos
You can also edit the video. If you select the edit option will download an additional component, the Apowersoft Video Editor, which lets you make simple adjustments before exporting.
CamStudio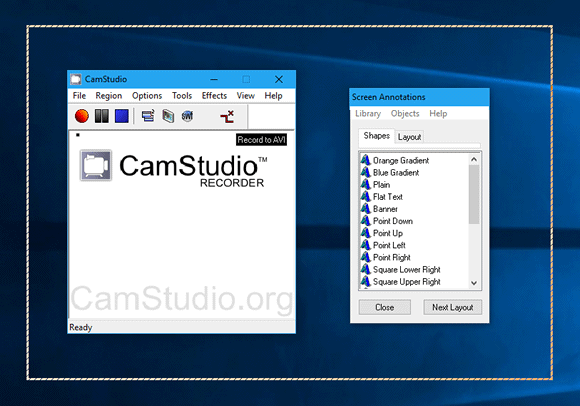 CamStudio is a screen recorder that lets you create videos in AVI format that can be converted to Flash (SWF) format.
Main advantages:
Simple and easy to use;
Screen display options provide flexibility and control to the user;
Produces videos in light and popular formats (AVI and SWF);
Option to use custom cursors;
Allows you to record audio.
The program enables to record the whole screen or just a section of it, and reduce or increase the quality depending on the type of material you want to create.
No editing feature, if necessary, the generated video in AVI format can be edited later using other programs.
At the end of recording, CamStudio starts an automatic compaction process, making it easier if you have little space to store or want higher speed of publication, sending or sharing the video.
The highlight of the app is the ability to produce videos in SWF format, which in addition to being popular on the web, is small and light.
SRecorder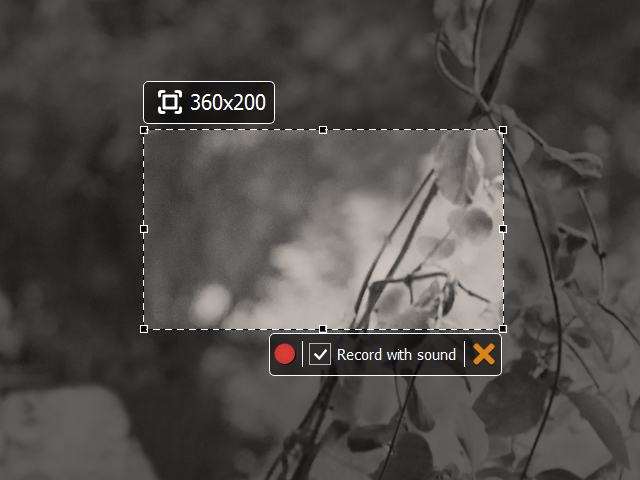 Software for Windows convenient and safe that allows to take PC screen video capture of high quality, with or without sound.
Recorder Features:
No time restriction;
Light program and easy to use;
Intuitive interface;
Capture video and audio simultaneously;
Share the created video in social networks: Facebook, Twitter and Google+;
Audio capture with high quality.
The program operates from a single window, displaying the main functions on the button in order to facilitate their use.
Perfect for creating presentations and tutorials, with SRecorder you can go narrating the explanation while demonstrating on the screen what is to be done.
The program interface is very intuitive. There is no kind of advanced option or hidden menus.
It allows you record the whole screen or just a selected area and, at the end, the file can be saved in MP4.
For being light weight does not consume too many computer resources, so it is recommended for anyone who does not have much space or memory on your machine.
These are some free screen recorders options that can help you record or stream video with professional quality from your desktop or webcam.
Ideal tool to record more dynamic and interactive lessons for your online course, choose the program that best fits your needs.
Elearning platform (LMS), the Coursify.me has all the necessary features for our customers integrate and import content from sites like Vimeo, YouTube and Dropbox.
– Whats is a Learning Management System
Instructors can embed videos hosted on Vimeo in their Coursify.me page, creating even better and more complete online courses.
Visit our website and enjoy all our the features to create and sell quality online courses.