How to use TikTok to sell online courses
Launched in September 2016 in China, the TikTok quickly saw its global popularity soar.
Today, it is one of the fastest growing social media platforms worldwide, with an ever-expanding user base and a significant impact on popular culture.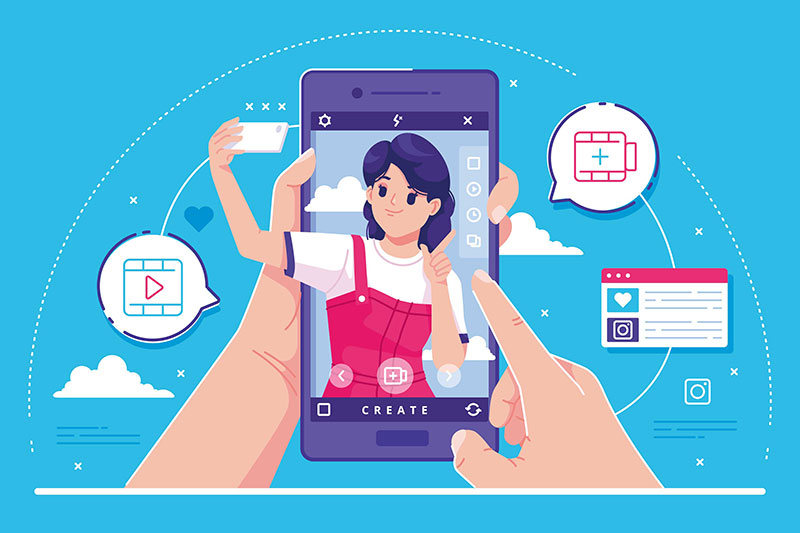 Why use TikTok to promote your business?
With one diverse and active user base worldwide, TikTok presents impressive data such as:
1 billion monthly active users;
Of the 4.8 billion internet users worldwide, 20.83% use TikTok;
More than 3 billion downloads are made on the platform;
In 2021, the average time a user spent monthly on the app was 19.6 hours, according to data company data.ai. Well above Instagram's 11.2 hours, or even WhatsApp's 18.6 hours.
One of the great advantages of TikTok for brands is its virality potential. 
With content focused on short videos, such as Reels on Instagram, the secret to selling on TikTok is just one: producing creative and interesting videos. 
They are short recordings, with the possibility of different types of editing – filters, music, special effects, etc. The feed is infinite and the videos start automatically, causing the user to quickly fall into a loop and keep watching one after the other.
This type of content is widely shared on the platform, reaching a large number of views in a short time.
That means greater organic reach, perfect for boosting brand awareness, increasing your business visibility, and saving money on paid ads.
But be aware, TikTok is known for its relaxed and authentic atmosphere. To stand out on the platform, focus on creating genuine, fun content and show the human side of your business, so as to establish an emotional connection with your target audience.
– 10 tips for creating content for social media
How to use TikTok to sell online courses
TikTok can be a great platform to promote and sell online courses. See the tips we prepared below.
Create informational videos
Use short videos to provide valuable information related to your course topic. For example, you can share tips, insights, or demos on the subject.
There are several success stories of professionals who have used this strategy, such as that of pastry chef Rosana Maria, whose story was published in an article in the online magazine Você S/A.
According to the publication, owner of an artistic cake shop for seven years, Rosana used Instagram to publicize her work, posting videos of the production of her cakes, when she decided to start using TikTok as well.
In a short time, she saw her videos go viral, with people interested not only in buying the cakes, but also in learning her recipes. So, in addition to seeing sales increase by 25%, Rosana also created a recipe ebook and diversified her source of income.
Present course teasers
Create short teasers of your online courses to generate curiosity and anticipation.
Disclose an exciting snippet of content, highlight benefits students can gain, or share testimonials from past students. This will help spark interest and encourage people to learn more about the course.
Using Rosana's example, you can show a piece of cake preparation to impact the audience and make them want to see more.
With TikTok features to edit video, it's easy to create compelling material with the potential to go viral.
Demonstrate the value of the course
Highlight the value and benefits of your online course.
Show how it can help your students solve a problem, acquire new skills, or achieve specific goals.
Use stories, examples and testimonials to illustrate the results they can expect to achieve from the course.
Ask your students or colleagues to record a short video applying something they learned from you. If it's a recipe, ask them to show you the result, it's possible to do this without even showing up.
To encourage more people to share their experiences, you can offer something in return, like a discount on an upcoming course or some bonus material.
– Tips to get more Reviews for your course
Leverage the "edutainment" trend
"Edutainment" (education + entertainment) is an approach that combines transmission of knowledge with fun.
This methodology can be applied in any type of teaching, training or qualification in order to promote greater engagement, fixation and interest in the content. Therefore, in addition to schools and universities, edutainment has also entered companies.
TikTok is the perfect tool to promote courses using this principle.
Creating challenges, humorous videos with engaging storytelling, in addition to promoting your course, you make it more interesting for your target audience.
– 9 Benefits of Online Training for Employees
Take advantage of viral trends and challenges
As we said earlier, TikTok has high virality power, since it is a platform driven by viral trends and challenges.
An excellent way to gain visibility and sell on the social network is to identify which ones are and participate in the trends relevant to your niche.
Just do a quick search with keywords related to your business to find videos that can serve as an idea for you to create your own promotional content.
You can create and sponsor your own challenges or join existing popular challenges.
Include links in video descriptions
Despite not being a social network focused on text and subtitles, it is possible to create descriptions for your videos and, best of all, add links to them.
This is a point for TikTok when compared to Instagram, which only allows the insertion of one link that appears in the bio of the profile or page.
Take advantage of this opportunity and use this resource to direct interested viewers to your course sales page or to your website where they can find more information and apply.
Another piece of good news is that TikTok is implementing direct purchase features on the platform, allowing users to purchase products or services without leaving the app.
That facilitates the conversion process, making it easy for TikTok users to become your customers.
Invest in paid ads
Like other social media, TikTok offers paid ad options that appear directly in users' video feeds.
These ads can be short videos or still images and can include links and call-to-action buttons.
They allow you to promote your products or services more directly to users and can bring excellent results.
With resources that allow for segmentation and easy adaptation of the campaign according to the results that emerge, investing in paid ads is a good option for those who are starting out and want to grow their audience faster, while working on their organic growth strategy.
– SEO X Google Ads: which offers more advantages for my business?
Do Lives and Q&A
Much more than just a channel with dancing videos, TikTok is a true sales tool, with high potential for promoting brands and customer relationships.
Proof of this is that the platform allows you to make live broadcasts to interact directly with your audience.
Take advantage of this feature and host Q&A sessions, product demos, online classes, tutorials, and even live events.
This creates a real-time engagement opportunity and allows you to build a deeper connection with your audience while promoting your course.
Remember that while TikTok is an entertainment platform, it is important to provide valuable content and be authentic. 
Focus on creating engaging and informative videos that pique users' interest and desire to learn more about your online courses.
Try different approaches and evaluate the results to determine which methods are most effective for your business.
How to create videos for TikTok?
It's work, but that doesn't mean it can't be fun. Get into the social network mood and let your creativity run free.
 Here are some steps to help you create quality videos for the platform:
Planning: Before you start recording, define a clear idea for your video. Determine the type of content you want to create, such as a tutorial, lesson, challenge, dance, etc. Keep in mind the purpose of the video and the message you want to convey.
Duration: TikTok videos have a time limit of up to 60 seconds.
Pay attention to the technical parameters of the video: Videos should preferably be filmed vertically, with an aspect ratio of 9:16, resolution of 1920 × 1080 px and file format in MOV or MP4.
Script or outline: Create a script or outline of your video to help organize the shots and movements. This can be especially useful for more complex videos.
Enjoy TikTok tools:The app has tons of creative tools that you can use to make your videos more interesting. Explore the special effects, filters, speed up/slow down, time-lapse, slow motion and other features available.
Choose the right music: Music is an essential part of TikTok videos. Choose one that fits the style and theme of your video. You can use popular songs or explore the app's own sound library.
Framing and angles: Try different angles and framing to add variety to your video. Alternate between close-ups, medium shots and wide shots to create dynamism.
Edition: After recording the video, you can edit and enhance it in the app itself. Use features like cropping, adding captions, including stickers, adding text or overlaying images to create a more professional look.
– Record tutorial videos: tips to get the best result
Show your personality and be original in your videos. Experiment with different ideas, styles, and approaches to stand out on the platform.
Remember that practice makes perfect. The more you create videos on TikTok, the more skillful you will become, getting better and better results.
Sell ​​more online courses using TikTok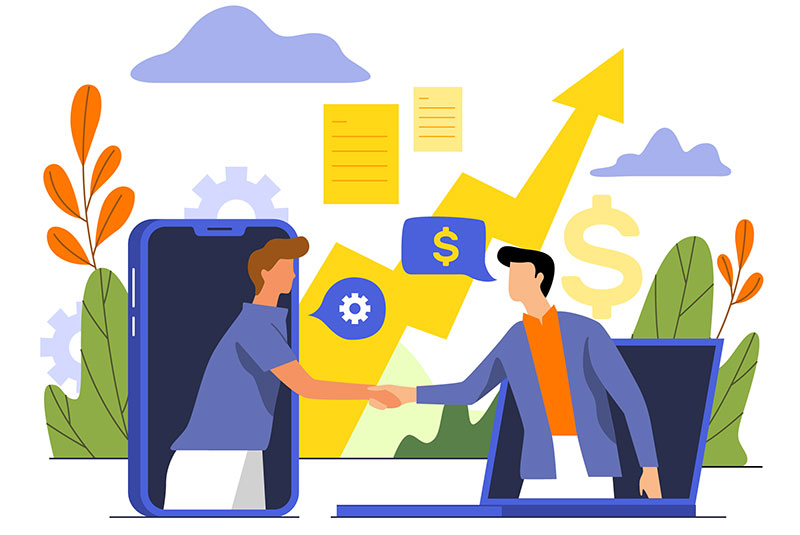 Social network that grows the most nowadays, even though almost half of the active users are up to 29 years old, the app is indispensable for small businesses, offering unique opportunities for entrepreneurship.
On TikTok, everything is decided by the algorithm, which quickly understands what types of content the user likes. In this way, any content can be successful without necessarily having a lot of followers.
For small businesses, this means that it is possible to have results translated into sales right at the beginning of use, says Ariadne Mecate, business consultant at Sebrae. "In that sense, Tik-Tok is more democratic for small business owners."
Convinced and ready to create your online course sales strategy on TikTok?
Great, now all you have to do is make sure that your course is hosted on the best teaching platform to make life easier for your students.
Complete eLearning platform, Coursify.me is the ideal solution for those who want to create, sell and promote courses on the internet.
Serving companies and professionals in more than 60 countries, the platform is a dynamic and customizable Learning Management System.
– Whats is a Learning Management System (LMS)
To know more, visit our site, test the platform and understand why we are the best option for your online course.