How to Create an eBook to Sell More Online Courses 
A very useful tool for teaching online, to create an eBook is nothing more than producing a book in digital format.
Simple to access through any electronic device, the virtual book has revolutionized not only the literary market, but also the eLearning market.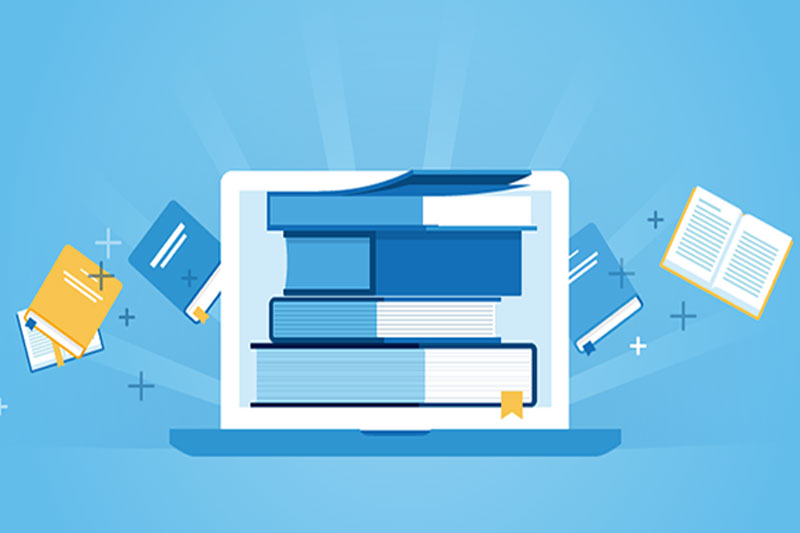 Why Create an eBook for Your Business
Two factors make an eBook a great investment: cost and accessibility. 
Regarding the price, this is justified due to the low cost of production that is practically nil since there is no expense on paper, printing, shipping, storage and all the logistics involved in marketing a physical product. 
In the online world, creating and selling an eBook has minimal costs, allowing the manufacturer to market it for a lower price and even afford a higher profit margin.
Accessibility is another big advantage, as well as being delivered instantly and without geographic barriers, it gives the buyer access to the book whenever and wherever they want. Just have a tablet or even a smartphone.
In addition to being simple to create an eBook to promote your business or to improve your online course, the digital reader loves this facility.
In the United States, eBooks maintained a constant reading rate among adults over the past five years: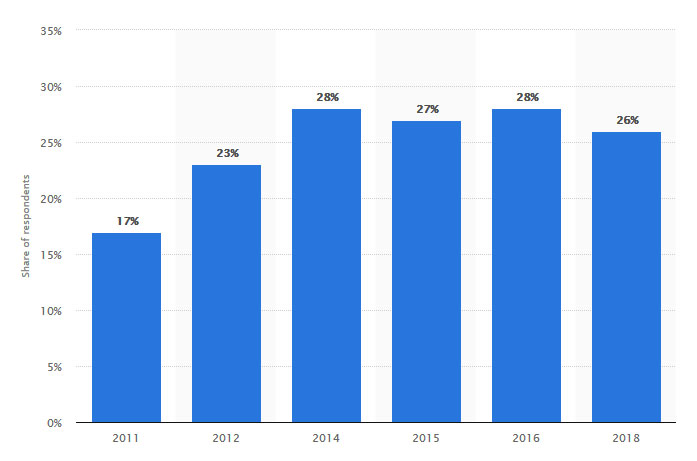 And if they keep the pace, eBooks should be the favorite digital material to be used in the coming years: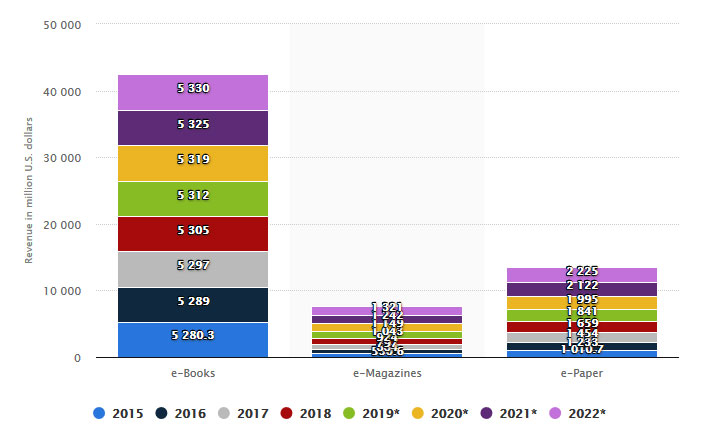 *The Dismal of digital publications revenue in the United States from 2017 to 2018 provides a forecast until 2022, broken down by type.
But before you get too excited, you have to learn how to create an attractive eBook for someone to decide to download it.
And that's where the work begins.
To begin with, here are two important things to remember before you start to create an eBook.
1. Cover is important
Don't judge a book by its cover? No one obeys this. Everyone judges a book by its cover, especially on the internet.
Having a killer cover for your ebook is one of the easiest ways to make it appealing to your audience.
This creates a great first impression and gives the message that there is value and quality there. 
To make a great cover, be aware of the following factors:
Make sure your headline is appealing.
Make sure the font is readable.
Communicate how much the customer will get in the title.
Use an image only if it really adds something to the cover (sometimes less is more). 
Adding a subtitle is also something to think about. Include if you believe it can communicate value without overwhelming the reader.
2. An eBook can be saved in different formats
When you are finished creating an eBook, there are several formats in which you can save it, so it is important to choose the best option for your target audience.
Here are the three most popular formats:
If your audience is using a Kindle, you will need to save your eBook as a file AZW. It was made specifically for Kindle users, but it also works on computers, smartphones and tablets.
If you want your eBook to adapt to a wide range of devices, it is recommended that you save it as an EPUB file. This format automatically adapts your eBook to a variety of electronic devices such as smartphones and tablets. 
The most obvious format for saving your eBook is in PDF. This format is great for reading using a computer. Practical solution for B2B companies that are using eBooks as lead magnets.
– How to Use your Blog as a Marketing Tool
How to Create an eBook
With so many amazing and free tools on the market today, like Canva, there's no excuse for creating a badly designed eBook.
Remember, this is a great way to grow your audience and drive more conversions for your business.
For those who never thought about creating an eBook, the idea may seem rather complicated, but it's actually simpler than you think. 
Take a look at the walkthrough we have prepared to help you create a killer eBook: 
Define a theme
If you already have an online course ready, this step is simple, just pick a subtopic of your course or take a general look at the subject, such as a summary that the student can refer to. For those just interested in the idea, our advice is also simple: talk about what you understand. Just try to teach what you know, a subject about which you have deep knowledge. Shallow and poorly designed materials can erode your credibility and this is hard to win back, so don't risk it.
– To do list to create online courses
Organize the structure of the eBook
Planning is the key to success. Structure the unfolding of your book into topics. Decide on the most important subthemes to explain the theme you have chosen. Sketch each one and arrange it so that it is coherent and comprehensive. Substantiate your ideas with safe sources to avoid doubts about the veracity of the content.
Use pictures to add, not to disrupt
The use of pictures always helps to attract the attention and leaves the content more interesting and easy to read. But be careful not to overdo it, you are not producing a comic book. To avoid copyright issues we recommend using images from your personal archive or free downloadable stock images, where you can find quality images at an affordable price for the small size you will need (and even free ones). Graphics and other illustrations that underlie the content are also welcome as they help give the material more credibility.
Do a great job diagramming
The book is digital, but that doesn't mean you don't have to put it in the format of an ordinary book. Diagramming is a fundamental part of the work, after all, something well done is always more attractive to the public. Invest in formatting to create quality, professional-looking material. If you find this job complicated, you can always hire someone to do it. Be sure to create a cover, index, and any other appendices you find necessary. An eBook only differs from a printed book by its delivery format, the configuration is the same.
Read, reread, and have someone else to do the same
Correction is critical. When you are finished creating an eBook, carefully read through all the material to ensure that the content follows a logical order and enables understanding. Ask someone else to do the same, because the creator is never the one who values ​​best. You need fresh eyes and head. Make sure that all content is explained clearly, following a logical sequence and that it fulfills its purpose of teaching on a particular topic. If you think there is something that can be removed or added, this is the time.
Choose the best format for your audience
As mentioned earlier, when your eBook is ready you will have to choose a format in which to publish it. The most used are PDF or Epub. The big difference between them is in their adaptation to the reader's screen. An Epub format eBook adapts content to the size of the screen on which it was opened, while PDF files always retain the same configuration.
Never stop promoting it
EBook ready and online, now is the time to spread the word. Use social networking, blogging, email marketing, whatever you can to promote your work and attract customers. Partner with sites that offer content related to yours and be willing to contribute with articles about it. Participate in discussion forums, webinars, podcasts, and any other channels that help you spread your material. Do serious and focused work and it will bring results.
– How to create a successful e-mail marketing campaign
3 Tips To Get The Most Out Of Your eBook
Not satisfied with creating an amazing looking eBook?
We don't think so. So we prepared these 3 tips on how to make your eBook stand out from the crowd.
1. Make a pleasant eBook
It's one thing to create an eBook that looks great, but for people to read it, you also need to make your text enjoyable and thought-provoking.
Here are some tips to make sure your words are really read:
Use flashy keywords on the cover. Expectational words such as "unmissable" or "impressive" can make your cover more attractive.
When possible, use a bulleted list or any other formatting tool, such as bold, italic, or underline. Small changes to the text make reading easier and highlight the important points of your content.
Facilite the reader's life. Make sure the font size, images and overall flow are easily readable.
2. Maintain your brand pattern
It seems obvious, but you should approach the design of your eBook with the same brand colors you use on your site.
If you only use three main colors on the site, don't make your eBook 20 different colors. Instead, try diving into your brand's secondary color palette.
This is important so that when reading your eBook, the user associates the content with your brand and later, if they want more information, remember you.
– 5 Steps to Create a Visual Identity to Your Brand
3. Use your eBook to attract leads
If you've bothered to create an ebook, you know this is a good way to showcase your knowledge and attract new customers. 
You should use it to convert as many people as possible to download it. And that means including a call to action (CTA) whenever there is an opportunity.
It can be anything from asking readers for a review to subscribing to your email list.
Anything that can drive more traffic to your business is a win at the end of the day. 
Create the perfect eBook and sell more online courses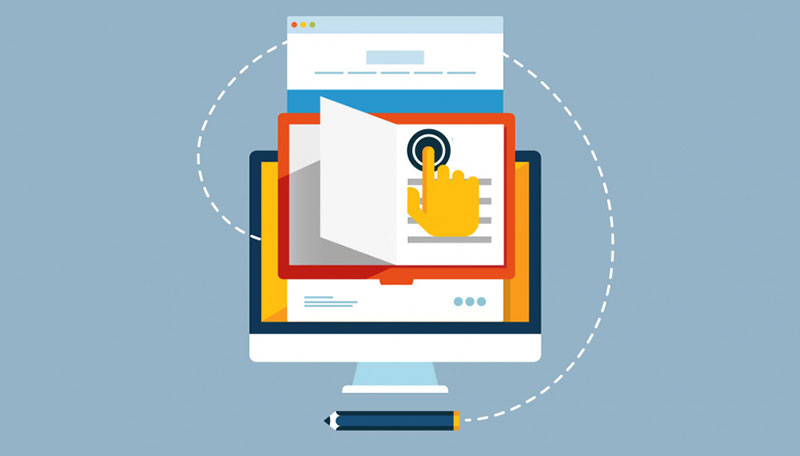 To create an eBook you no longer have to hire a designer or spending on expensive software.
With tools like Canva, InDesign and even Word, anyone can create a worthwhile eBook.
But remember, you still need to follow a basic step by step planning to get a good result.
Make sure you are using quality images and readable fonts and are exporting your ebook to a file type that meets the expectations of your audience.
More important, make sure the content is worth reading.
Then simply export your material to your eLearning hosting platform and make it accessible to your students and leads.
With a platform like Coursify.me, you can easily import text and videos into your page.
Complete eLearning platform, Coursify.me is the ideal solution for anyone who wants to create, sell and advertise courses on the internet.
Serving businesses and professionals in more than 60 countries, Coursify.me is a dynamic and customizable Learning Management System (LMS).
– Learning Management System: What is it?
Coursify.me offers three plan options for you to decide which best suits your needs and the good news is that the Beginner Plan is free!
To learn more, visit our website, test the platform and understand why we are the best choice for your online course.