Learning Management System: Everything you need to know about a LMS software
Despite the increasing popularity of online courses, the term Learning Management System still leaves a lot of people confused.

Learning Management System: What is it?
A Learning Management System is a software, a hosting platform for online courses.
– Whats is a Learning Management System
It is an online platform used to host and deliver courses and/or training programs.
With a focus on online learning and teaching, the LMS platform is designed to be a virtual space where students and teachers can come together and have all the resources that both parties need.
In addition, the platform works as a management system because it helps tutors organize their courses online (creating them, changing them, assigning them to students, classifying them, etc.).
Just as Word helps you to write documents and Gmail helps you manage your mail, a Learning Management System is a software that helps you create, manage, and deliver distance learning courses.
A LMS software, in short, consists of two parts:
A server component that performs the main functionality (creation, management and delivery of courses, user authentication, data delivery and notifications, etc.).
A user interface that runs inside your browser as a site (such as Gmail or Facebook), which is used by administrators, instructors, and students.
Learning Management System: who uses it and for what?
Anyone who is taking online courses is using a Learning Management System.
If you are a math teacher and are selling classes online, you had to host them somewhere so only your students, who paid for it, have access.
This "place" you found to host your course, give restricted access, receive payments, interact with students and everything else, is a LMS platform, such as Coursify.me.
As well as a math teacher creating and selling courses of his own, companies, universities, schools and several other organizations use this type of software to make their classes and training available online.
A LMS can be used for all types of learning activities and has already become an invaluable business tool, adopted by large and small companies.
Some of the most common use cases for a Learning Management System are:
Employee training
Training new employees or teaching everyone new skills is a constant need in many companies.
With a LMS software, you can reduce costs and save time and overtime by allowing your employees to study the material online anywhere and at their own pace.
With distance education, companies not only spend less money than compared to the structure required for face-to-face classes, but also have better control and information on the progress of their employees thanks to integrated monitoring tools and reports.
Retention of knowledge
Training your employees is as important as learning from them.
A knowledge retention program ensures that valuable skills, techniques and information remain with your company when your employees leave or retire.
For this, it is good to use a Learning Management System, since you do not want this valuable information to be stored in any document management system that no one can verify.
By making them available in a LMS software, you ensure that everyone has access at all times to train new employees or people from other departments.
– Benefits of Corporate Training for Companies
Education
Last but not least, a Learning Management System is a good choice for general educational offerings.
It can serve a school by selling extra classes online, a company educating its clients and even an NGO that wants to educate the general population.
For all these cases, and many others, online teaching has come to stay, and can become the future of learning.
In general, a Learning Management System deals with the management and delivery of online courses.
It allows you to create content (lessons), organize them into courses, deliver the content, enroll students in these courses and, finally, monitor and evaluate their performance (frequency, grades, etc.).
The following is a more detailed description of all the features that a complete LMS platform, such as Coursify.me, offers.
Creating an online course
To make your online course available to your audience, you first need to add it to your LMS platform.
You can do this by creating course material from scratch (by writing lesson content inside the platform) or by importing existing material (a Word document, a PowerPoint presentation, a video, etc.).
– To-do List to Create Online Courses
Advanced learning platforms, such as Coursify.me, allow you to add content from various sources and in different formats.
Another key factor related to the creation of courses is the easy inclusion of online resources such as videos from YouTube and Vimeo, which allows the instructor to take advantage of the wealth of material available on the internet.
Organizing your courses
The next step after you have created your content is to organize it.
This can be quite simple if you are only offering one course or mini course.
– How to Create an Online Mini Course
Or more complicated, if you have several courses, or several different lessons.
It all depends on the needs and structure of your business.
A Learning Management System should enable you to structure and organize your course the way you want.
The Coursify.me,for example, offers a set of organizational tools (courses, lessons, sections) you can use the way that is best for your course and students.
– 7 Strategies for Setting Up a Successful Online Course
Delivering your courses
Once you have created and organized your courses, you are ready to deliver them to your audience.
The way you do this depends, again, on the needs and structure of your business.
For example, your courses can be done for a restricted audience, such as your company's employees.
Or can be targeted at a broader audience, as in the case of an NGO that teaches specific skills for free.
A modern Learning Management System should serve all these cases, allowing you to handle and manage an unlimited number of students, have restricted or open enrollments, and be easy to integrate with payment processors.
Well-structured LMS platforms should also be responsive, user-friendly and offer intuitive navigation.
Managing your users
There will be three types of users to get started: administrators (the people setting up the platform), instructors and students.
In a small company, the administrator and instructor may be the same person, after all, set up a friendly LMS, such as Coursify.me, is not more difficult than using Facebook.
As for students, these can be your employees (if you are a company) or students enrolled in your courses (if you are an educational institution or teacher who offers online classes independently).
Managing these users involves registering them on the platform, assigning them to courses, interacting with them as instructors, determining what kind of content they can view, organizing tests and conferencing sessions, classifying them, and arranging payments.
A good Learning Management System automates all repeated actions, allowing you to make changes and updates to various factors (students, courses, etc.) all at once.
Monitoring and evaluating student progress
One of the most important functionality that a LMS software provides is the ability to track and monitor students' progress in real-time.
Whether you're dealing with 10 or 10,000 students, a Learning Management System provides fast, automated access to course enrollment statistics, assisted classes, test scores, and many other performance metrics.
The software should also include real-time alerts and notifications, for example, to let instructors know that a new enrollment has being made, that a student has sent their lesson or that an e-conference is about to begin.
Another resource for advanced distance education platforms is the generation of performance reports, allowing the instructor to track each student's progress.
Advanced features of the Learning Management System
So far, we've covered the basics of what online course platform should do.
There are also some more advanced features offered only by more comprehensive learning softwares like Coursify.me, such as:
100% Web system in cloud
Hosting of your school and courses with redundancy and backup
Responsive system with support for desktop, tablets and mobile
System in English and Portuguese
Easy customization of the visual identity of the school and online courses
Custom domain, as: myschool.coursify.me
Creation of courses with videos, audios, images, text and files
Integration with Dropbox, YouTube, Vimeo and PayPal
Payment receipt via PayPal
Discussion forum for students to broaden their knowledge and networking
Monitoring Panel in real time of each course
Management of students and course enrollments
Support to the most popular browsers such as Google Chrome, Safari, Firefox and Internet Explorer
School and courses optimized for SEO (Search Engine Optimization)
Share courses in social networks such as Facebook, Twitter and other
Payments in Dollar or Real
Monitoring graphics of courses enrollments
Learning Management System: How deployment works?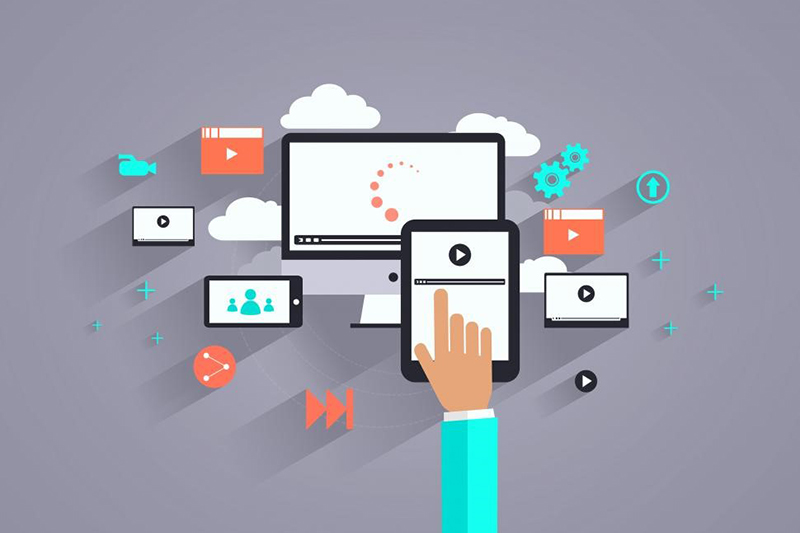 Deploying a LMS could not be easier, especially compared to other types of corporate softwares, which can give work for the entire IT department.
In fact, usually a Learning Management System is a SaaS (software as a service) and is hosted in the cloud, that is, it does not require any installation.
There are generally three deployment options:
Locally deployed (self-hosted)
A self-hosted LMS platform is basically a Web application, usually sold as a licensed product, that you can install and keep on your own server.
This option requires familiarity with the installation procedures and makes you responsible for backing up data, upgrading server software, and staggering for more machines. You will also need to contact the vendor and renew your license after the version updates.
Private Cloud (hosted LMS)
In this case, you gain a secure, private Learning Management System that does not share resources or codes with other companies, offering the best possible performance and security.
Installation, monitoring, and updates are done for you, while you maintain direct access to your LMS to integrate with your other infrastructure or customize it.
The model used by Coursify.me is the one made available to you by a third party, usually under a subscription model.
A cloud may be the preferred solution for most people and businesses, unless you want full flexibility and the ability to make changes to the eLearning environment.
Server installation, upgrades, and monitoring are the responsibility of the team that created the platform, and your cloud provider can also offer free or paid backups as well as various upgrade options.
Cloud-based options are usually sold in custom packages, so you can choose the combination of price, performance and features that suit your needs.
In general, the advantages of outsourcing the hosting of your online course are:
It does not require investments in infrastructure, maintenance and upgrades;
Model of teaching tested and approved;
Saving time and money with system developers;
Easy configuration of functions and layout;
Specialized technical support.
Complete Elearning platform, Coursify.me is the ideal solution for anyone who wants to create, sell and promote courses on the internet without having to invest to start their own business.
Serving businesses and professionals in more than 60 countries, the platform is a dynamic and customizable Learning Management System.
That means you do not need to invest in building your own website. The Coursify.me is ready for you enter your course and create a fully customized page for your business.
We have three choices of plans for you to decide which best suits your needs, and the good news is that the Beginner Plan is free!
Visit our website, test the platform and start selling online courses right now.