How to create an online course in 7 days
With the eLearning market in full growth, countless people have already thought about creating an online course. However, while many succeed, so many others end up being discouraged along the way.
If you are in the second team, keep reading this post. We've put together a simple and practical step-by-step guide for you to create an online course in a week.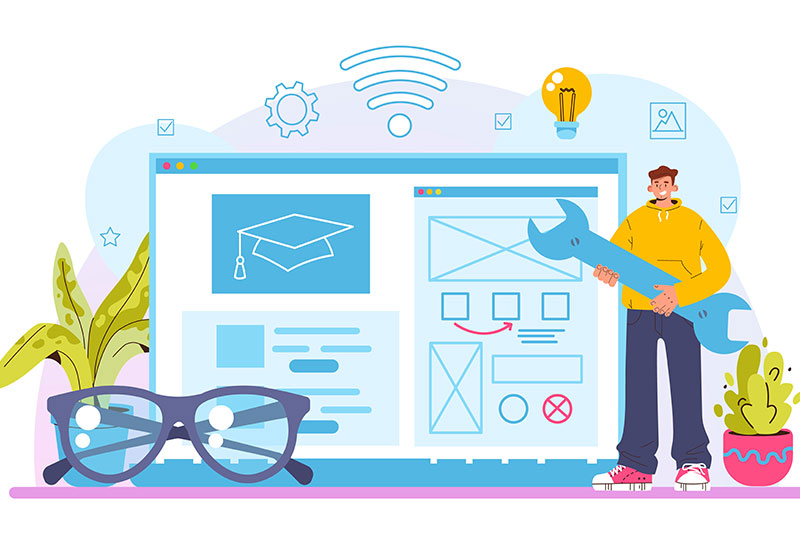 One step at a time
The first mistake many people make is putting too much pressure on themselves. It's your first course, it's not going to come out perfect and that's okay! You can change and update it constantly, that's the beauty of the online world.
Don't overwhelm yourself with a giant to-do list, it will only make you procrastinate and get discouraged.
Start simple, outline a realistic plan that can be executed within a minimum time frame and with the resources you have. 
Your focus should be on the infrastructure and the gradual implementation of the course, after all, you still don't have the expertise to make a unique masterclass. 
The goal is to start small and gradually build your reputation as an amazing instructor of online courses.
Step-by-Step to Create an Online Course in 7 Days
A rapidly growing market, predicted to be worth $325 billion by 2025, creating an online course is an increasingly profitable endeavor.
Even before the COVID-19 pandemic caused a huge increase in online classes, distance learning was already going through a period of popularization.
– Impact of the Covid-19 pandemic on education
A quick search on the internet and you will notice that you can find online courses on almost everything, from meditation classes, to Christian dances, to how to make money playing video games. 
If you have knowledge, it is possible that someone wants to learn it, which is why online course production has become such a lucrative segment.
The problem is that many people get lost on the creative path and end up getting discouraged. 
If that's the case for you, here's an effective 7-day plan to quickly create your course content, set up your virtual learning system, and promote and sell your online classes.
Day 1: Validate your idea 
Welcome to the first day of creating your online course. If you're here, it's because you have something you know well and would like to teach.
At first, this idea can be quite broad. So here are your first goals:
Choose and validate a good course/class idea 
Define a way to differentiate yourself
To validate your idea, start research. You need to know if there is already an online course that covers the same topic as yours, and if it is selling well.
– 3 ways to validate your idea before creating online courses
Don't worry if there are too many similar courses, the important thing is to find a subject that people really want to learn about and, from there, add an important differential, something that makes your course stand out. Think about:
What makes your classes different?
Why would people want you as a teacher?
Creating an engaging online course is simple when you have a strong edge. 
Day 2: Outline the course
Time to turn your idea into content. This part can be scary because it sounds like something that can take weeks to do. But think that you only have one day, so focus on the following goals:
Determine the structure of your course  
Choose your preferred teaching style 
Get all the necessary equipment to start producing
To create an online course start by outlining the structure of it and the content of your first lessons. You are not going to create an online course completely right now, because your idea is untested and your resources are low.
The goal is to publish and sell your first lesson and build on the rest as your business progresses. 
Put on paper all the classes that your course needs to have to be complete. Divide into modules, if you think it's better for understanding and organization. Then start planning in detail what the first classes will be like.
Even if you are not going to produce the entire course yet, it is important that your classes have a beginning and an end, so that those who are already buying the first ones don't think they were scammed or wasted money. And, of course, always explain that more classes will be available soon.
The next step is to decide how you will teach. Here, we strongly recommend that you use videos, as this is the online class method that the audience prefers and has the most engagement.
Decide if you want to record yourself explaining the content of each lesson, create basic slideshow videos, screenshot tutorials, or convert live lessons to videos.
– 7 tips for creating a video script
Make sure you have the necessary equipment, such as a camera and microphone, and let's go to the next step.
Day 3: Record your lessons
Most smartphones today come with very good cameras capable of recording videos in up to 4K quality. If yours is like that, wonderful! If you have a DSLR camera, even better. We only recommend that, in both cases, you purchase a tripod for stability.
If you want to take advantage and guarantee better lighting, we recommend purchasing a light ring along with the tripod. This equipment has a minimal cost and makes a big difference in the quality of your video.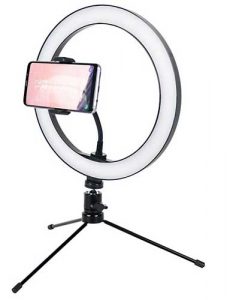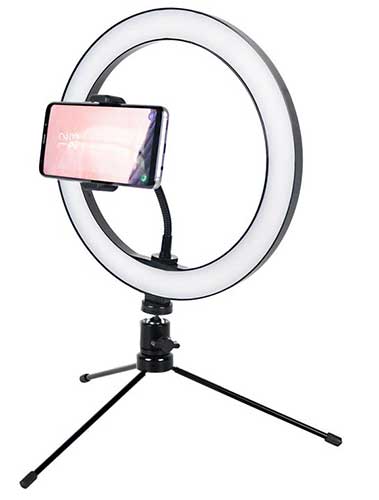 We also strongly recommend that you invest in a microphone. There are lavalier models that cost little and do the job well. The quality of your audio is critical to the success of your course, after all, if people can't hear you clearly, they certainly won't come back for a second class.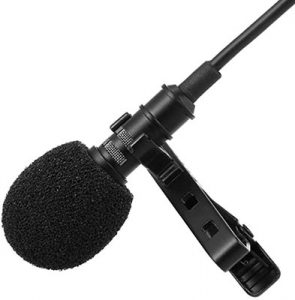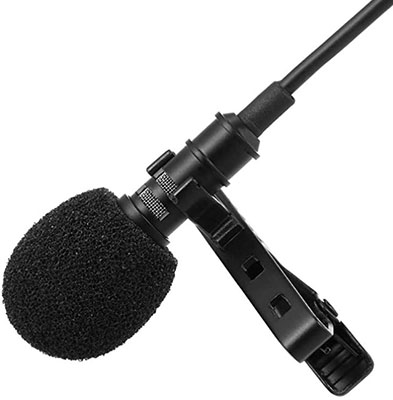 – 9 Tips for Recording Professional-Looking Videos
Finally, organize the space where you will record so that it gives a professional image. Eliminate any unnecessary distractions and make the decor match your course theme. 
Now here are some practical tips:
Record lessons that are no more than 20 to 25 minutes long 
Consider adding downloadable notes 
Edit the video with apps like Adobe Premiere Rush or Camtasia
– 12 apps to record quality video
To create an online course even more attractive, you can make support materials available, such as handouts, quizzes, PDFs, etc. But this can be done in a second moment. For now, focus on recording your first class.
 Day 4: Choose your LMS
LMS stands for Learning Management System, and it is the platform on which you will host your course for your students to have access to.
A LMS, ​​like Coursify.me, is an online platform focused on distance education, and works like a virtual classroom. It offers all the resources you will need to create an online course and sell it.
Here are the goals of this step:
Do your research and choose the right LMS for your business, check out all the features that the platform offers.
Make sure it has an SSL certificate (secure payments).
Give it a try, if you're satisfied, choose a plan.
The next step is to upload your course onto the platform. If you've chosen to use Coursify.me, doing so is quite simple and you can even take a free trial by signing up for our Starter plan.
Register on the platform and create a page for your online school. You can customize your page with your brand's colors, logo and images.
It's all very intuitive for you to create an online course easily and quickly. If you have any questions, visit the FAQ below for a detailed walkthrough or contact our support team.
– How do I create my first course?
Creating your page and uploading your class shouldn't take more than an hour or two. Then, it's time to move on to the next step.
Day 5: Price your course
First, you'll need to choose your business model. For now, the easiest thing is to create a monthly subscription.
One-off courses should be priced higher than individual lessons because they will be a complete course.
In the monthly fee model, you can release classes gradually and charge a lower amount, as it will be a recurring income.
To price your course, you must add up all the costs you incur to produce it, including your hourly rate. Add up the expenses, add the profit margin you want to make, and you get an idea of ​​value.
Do a competitive research to find out if the estimated value is consistent with the reality of the market.
You can always start by charging less and increase the price as your audience and reputation grow, and your course becomes more complete.
Day 6: Set up a landing page 
Your course is ready to be published and marketed, so it's time to let your target audience know.
Tip: You can start promoting your course from day one! This is a pre-launch strategy and serves to start gaining audience and creating interest in your course.
– 5 Steps to Pre-Launch Online Courses
In this step, the focus is to create a sales page, that is, a conversion page. 
Here are your goals:
Choose a platform to build your landing page on, like WordPress.
Format your content based on your WordPress design (introductory video, benefits, cost, future lessons).
Pay attention to copywriting and CTAs.
Get at least 3 friends or family members to sign up to test your page.
There are several tutorials on the internet that teach you how to set up a landing page. If yours still doesn't turn out the way you wanted, don't worry, you'll learn with time. 
One of the benefits to create an online course and starting with a single lesson is that you don't have to be an expert in anything other than the subject you are teaching.
– How to create a high converting landing page
Day 7: Launch and start promoting your course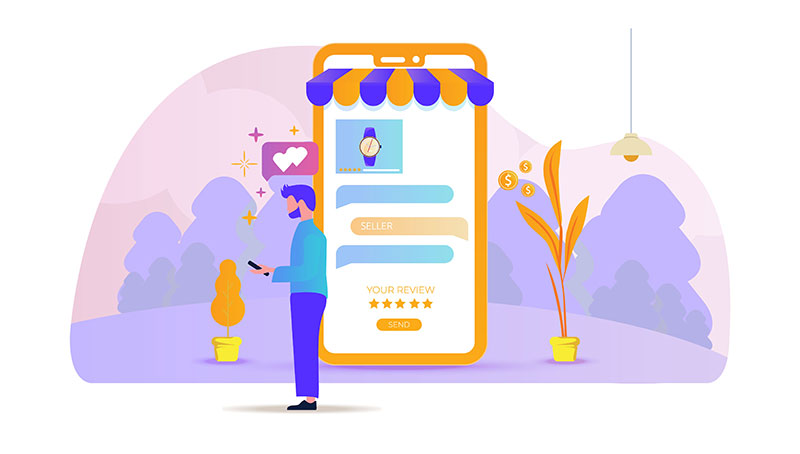 This last step involves your marketing strategies and launching your online course.
Here are your goals:
Launch your marketing efforts
Organize a free live online class
Publish new classes weekly 
Invest an entire day to create outreach materials, then launch your online course with a free live class to attract as many people as possible. 
Create posts for major social networks and set aside a small budget to run paid ads.
– 5 Tips for Selling Courses Using Social Media
There are dozens of ways to promote your course as you start selling.
Every week, create another lesson for your online course, until it is fully formed and you can sell it as a single course if you wish.
Creating an online course in this way offers low-risk, low-effort entry. As your subscription audience receives weekly classes, your audience grows and so does your ability to create quality classes.
Complete eLearning platform, Coursify.me is the ideal solution for anyone who wants to create, sell and promote courses on the internet.
Serving companies and professionals in more than 60 countries, Coursify.me is a dynamic and customizable learning management system.
Create an online course today and launch it next week!