How to do keyword research for SEO
As Google constantly updates its search algorithms and companies strive to track and maintain a good position in search results, one thing remains consistent for professionals looking to optimize their sites: the need to do keyword research.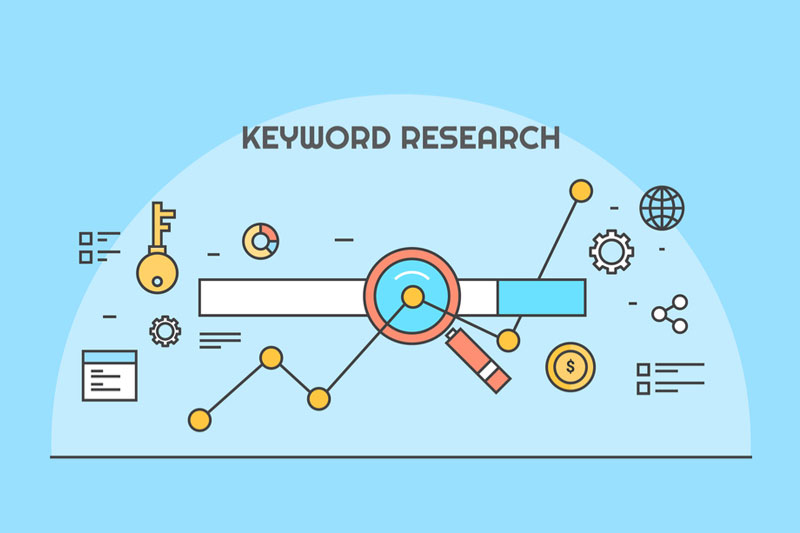 What is keyword research and why is it important?
Keyword research is the process of finding and analyzing the words people enter into the search engines when looking for a particular subject.
Knowing what these terms are can help (and a lot!) in designing a content marketing strategy as well as a broader marketing strategy.
– Content Marketing to Sell Online Courses
Keyword research shows which terms people use most and, assuming you use a good SEO tool, how popular these topics really are among your audience. 
By knowing which keywords are receiving a large volume of searches per month, you can determine topics for creating content for your site / blog.
– How to Use Your Blog as a Marketing Tool
Also, by searching for keywords by popularity, search volume, and overall intent, you can create content that answers the questions your audience seeks answers to.
How to do Keyword Research for Your SEO Strategy
To determine the right keywords for your business, there are a few guidelines you must follow.
1. Make a list of important topics related to your business
To begin your keyword research, think of generic topics you want to rank for your business.
We advise you to set out 5-10 topics that you think are important to your company, and then use these terms to create some more specific keywords.
If you create online courses, some high search generic terms related to your business would be:
Online courses
Elearning
Distance courses
Internet courses
Elearning courses
Free online courses 
Online courses platform
– To do list to create online courses
Now, to refine these results when doing a keyword search, put yourself in the shoes of your potential customers and think about what search they would do to try to find your product / service on the web. And let's go to the next step …
2. Determine relevant subtopics
Now that you have some general topics you want to focus on, it's time to identify some keywords that would be some kind of subtopics.
These are important keywords to rank on SERPs (Search Engine Results Page) because your target customer is probably searching for these specific terms.
Going back to the example of online courses, some subtopics could include:
online courses for job application
online programming courses (and other areas)
technical online courses 
online gastronomy courses for beginners
online training course 
And so on. The purpose of this step is not to define your final list of key phrases. You just want to write down all the phrases you think your potential customers might use to search for content related to your business. 
Also, once you have your final list, there are several tools available for you to find out which keywords are most likely to rank well. 
Another smart way to get keyword ideas is to find out with which keywords your website is already being found. 
To do this you will need a tool like SEMrush or even Google Analytics. 
By using Google Analytics, you can also explore the sources of traffic to your website, see which posts have the most views, and which keywords people are using to reach your page.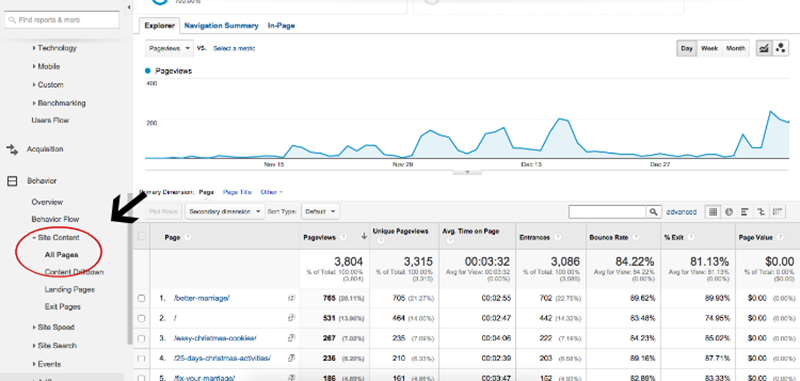 3. Look for related search terms on Google
This is a creative and easy way to do keyword research and increase your range of options.
– Know what your personas are looking for and attract leads
If you're having trouble thinking about more keywords, go to Google, do a search and look at the bottom of the page for suggested terms for your search.
If you still haven't noticed, when you type in your phrase and scroll to the bottom of the results page, some suggestions related to your original search appear.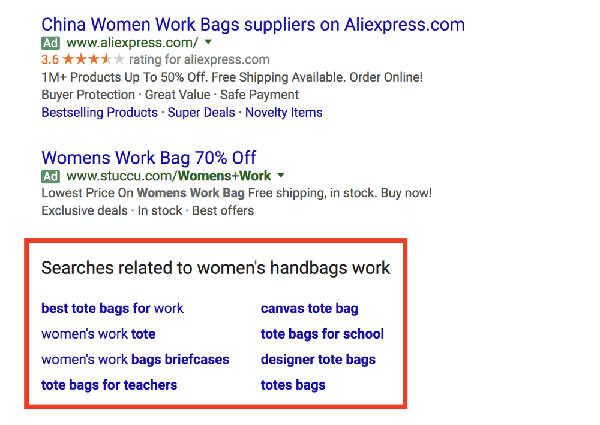 These keywords can generate ideas for other terms you might want to consider.
4. Make a combination of head terms and long tail keywords
Head keywords are generally shorter and more general words, such as "online courses" or "create online courses".
Long tail keywords, on the other hand, are longer keyword phrases that usually contain three or more words.
It is important to work out a combination of head terms and long tail keywords as this will provide a well-balanced keyword strategy with long term goals and short term gains. 
This is because head terms are often searched more often, making them much more competitive and harder to rank than long tail terms. 
Think about it: Which of the following terms do you think would be more difficult to classify?
Online courses
Certified online training courses
If you answered # 2, you are absolutely right. But that is no reason to be discouraged.
While the main terms often contain the highest search volume (ie, the most potential to send traffic to your site), the traffic you'll get from the term "Certified online training courses" is usually more desirable.
Why?
Because long-tail keywords tend to be more specific, so usually people searching for those keywords are really interested in getting your product / service. 
So do a keyword research to get a good combination of head terms and long tailed keywords for your copywriting.
5. Check how your competition is going
Finding which keywords your competitors are trying to rank for is a great way to reevaluate your own list of words.
However, make this assessment carefully. Just because a keyword is important to your competitor doesn't mean it is for you.
Now, if your competitor is ranking for certain keywords that are on your list, strive to improve your ranking for them. And if he is ignoring a few of your list, this could be your chance to stand out in search results and get ahead of the competition.  
Striking a balance between terms that may be a little harder to rank due to competition compared to terms that are a little easier (less searched) will help you achieve good results.
Remember, the goal of keyword research is to end up with a list that gives you quick winnings, but also helps you progress toward bigger and more challenging SEO goals.
How to find out which keywords your competitors are ranking? 
Well, aside from manually searching for keywords in an anonymous browser and seeing where your competitors appear, SEMrush lets you run a series of reports that show the top keywords for the domain you enter.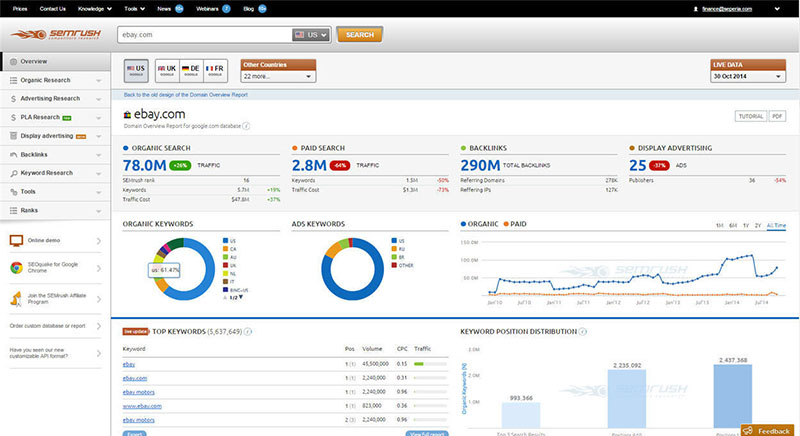 This is a quick way to get a sense of the types of terms your competitors are ranking for.
6. Use the AdWords Keyword Planner to narrow your list 
Now that you have the right combination of keywords, it's time to narrow your lists with more quantitative data. 
There are many tools to do this, but there are two that are general favorites: the AdWords Keyword Planner (you need to set up an AdWords account for this, but you are not required to create an ad) and Google Trends.
With Google Planner (free tool) you can get traffic and search volume estimates for the keywords you're considering. 
Use it to flag any terms on your list that have too little (or too high) search volume and don't help you maintain a healthy mix as we mentioned above. But before you delete anything, check out the history of trends and projections in Google Trends. 
You can see if some low volume terms might actually be something you should invest in now to reap the benefits later.
If your term list is too long and complicated, Google Trends can also help you determine which terms are trending upwards and therefore worth your focus.
– Google Ads: How to reduce costs with Google Ads
Final Thoughts
Keyword research has the ultimate goal of creating a list of terms and phrases that will help you focus on the right topics for your business so you can earn money in the short and long term. 
Be sure to re-evaluate these keywords every few months, as as you gain even more authority on SERPs, you'll find that you can add more and more keywords to your lists.
You need to think of your keywords as an investment for the success and growth of your business, whatever it may be.
– How to set up an online business
Complete eLearning platform, Coursify.me is the ideal solution for anyone who wants to create, sell and advertise courses on the internet without having to invest to start their own business.
Serving businesses and professionals in more than 60 countries, Coursify.me is a dynamic and customizable Learning Management System (LMS).
– Learning Management System: What is it?
Coursify.me offers three plan options for you to decide which best suits your needs and the good news is that the Beginner Plan is free!
To learn more, visit our website, test the platform and understand why we are the best choice for your online course.