Know what type of content to produce to attract students and sell Distance Learning courses
The process of selling distance learning courses or classroom courses face the same challenge: to attract students. In the online world digital marketing strategies aim make your product stand out, but in a different way than traditional marketing does, in the digital world, wins who manages to make the customer come to you.
A key part of this marketing strategy is the production of content. The secret lies in creating and delivering relevant content to your target audience, to attract their interest to you. But when it comes to the dissemination of distance learning courses, two questions often appear: what type of content create related to my material and how to deliver it for free without delivering all my work.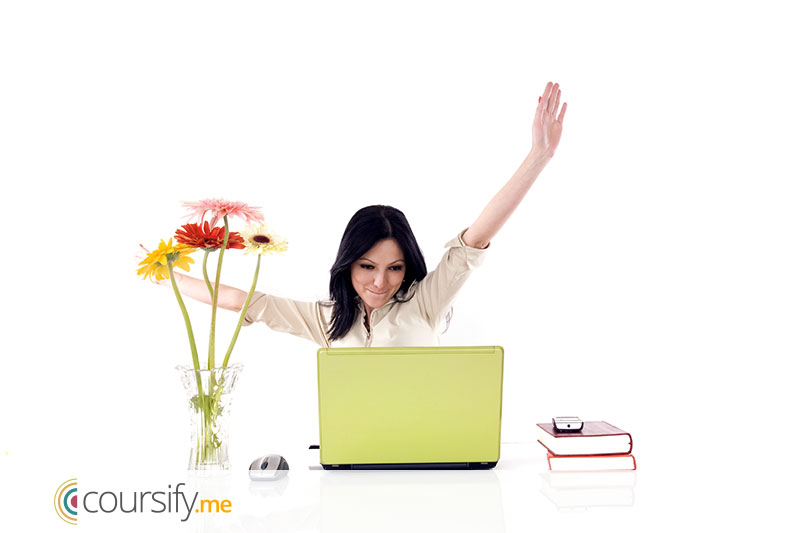 Find out what your buyer personas seek and attract leads for your Distance Learning courses
If you sell distance learning courses you very probably has a blog and social networks, right? After all, to be noticed on the internet it is necessary to have channels of communication with the public.
These channels are used as a mean to provide relevant and attractive content to your target audience and their buyer personas (if you do not know what this means, read our post about the importance of defining the buyer personas of your business).
As in the case of distance learning courses content is exactly what you sell, the big question is what kind of qualified content, that generate leads, offer for free without cause prejudice to your business.
It is worth mentioning that not always the leads knows exactly what kind of information they needs to solve their problem, so it is important to know the personas to know what to deliver to them. But when your buyer personas have already visit your blog, it is worth examining what are their preferences to help produce content and engage them more and more. Here are some tips on how to do this.
Search field
If you usually do research on blogs of your interest, you are probably a user of the search field. After all, most blogs have a large amount of content produced and you don't have all day to seek in one by one to the information you are looking for.
This happens also with your visitors. If they already frequents your blog, it is a sign that they are interested in some type of information that you make available, or at least think you should offer. So, if your blog does not yet have a search field, create one immediately.
Using Google Analytics you will be able to view the keywords that are being searched on your website or blog. Just go into the tab "Behavior" and clicking "Internal Research". Learn what are the words and subjects that your students seek will help you to understand what interests them, and this information is of great help to determine themes for the production of content.
Comments
Make possible for people to comment on your posts is also a great way to learn a bit more about what they think and want to know, besides contributing to build a relationship with the user. 
Through the comments readers can leave their contribution, ask questions and even discussing the matter with other visitors. This generates a valuable source of information on what are the interests of your audience and can help you to convert many leads.
Thus, when readers leave their comments, contribute in the best way possible. In case of questions, answer them indicating a material that is related or complementary to the matter raised. If other visitors have the same question, make a post about it and when comments raise issues about which you have not written anything, enjoy, here is a new theme.
Surveys and Questionnaires
A good way to learn something about someone, is to ask directly to that person. Therefore, making a research with your audience asking about what they would like to read on your blog is a method 100% efficient to have new ideas about what type of content create.
To do this you can send a survey or questionnaire quite simple (nobody likes to stop what they are doing to answer a huge list of questions) by e-mail to your leads, post the research in social networks or even put a field to poll on your blog or website.
You might not get the number of answers that I would like, but the ones that you obtain will be qualify, because anyone booking time to answer is because it has a great interest in the results that it can generate.
Interaction on social networks
As well as on the blog, comments left on social networks are an excellent source of information about the buyer personas of your distance learning courses. Social networks are capable of producing a much larger number of interaction, whereas the majority of people is connected the most part of the day and already have a habit of leaving reviews and opinions.
Pay attention to any comment in the posts that your distance learning school shares, in private messages and posts made on your pages. Any type of user interaction, doubts, opinions, discussion with other visitor or simply sharing your post can assist in lifting of ideas for new topics to create materials.
Understand what your readers would like to find on your blog is critical to attract leads, create a lasting relationship with the public and convert visitors into students to your distance learning courses. Once that you position yourself as a reference in your segment, they will have more confidence in acquire and pay for your content.
Soon you have your customers, simply pointing them to the online platform on which your distance learning courses are hosted. If you have not found a safe platform and with all the features you are looking for, give a hello to Coursify.me via e-mail hello@coursify.me and learn everything that our software has to offer. It will be a pleasure to have you with us!