How to Drive Traffic to Your Website Using a Blog
In order for your business to gain visibility in today's busy digital marketplace, you need to drive traffic to your website.
There are a number of advertising channels on the internet that you can (and should) use to accomplish this, but if qualified and organic traffic is your goal, start a blog as soon as possible.

Importance of Blogging to Drive Traffic to Your Website
Depending on your business niche, it is true that a blog can take time to deliver results, since online competition is high and other competing websites may have been producing content much longer than you. But producing content is critical.
For those who do not remember, Google and other search engines are not able to read images, so they rely on the textual content of a site to determine its relevance to user search.
What does this mean? Quality written content is critical to drive traffic to any web page today. And considering that you can't keep stuffing your site homepage with text, what is the best channel for hosting this content? That's right, a blog!
Powerful inbound marketing tool, blogs are an effective way to increase your online visibility and build relationships with your target audience. 
By consistently publishing quality content related to your business, you provide more value for leads and consumers, which leads to customer conversion and retention. Also, a blog can become a source of income over time.
– Content marketing to sell online courses
The truth is that people like reading blogs as part of their daily routine. 
Whether learning how to solve a specific problem, figuring out how to do something, or just keeping track of a particular topic, digital age consumers find blog content valuable, which makes it a great tool to drive traffic and increase sales for businesses.
Don't believe us? Take a look at the following statistics:
According to SEO Tribunal, there are 409 million monthly readers of over 2.2 billion blog posts.
Marketers who prioritize blog updates are 13 times more likely to earn a positive ROI. (HubSpot, 2018)
66% of marketers surveyed use blogs in their social media content. (Social Media Examiner, 2019)
43% of B2B marketers say blogging is their most important content channel. (Social Marketing Industry Report, 2017) 
43% of people admit to skimming blog posts. (HubSpot, 2018) 
With so many social networks and other online attractions, it's significant that many users spend time every month reading their favorite blogs. This suggests that consumers find published content useful and get some value from what they read.
– Step-by-Step to Creating a Blog
If you want your blog content to add value to readers and help generate consistent, qualified traffic to your site, you need to make sure your content is well written and reliable. 
How Blogging Can Influence Conversions
The key to influencing conversions through your blog content is to know your audience. This means your business should write about topics that your target consumers find most valuable. 
For example, if you sell a programming course, your customers are interested in technology, so create theme-related publications, subject-specific content, and related news. 
You must define different types of texts, for although your ultimate goal is to drive traffic to your website, you need to engage customers at every stage of the sales funnel, if you want them to go from visitor to lead and then to client.
– Understand How the Sales Funnel Works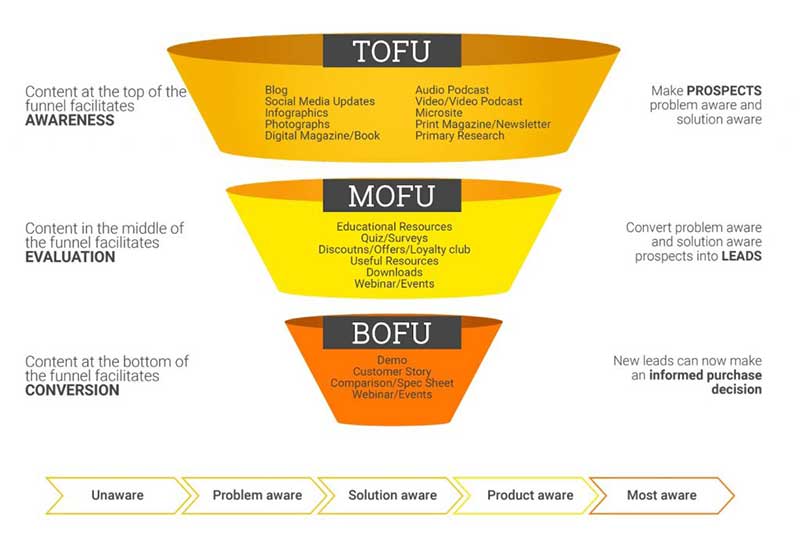 Here's a brief description of what this means for your content strategy:
Top of the funnel: Content should focus on your target audience's pain points and work to help them to realize what their biggest challenges are.
Middle of the funnel: Content needs to focus on helping consumers understand possible solutions to their problems.
Bottom of the funnel: Final push for conversion, focusing on why your product/service is the best option to help consumers solve their biggest challenges.
If you want to leverage your blog to drive more conversions, you'll need to be consistent with your updates. 
In fact, research shows that the frequency of publications can affect customer acquisition rates.
That's because, in addition to pleasing the consumer, the more posts you create, the more pages of quality content you'll have for search engines to index.
While there are paid strategies that can help you do this, such as Google's adsense and adwords, the goal is to generate organic (free) traffic. This is especially important for small businesses that work with limited digital marketing budgets.
Each time you create a new blog post for your company, it adds to the number of indexed pages your site has. 
– SEO: Complete Guide for Your Website to Have More Online Visibility
This basically means that you are creating another opportunity for your brand to appear on search engines and have a higher ranking on the search engine results page (SERP).
It's important to note that not all of your blogs generate constant traffic over time. However, according to WordStream, 1 in 10 blogs is composed. This means that the organic search traffic from these blogs keeps increasing over time. 
The more quality content your business publishes over time, the more likely you are to create a composite publication.
To maximize your blog's potential, be sure to monitor analytics to see which posts are most popular and generate more engagement over time. 
Use Your Blog to Make a Difference
The main reason why blogging is such an effective relationship building tool is that your content has the ability to provide real value to consumers. Unlike traditional marketing, which tells consumers directly to buy something, blogging helps users understand why they need your product or service.
In addition to drive traffic to your website, by promoting quality content on your blog you prove that you are an authority on the subject, thus attracting a qualified audience interested in what you are offering. 
Take a look at a few simple tips to turn your blog into an efficient marketing tool.
Update It Regularly
Schedule to make a new post at least once a week. This demonstrates commitment, seriousness and loyalty to the audience. 
It can even be helpful to determine an exact day and time for the post, so your audience will always know when a new post is online. 
Many companies that already embrace content production as a marketing tactic attest that by doubling the number of updates from one to two weekly, they also doubled the number of traffic to their site and return on leads. 
Learn from Comments
Don't disable comments for fear. Produce quality content and trust your work. 
Different opinions will always exist and serve as a good way to learn and understand your audience. 
Stay tuned for all comments, both positive and negative repercussions can say a lot about your product or service.
 Always Answer
Comments also serve for the customer or future customer to leave their suggestions, criticisms, compliments or ask for information. 
Whatever the option, always answer. Constantly monitor to not to miss the chance to answer any questions that may result in a new customer. 
Appreciate the compliments and respond politely, always offering some response or satisfaction, it is better to be aware of criticism and have a chance to defend yourself than to let them circulate in word of mouth. In the end, they can also turn into new opportunities.
 Generate Interest
Getting the interest of people who identify with your business is the key to success. 
Create posts on topics related to your course, the better the content, the more you will gain credibility and drive traffic to your website. And once again, keep an eye on comments and views. If posts that are very relevant to your course have not had a good audience, think of more interesting ways to approach them. 
Always remember that the greater the variety of subjects, the greater the chance of being found in search results. 
It takes time to become an authority in your industry through blog posts. But the reward is significant. 
The more reliable and useful information you post to your blog, the more likely your audience is to trust your business and contact you when they are finally ready to make a purchase.
When you help consumers better understand their challenges and needs through quality content, it encourages them to speak directly to your brand when they need a solution. 
Increase Your Traffic and Sell More Online Courses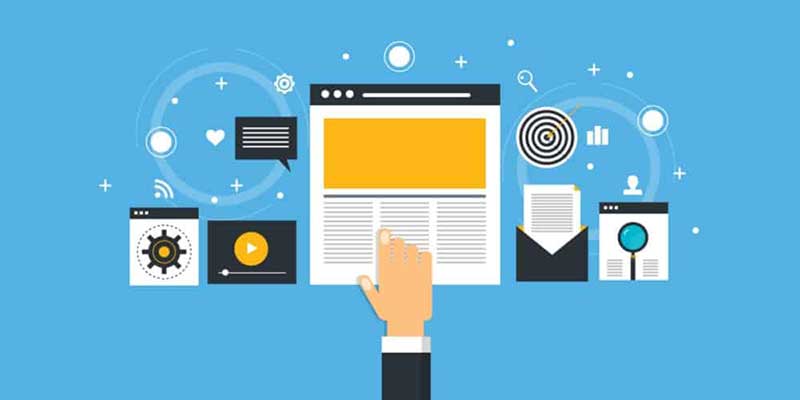 Blogs are a great way to improve your online reach and build lasting relationships with your customers. 
The more content you produce over time, the more opportunities you'll have to reach new leads and influence more conversions. 
While blogs take time to do their magic, they get rewarded in the end, helping your business to increase sales over time.
With a well-planned and consistent posting schedule, you'll be able to improve your site's search engine rankings and drive traffic to your page.
– Digital Marketing: 5 trends you need to know
Coursify.me is a completely dynamic and customizable hosting platform that supports and provides resources for those who want to create, promote and sell online courses.
Present in more than 60 countries, Coursify.me is the perfect solution for you to have your own business.
– Learn how to sell online courses
Visit our website, test the platform and know why we are the best option for you.