9 Tips for Creating Professional-Looking Videos
Creating videos with a good look doesn't have to mean spending money on cameras and other production equipment. 
You can get great results by paying attention to a few details during recording that make all the difference.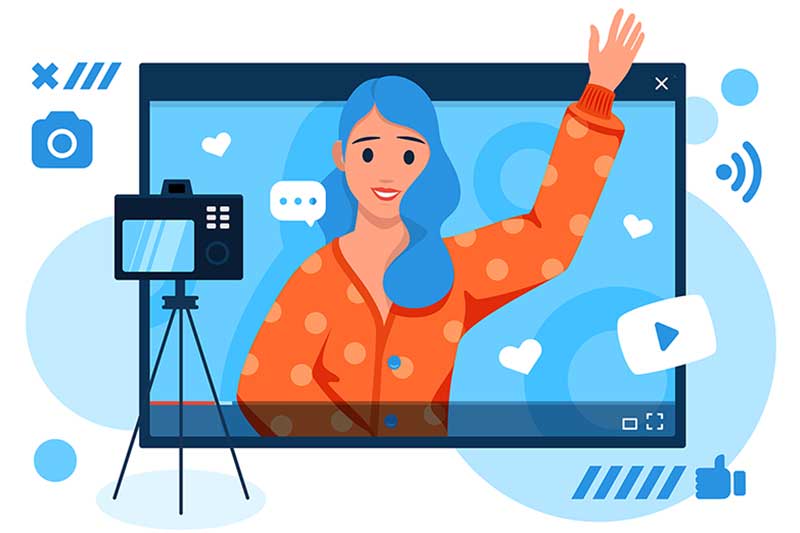 Creating Videos: How to Get Good Results with Few Money
With smartphones making it possible to create videos anytime, anywhere, video has become one of the most popular and consumed types of content online today.
Surveys show that 85% of Internet users in the United States watch video content. As a result, 87% of marketers are using this type of media to promote their products. And it works.
If a user has a positive experience with a video ad, this will increase their purchase probability by 97%, making this feature critical to your marketing strategy. 
For those who create and sell online courses, video classes are also a great public preference, being essential to attract students.
The good news is that creating videos is easier than you think – and it doesn't have to be expensive. See the tips we've listed below!
1. Place your gear
You can create good quality videos with your iPhone or Android, as long as you keep a few simple tips in mind:
Use the rear camera to get better quality footage.
Shoot in landscape mode (horizontally instead of vertically).
Place your camera at eye level. For best results, use a tripod.
If you have the budget for this, we recommend purchasing a camera stabilizer for more stable hand shooting, an external microphone to improve audio capture and quality, and a tripod to support the camera when you need your hands free. 
2. Plan your footage
When creating videos for your online courses, you have a lot of freedom to plan the entire production from start to finish. But be careful, without another critical look, planning and attention to detail are necessary in order not to end up with an unsatisfactory result.
To really do this like the pros, create your own storyboard with illustrations of your scenes in sequence. This will help you preview your final footage and outline the shots you want. It will also serve as your guide during filming and editing.
Next, think about where you can add onscreen text or other visuals to make your content really stand out.
Record short takes. This will allow you to film your lessons without having to memorize your entire script and makes editing easier.
– 7 Tips for Creating a Video Script
3. Ensure good lighting
One of the biggest secrets to creating videos with professional looking is good lighting. 
Determine the types of lights you need and where to place them to achieve the desired effect. 
Want to save money? Shoot your video where there is plenty of natural light. Make sure the light is positioned in front of you to illuminate most of your face. Prefer the morning or late afternoon sun for a softer light, as the midday sun can be very strong and create shadows.
If you're shooting indoors, to complement the overhead lights, place a soft, bright light (for example, a lamp) beside or behind the camera. 
For more professional quality when creating videos, invest in ring light. Most professional Youtubers use a "ring of light", which is a circular light that holds the camera (or smartphone) in the center. It can be attached to a tripod that supports both the light and the camera, so you can shoot hands-free.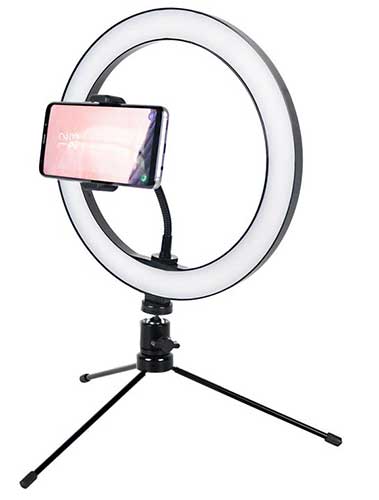 Ring lights are a great option as they ensure a natural light effect and don't strain your budget. 
4. Keep the background simple
Don't film anywhere. Make an effort to use a simple, uncluttered background. Many use solid-colored backgrounds — whether it's a wall, sheet, or wallpaper — and position themselves (or their objects) a few feet away to avoid casting shadows.
The key is to minimize the elements that will make the scene look confusing and distract from the subject. 
Shoot against a low contrast background for best results. Some neatly arranged items in the background can add depth to the video (a wall with frames, a bookcase, etc.).
Don't use virtual backgrounds that have movement, this will distract your audience from your presentation.
Dress professionally, as if you were giving a live presentation at a conference. Avoid color clashes (ie, no overprinted pieces).
5. Attention to framing
A professional filmmaker or someone in the film industry may be able to identify an amateur's work during the first few seconds of a video project, even if state-of-the-art equipment is used. What gives you away? Lack of proper framing and composition.
Composition is how you frame the subject (person or main object to be filmed) in the video to create the best possible experience for the viewer.
Start by following the rule of thirds by viewing a 3 × 3 grid in the frame and placing the subject in one of the grid boxes. Leave space above the subject's head so it doesn't get out of the frame, but don't leave too much room either. If you're recording yourself, it probably means you'll be front and center on the grid.
What many beginners don't realize is that creating videos involves more than just pointing your camera at your scene or subject. You need to organize and allow the visuals to tell your story. It also means changing the camera's framing to make the scene aesthetically pleasing.
– How to set up a home studio to record videos
Multiple angles
If you can, shoot with a second device at a smaller angle or at a different
distance (eg wide shot and close-up). This can add energy to your presentation, and it also makes the cut between takes smoother.
6. Use manual focus
Although the auto focus feature on your camera can be very useful, it can ruin your recording when it goes in and out of focus when trying to locate your subject in poorly lit scenes. 
The key is to use the exposure/focus lock on your smartphone or switch to manual focus on your standalone camera, so you can use your own eyes and set the focus yourself.
Setting the focus also allows you to add interesting effects to your video, such as using the technique rack focus, where you can focus on different objects successively (with the help of a shallow depth of field blurring everything else) to direct the viewer attention. When used correctly, it can be a very powerful storytelling tool.
7. Set the white balance
A real challenge many professionals face when creating videos is temperature and color correction in filmed scenes.
If you are using more than one camera to record the same scene, they may have different default color temperatures. This is a problem when using cameras from different brands, for example, but it can also happen with equipment from the same brand. 
Set white balance on all cameras before recording to output more consistent and professional looking clips. This will help speed up the editing process.
The "correct" white balance is subjective and may depend on the desired result. For example, you can intentionally set it to feel cooler or warmer depending on the vibe you want to convey, or the subject being presented. 
8. Capture clear audio
One of the most important components of creating great video is audio. A smartphone can do a great job capturing images, but to ensure audio quality we highly recommend that you invest in an external microphone.
There are different options on the market. If you have a podcast or game microphone at home, this might work well. For outdoor recordings or for interviewing guests, a pair of "lav-go" lavalier microphones will work best.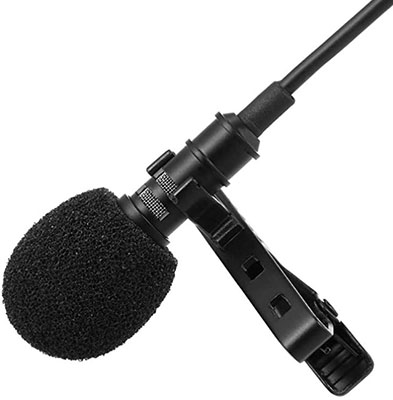 And if you're really on a budget, you can use the microphone that comes with most headphones. Although they have lower audio quality, they are better than no microphone and work well in tutorial videos, which are simpler and basically involve recording the computer screen.
– Record tutorial videos: tips to get the best result
If possible, record in a small space to reduce echo. Be sure to eliminate as much outside noise as possible. Closing windows and turning off fans and other devices helps reduce background noise. Don't forget to silence your phone!
9. Always think about editing
This particular tip simply means that you should think like an editor when creating videos. 
When recording a scene, try to capture multiple angles and some "safety shots". This means that you will have options later when editing the final material. This will save you time and effort that you would otherwise spend on remake. 
Using free video editing software, you can clear background noise, adjust lighting, cut out awkward pauses or errors, and add text and background music. 
Be sure to add subtitles to the finished video as well. Not only do subtitles make your videos more accessible to a wider audience, they are also more likely to attract the attention of users who are playing without sound. Plus, they improve your video's SEO and engagement.
When finalizing edits, be sure to include elements of your brand identity. You can use some basic graphic design tools like Canva to create a cover page for your video or even add some graphic elements like your logo.
– Basic Video Editing Techniques
Create Videos and Sell More Online Courses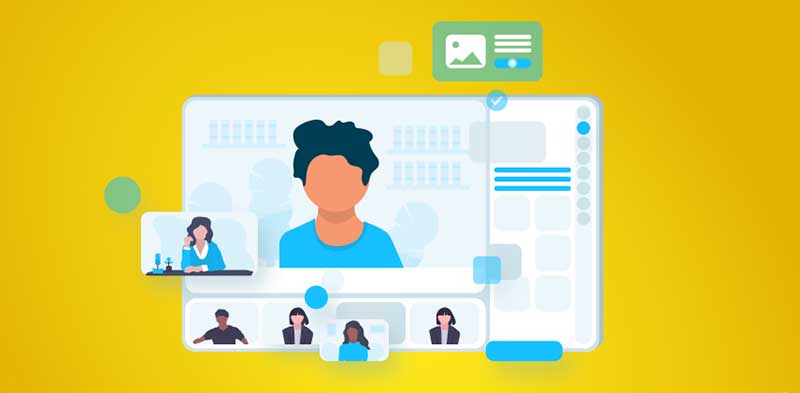 Using these tips for creating videos, you're sure to get quality output, even as a beginner. Start slowly, record short scenes, analyze and adjust what you think you need to improve. Don't just do this at the end, as the rework will be much bigger.
– 12 Quality Video Recording Apps
With creativity, dedication, and a little bit of investment, you can also create promotional  fun and engaging videos that will make your brand stand out and help you promote your online courses.
Once that's done, your video is ready to be shared with the world. Plan a content marketing strategy and share it on social networks, email and website.
As for your online classes, all you need is a complete eLearning platform, like Coursify.me, to make them accessible to the public.
Learning Management System (LMS), Coursify.me has all the necessary features for you to integrate and import content from video hosting platforms such as Vimeo and YouTube.
– Whats is a Learning Management System
With Coursify.me you can easily upload videos, texts and other materials from your computer and from the main platforms, such as Dropbox, to your online school.
Visit our website, do a test and enjoy all the features we offer for you create and sell quality online courses.