How to Create a Video Script for your Online Classes
To create a video script is the first step for anyone who wants to record quality online classes.
Audio, sound effects, images, everything is necessary, but first the story must be written.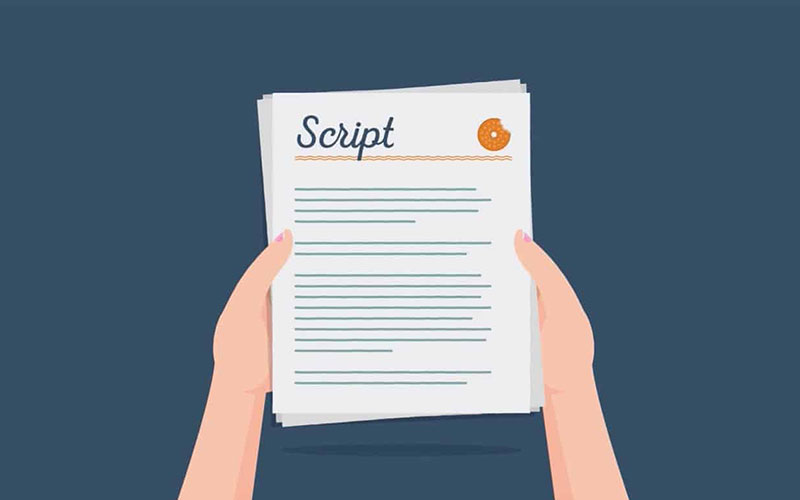 7 Tips to Create a Video Script
It is no secret that watching videos on the internet is already a habit of the vast majority of people.
To get an idea, only on Facebook one hundred million hours of video are consumed daily.
Favorite among other types of media, knowing how to create a video script is very important in order to attract audiences.
– Learn What Your Buyer Personas Want and Attract Leads
When it comes to online courses, video lessons are the type of content that most captivates the student and therefore sell more.
The good news is that you can create a video script with ease, as long as you follow a few steps that we will present below.
1. Define your Goals
To begin with you need to do a sketch, a planning, but to build this, you need to know exactly what your goals are.
Before writing a video script, identify all the elements that will influence your story.
This will help ensure that your narrative does not stray too far from your goals.
Initial questions to answer:
Who are my audience?
What is my goal?
How will I achieve my goal?
What value will it provide?
Here's a practical example:
I'm a programming expert and want to start producing video lessons to sell online courses. Who is my audience? People of any gender and age who are interested in learning and working with programming, beginners or not. What is my goal? Attract students with my videos, gain authority and start earning money by selling courses. The goal is to reach 1000 people in the first month and bring 10 new students from the videos. How will I do this? Producing videos easy to understand, humorous, light language, proving that programming is not impossible and anyone who has an interest can learn and make money by working with it. For this I will use tutorials, lots of examples and do chats and live broadcasts to answer questions. I will post these videos on my social networks, website and other free display channels to be able to impact as many people as possible. I'm going to produce short videos on specific subjects and I'll always invest in attractive, attention-grabbing titles and images. What will my students gain? My students will be able to learn and practice programming to work with it if they wish or use it for their own benefit.
From there, you can make a list with the topics you plan to cover.
Always remember to work with practical terms, set tangible goals for each video, and be very specific at each topic.
This list will be the basis and a reminder of everything you need to include in your script.  
Once you have this set, you can begin to detail your narrative.
2. Create an Engaging Narrative
Lack of story is the number one problem we see in videos of many brands and companies.
That's because while your video is meant to help you reach a goal, it can only do so if you involve your audience.
Create a video script with a narrative that piques interest and satisfies the human need to know what happens next.
Captivate your audience from the start: begin with an emotional hook, which can be entered through a powerful story, interesting anecdote, a curious question, different perspective, etc. The important thing is to give your audience a reason to pay attention right from the start. It is necessary to create the greatest impact in the shortest possible time.
Focus on a single message: this is why your outline is such an important first step. Do not overdo and confuse the audience. Choose a single story and use visual aids to reinforce it, such as images, animations, graphics, etc.
Development and reward: and this is the reason why the stories are so satisfactory. We want to know what happens and where the story goes next. There must be a strong argument for your audience to feel that their time has been well invested.  
3. Make the Best Call to Action
A good ending is a good CTA. But that does not just mean displaying your logo and URL.
Your end should be influenced with what you want your audience to do.
Do you want them to:
Share the video?
Sign up for an upcoming class?
Subscribe to our newsletter?
Your narrative must be built toward that end.
An observation here: Not all stories need to end with a full resolution.
You can also leave a "continue" or "know more" in the air, to keep the interest and make the viewer come after more.
4. Cut, Cut, Cut
You create a video script, now is time to take the "scissors". Time to reread and make cuts.
Using more words than necessary is very common on a first try and not only leaves the video too long, but weakens your argument.
Reread and study your script several times and keep cutting until each word serves the story. Keep an eye on:
Long phrases: be brief and clear. You have limited time. If there is a simpler way to say, this it is the way you should use.
Irrelevant info: Good video scripts are decisive. Remove anything that does not need to be there.
A good editing is not just reducing the word count; it's about condensing information to preserve what really matters.
– Design Tips and Video Editing
5. Think Like your Audience
After you create a video script, reread and make the necessary cuts to its better functioning,  it is time to review it from the perspective of your audience.
Take a test and revise your script through the eyes of your audience.
Will they understand the concepts presented? Write to the level of knowledge of your audience. You do not want to insult their intelligence or alienate them.
Is that relevant to them? Are they learning something that will really add some value to their lives?
Is vocabulary appropriate? There are usually terms or phrases you are familiar with, but your audience is not. Look for words that need to be replaced.
6. Read it Out Loud
Want to know if your script works? Read it out loud.
You need to be aware of how the narration will sound. Some tips to test this:
Do not just read; record yourself talking and listen.
Read your script aloud at once. This helps you pick up anything that causes the slightest strangeness. Until you can read without problems at once, rewrite.
Time the duration of your script and do it over and over again to make sure the timing is adequate. When you are familiar with the content, you tend to speed up while reading. It is important to keep a steady, leisurely pace that your audience can keep up with.
As for the tone you will use, keep in mind that a serious matter does not always have to sound like this.
It can be comforting to take a lighter, more relaxed tonal approach if it is appropriate for your brand and consistent with your target audience.
7. Ask for Feedback
When you create a video script, even if you analyze it and make changes two or a dozen times, it's still only you at the helm.
This certainly allows for errors.
You need fresh new eyes in your script, either to approve or criticize.
Present the material to a colleague, friends, family, and preferably people who are your audience and can provide valuable feedback.
Delivering your script to someone else will reinforce your confidence or reinforce your narrative from an outside perspective. Either way, you win.
Create a Video Script for Online Courses
The best way to create a video script that is really great is to practice.
If you are going to create online courses, perfect, because you can take advantage of different classes to write new scripts and go improving your narrative.
– Step by Step to Create Online Courses
The stronger your scripts, the more creative the video production can be, and this is what really raises your final product.
Producing videos is a perfect way to record more dynamic and interactive lessons for your online course.
– 3 Tips for Creating More Effective Video Lessons
After that, simply choose the best platform to host your content and allow your audience to have easy access to the material.
The choice of platform, such as Youtube and Vimeo, for example, will directly influence the visibility that your video will have, so select well.
Platform for hosting online courses (LMS), Coursify.me has all the necessary resources for you to integrate and import content from channels like Vimeo and YouTube.
– Whats is a Learning Management System
Ideal for instructors, you can embed your hosted videos on any of these platforms on your page in Coursify.me, making your lessons even better and more complete.
Visit our website and take advantage of all the features of our platform to create and sell quality online courses.