12 best video recording apps [+ BONUS tips]
There are dozens of video recording apps that let you do everything with your recording.
The options are numerous and to help you select which ones are the best, we have made a list of the top 12 of the year.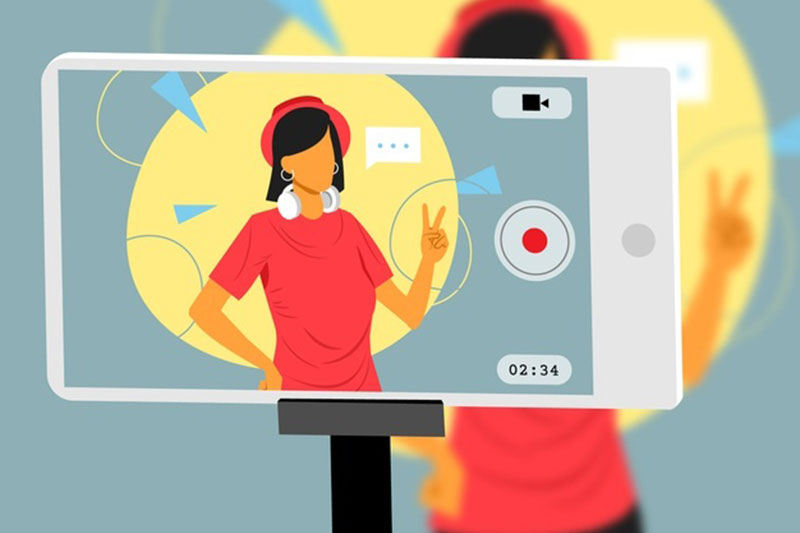 Why record videos for your business?
A few years ago, video consumption entered a continuous growth curve. In 2019, users spent an average of six hours and 48 minutes a week watching videos online – a 59% increase from just three years ago (Limelight, 2019).
In 2020, 96% of consumers increased their consumption of online videos and 9 out of 10 viewers said they wanted to see more videos from brands and companies. In fact, starting in 2022, the average person is predicted to spend 100 minutes a day watching videos on the internet.
– 5 ways to sell online courses using videos
The easy access brought by the use of mobile devices and the amount of material available online, considering that more and more companies and professionals produce content in this media format to interact with the public, justifies this accelerated growth.
Just to give you an idea, a survey by Statista shows that by 2021, 3.8 billion people were using a smartphone.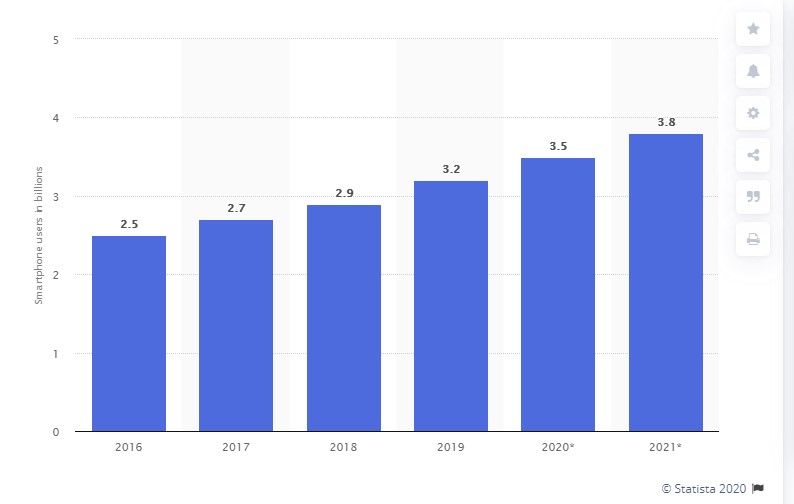 According to Strategy Analytics CEO Neil Mawston, by 2030 around 5 billion people will use smartphones worldwide.
Do you understand why recording videos is essential for your business?
Now, if you've never done this before, don't despair, we've put together a list of 12 video recording apps to help you make this task easier.
12 quality video recording apps
The numerous video recording apps that exist in the market differ mainly by the functionalities they offer.
We've made a selection of 12 apps that are among the most used (and approved) today to produce professional-quality content, without you needing to be an expert on the subject. Check out!
1. Adobe Premiere Rush
One of the favorites among those who work with video creation and editing Premiere Rush is a robust and very complete tool.
This program aims at agility, and for that it has a very intuitive interface. Getting started is very simple, like any other application, select the file you want to work with from your computer, Dropbox, etc. 
The app's professional camera allows you to make high quality videos and immediate editing. Add music and titles, apply effects, organize videos, audios, graphics and photos by drag and drop. Its tools also allow you to cut videos, use speed controls to adjust time, adjust audio, enhance colors with presets and customization.
Additionally, the app includes a powerful photo editor that allows you to apply filters, crop, adjust brightness and contrast, and add text to your images.
Available for Android, iOS, Mac and Windows
Free with option of paid plans 
2. Apowersoft
One of the most popular video recording apps, Apowersoft is a great solution for recording games and making tutorials. 
– Recording tutorial videos: tips to get the best result
Easy to operate, just shake the screen to start and shake again to stop recording. It supports screen recording with internal sound and audio via phone speaker.
The app allows you to display your phone's screen on your PC; It allows you to share the recorded video clips through other apps and comes with the "Privacy Protection" function, to prevent private information from leaking while recording.
Available for Android 
Free with option of paid plans 
3. Movavi Screen Recorder
Movavi Screen Recorder can capture video from screen and webcam and capture multiple video and audio streams simultaneously. It also has a recording scheduler, so that you never miss an important event to capture.
To create video instructions and broadcast with a desktop demonstration, it is convenient to use the indicator of keystrokes, cursor, and the function of drawing on top of the picture. After recording, you can open the video in the built-in editor to cut out unnecessary parts.
The resulting video can be converted to any format and saved in Full HD or 4K quality. You can also upload your recording to YouTube and Google Drive directly from this screen recorder for Mac and Windows.
Available for Android, iOS, Mac and Windows
Free trial version
4. iMovie
We can say that one of the only drawbacks of this app is that it is developed exclusively for use with Apple products, such as iPhone, iPad and Mac.
If you are the happy owner of one of these devices, know that iMovie lets you add solid backgrounds, gradients and standard colors to movies; slow down or speed up any clip; use PIP, green screen and split screen effects; select from over 80 soundtracks that automatically adjust to the length of the video; add sound effects, your own narration; between others.
Want more? The app allows you to share your creations on social media without the slightest effort, the integration is beautiful to see.
5. EZ Screen Recorder
Another celebrity among video recording apps, the EZ allows you to record what happens on your device's screen easily and smoothly. 
Just one tap to take a screenshot. You can set different video resolutions, frame rates and automatically choose the best settings for your device.
When the video recording or screenshot is finished, you can easily share the content with other apps like Facebook, YouTube, Instagram and Twitter.
– How to promote your business on YouTube
Available for Android
Free
6. ProCam 8
We don't want to exclude anyone, but we need to talk about ProCam 8, even if it also only works on iPhones, as it brings DSLR camera level features.
Easy to use in the world of the video recording apps, it has features that appear when you tap the settings icon. A single touch gives you manual control over focus and exposure. And it's easy to change video formats or add a grid overlay before shooting.
Although paid, its cost is low (around 10 dollars) and as you evolve in the use of the application, you can buy new features to get even better results.
7. VideoShow
Want to record full videos, create different, fun and unique content for your social networks, online courses and much more? VideoShow is your app!
The program offers more than 50 themes designed to generate a music video, hundreds of background music, various text styles and fonts for subtitles, filters, gifs, memes, emojis, as well as advanced editing functions. 
– Basic Video Editing Techniques
Perfect for making creative videos, you can find the app at  App Store and on Play Store.
Available for Android and iOS
Free 
8. Open Camera
Open Camera brings features from the world of professional video production and editing to the palm of your hand, unless you have an iPhone, because this open source application is only for Android.
Its great advantage is that it has an extensive list of features to leave your images with good quality, even if your cell phone doesn't have an excellent camera.
The app has several exposure-related features such as focus, color effects, white balance, ISO, exposure compensation/lock, face detection, torch and antibanding. It also has an inverted view option for use with attachable lenses, support for external microphones, among others.
Available for Android
Free
9. AZ Screen Recorder
Easy to use, the AZ screen recorder allows you to record your screen in FullHD and QHD videos, and is the only screencast app on the market that can be paused and resumed while recording.  
Excellent for making tutorials, this application allows you to configure the video resolution, screen orientation, share or delete recorded videos, does not have a watermark and time limit and even offers the option of live streaming to social networks. 
– Live video streaming: 5 ways to make money
To improve, the app does not display ads and does not require root access. 
Available for Android
Free
10. Movie Pro
A solution that cares about your pocket, Movie Pro offers robust features without making you pay what they're really worth.
Among the features that the app offers, shout out to recording videos with time lapse; capture photos while recording; zoom speed control; MultiCam recording; automatic white balance and much more.
The app is currently priced at $9,99.00 on the App Store (yes, we're talking about an Apple-exclusive product again), and it's perfect for anyone who wants even more impressive results.
11. MAVIS
We can't deny that Apple is very friendly with those who want to record videos. Another option for branded devices, MAVIS  has numerous advanced features and allows recording in HD, 2K and 4K.
It provides professional grade filming tools including focus peaking, waveform monitor, vectorscope, false colors and zebras.
The app also offers audio controls, audio metering, custom resolutions, frame rates and recording formats. Features natural interface to provide full flexible manual control while shooting.
12. DU Recorder – Screen Recorder 
DU Recorder is a high quality screen recorder that can be downloaded for free. 
Simple to use and packed with cool features, you can enable the front camera, record external sound, make cuts, combine your videos, add background music, make animated GIFs, and even share the content as a live stream on major video platforms. 
When finished, you can save the video to your smartphone's memory or share it directly on any social network.
Available for Android, iOS, Mac and Windows
Free
– Meet the best free screen recorders
BONUS Tips for Online Course Creators
Camtasia Studio
Well-known application, we cannot say that Camtasia is the simplest option to use, nor the cheapest, but it is certainly among the most complete.
With Camtasia, you can record virtually anything on your computer screen, such as websites, software, video calls, or PowerPoint presentations. Also, it has a built-in editor so you don't have to export your videos to other software for editing.
Among the video recording apps, this is one of the favorites of online courses creators, thanks to its numerous features that facilitate the development of teaching material, such as turning presentations into videos, including captions, quizzes, arrows and annotations to highlight important points, and much more.
When finished, the app lets you instantly upload your video to YouTube, Vimeo, Screencast or your online course.
Available for Android, iOS, Mac and Windows
Paid 
FiLMic Pro
FiLMic Pro is another favorite one between the video recording apps, for its high performance and ease of use. With well-designed screens and buttons, it's easy to feel like an expert when recording videos.
Features standard, manual, and hybrid shooting modes; portrait or landscape shooting orientations; variable zoom speed; slow and fast motion special effects options; adjustable time-lapse recording; etc.
Recorded video, you can even adjust settings (exposure, contrast, saturation, hue, color temperature) and save presets. 
Available for Android and iOS
Paid
Final tips for recording quality videos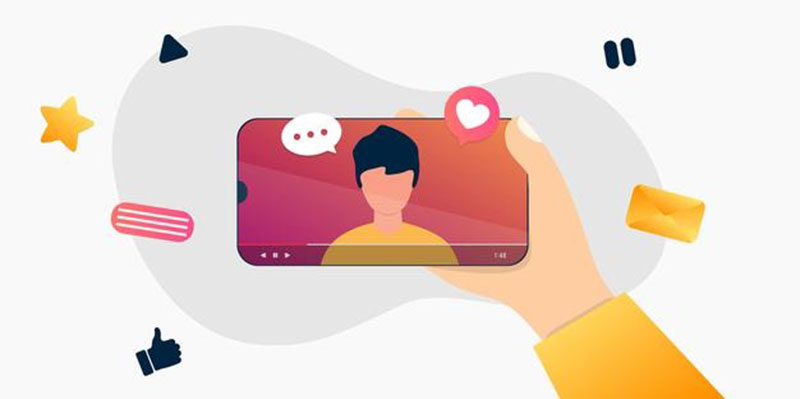 Choosing between video recording apps is already a big part of the way, but to record video with quality you need to think about a few more factors that influence the final result.
To begin, take a good look at your surroundings. Think of the need to prepare your movie set or, in other words, set up a home recording studio.
–  Learn how to record videos at home
Make sure you organize the environment around you, so that you show the identity of your business and convey to your audience the image you want. 
In any image work, lighting is everything, so pay extra attention on this, making the most of natural light and making sure there aren't any shadows cast over you or whatever the "star" of the shot is.
As we've talked about numerous times here before, invest in a microphone. This is not an expensive piece of equipment and makes all the difference in audio quality.
– Meet 4 Voice Recorder Models for your Business
Use a tripod to give your smartphone better stability and always record with the back camera. These simple precautions will save you many hours of editing.
Video ready, all you need to do now is select a platform to host your content in order to make it available to the students of your online course.
– How to Choose the Right Video Hosting Platform
Elearning platform (LMS), the Coursify.me has all the necessary features for you to integrate and import content from sites like Vimeo and YouTube.
– Whats is a Learning Management System
Instructors can embed their videos hosted on any of these channels on their page on Coursify.me, making their classes even better and more complete.
To know more, visit our website, test it out and take advantage of all the features of our platform to create and sell quality online courses. If you need any help,