Audio recorder: what are the best digital voice recorders for your business
Audio Recorder is a device for recording classes, lectures, conversations and other sounds.
Despite being quite used, you may be wondering, with smartphones capable of performing this function, why invest in an exclusive device to record audio?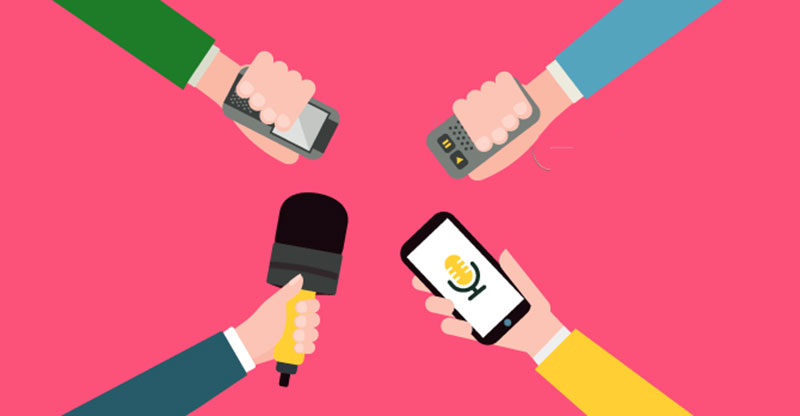 What are the main features of an audio recorder
Digital voice recorders are capable of capturing and recording sounds with greater accuracy, fidelity and quality.
This is due to a number of features, which give them unique characteristics, such as the capture of high-fidelity audio.
The hi-fi stereos use the minimalist concept, where it is believed that the fewer stages there are between the sound captured, recorded, reproduced and amplified, it will have less interference and greater fidelity.
Audio fidelity depends in large part of the sampling rate, bit depth, and if the audio recorder is mono or stereo.
Sampling rate
The sampling rate is the number of times per second that the audio is recorded.
The higher the sampling rate, there will be less loss in the digital representation of the sound.
Most digital voice recorders sample audio with a rate of 44.1 kHz or 48 kHz. The most powerful recorders sample as high as 96 kHz, however, humans can not process higher sampling rates than 50kHz in a meaningful way, which makes 96 kHz overkill in most situations.
Bit depth
The bit depth is a measure of the bits information in each sample. The greater the number of bits, greater the quality of the audio.
For example, the audio recorded on a CD has a depth of 16-bits per sample, which is the same as most voice recorders.
Smartphones record the audio in 8 bits per sample, while a higher fidelity audio recorder has depth of 24 bits.
Mono or Stereo
Handheld digital recorders either record in mono or stereo.
Mono recordings are made on a track, usually with a microphone. This means that when you listen to a track with headphones, you hear the same sound on both sides.
Devices that record in stereo have two microphones. The difference between the two types of recording is the depth.
The stereo sound resembles reality more, because it's like our ears are designed to hear, similar to how two eyes reach a depth that just one can not.
Why invest in an audio recorder
The answer to this question depends on what you want to record and how often you perform this activity.
For example, if you need an audio recorder only to do informal records such as school work or a hobby, the smartphone is perfectly able to meet your needs.
But if you need to record audio on a daily basis, with professional aim, than you need the best quality audio and features offered by a digital voice recorder.
– Which is the best screen recorder
Another advantage of audio recorders is that they usually come with integrated microphones. So, depending on the style of your video, only the recorder on top of the camera may be sufficient, eliminating the cost of purchasing a microphone.
There are several voice recorders on the market, and choosing between them requires a good research.
Check the devices, separated by categories of use, which are among the favorites of 2018.
Audio recorder for students
Students generally do not have much money to spend, so if the goal is record only a few classes and use in academic projects, there is no need to choose a great voice recorder.
To meet this group, the recorder needs only capture the speaker's voice without overloading the audio with ambient noise, as students whispering, bags being drag, etc.
Based on a price range that goes up to $ 100, available resources and online popularity, the following audio recorder received the most votes: Sony ICD-UX533.
Sony ICD-UX533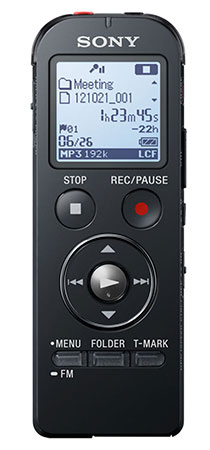 Popular, affordable and simple enough for anyone to use, the device has two microphones with a decent stereo image.
The Sony ICD-UX533 is extremely easy to use. Just turn it on and hit record and, at the end, press play to reproduce what was captured. That's it.
The menu is not overloaded with unnecessary features you never use. There are some pre-recording options and some post-audio options, and that's all. A student does not need to study a manual to use the recorder.
Small, accessible, with 4GB of storage and rechargeable battery with a 30-hour battery life, the Sony ICD-UX533 is one of the most intuitive voice recorders available.
Its storage options, battery, filters and recording make it a good choice for any student who is looking for a simple audio recorder, but effective.
Audio recorder for business professionals
Many business professionals use voice recorders often enough to justify investing in a model with high-fidelity audio and an extensive list of features.
Executives often use the device to record lectures, meetings, interviews, statements, speeches and more.
When you regularly recording hours of content, it means that later you have to listen to hours of it.
Because of this, the audio quality has to be really good, otherwise, it eventually starts to grate on your ears.
With that in mind, and based on price and features, the TASCAM DR-05 is the choice of many business professionals.
TASCAM DR-05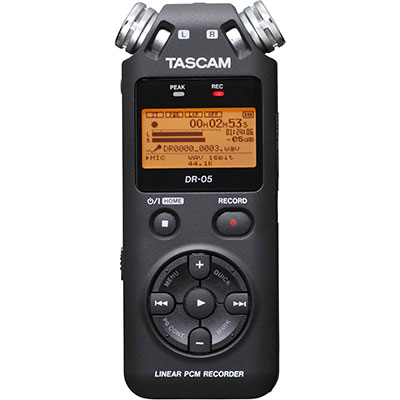 TASCAM DR-05 is a portable audio recorder most popular on the market.
Its main advantage is that it is easy to use and handling. It also records excellent high-end audio at a fraction of the cost of other digital recorders.
This portable recorder comes with two omnidirectional microphones configured in OTRF, which provides wide stereo depth.
This is great for meetings and interviews, because it provides audible separation between the voices.
The microphones record in CD-quality 16- or 24-bit linear PCM audio with sampling up to 96kHz. You can adjust the playback in WAV, BWF and MP3 file formats.
It is also one of the most popular models in virtual stores like Amazon.
Audio recorder for creative professionals
The biggest difference between all these recorders is their purpose. As a creative professional you want to capture  front-facing audio.
An audience will hear what you are recording, which means you will need an audio recorder equipped with the very best.
The best portable recorders for creative professionals, based on popularity and available resources are the H6 Zoom and Roland R-26.
Both devices allow the connection of external microphones and additional instruments to record live music, for example.
You can also mix tracks, connect the devices for video cameras and synchronize the audio to film.
These recorders require more technical knowledge to use, but the audio quality is comparable to the professional equipment you find in recording studios.
Zoom H6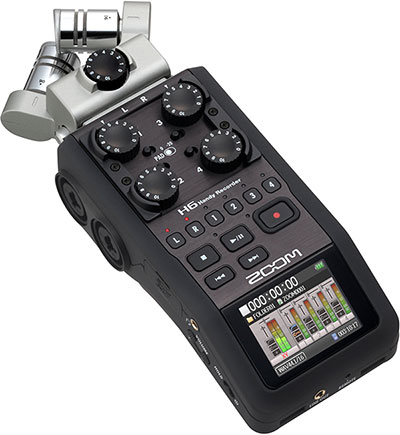 Although both devices are well evaluated, Zoom H6 is, for most, the best digital audio recorder for creative professionals.
Equipped with high-fidelity microphone, the recorder is exceptionally versatile. One of its advantages, for example, is the possibility of exchanging microphones to match your shooting situation.
It also has prerecord, auto-record and backup-record modes, as well as EQ controls, six tracks, and four XLR/TRS inputs.
The H6 is the size and weight of a brick, but its solid construction makes it durable and sturdy.
For professionals who are focused on the public, such as musicians, sound engineers, online courses instructors, podcasters and others, H6 Zoom is the ideal choice.
Best recording app
If you can not afford to buy an audio recorder at the time, know that there are various recording apps available on the internet.
These applications use your phone's built-in microphones to capture interviews, lectures, meetings and other types of audio you want to record.
– 4 apps to record and edit videos
Technically speaking, the best smartphones can record audio with a 44.1 kHz sampling rate, which puts them on a par with CD quality.
The microphone setup, which usually consists of one or two small microphones, is not ideal for recording in stereo, but if you are only concerned with the recording of a voice, this is not a major concern.
A disadvantage is that as smartphones are designed specifically to record voices, many have exceptionally sensitive microphones that capture your breath and various other noises, in addition to the speaker's voice.
However, smartphones usually come with double-mic noise-cancellation systems and noise-cutting filters.
It's worth testing an application on your phone before purchasing an audio recorder.
Among the various options available, Evernote is elected as best recording app for both iOS and Android devices.
Evernote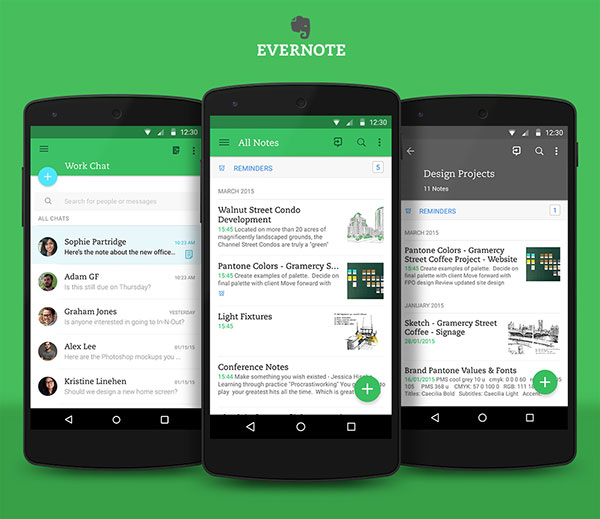 Evernote has extensive note-taking features that none of the other digital audio apps match.
You can record lectures and write additional notes next to the audio file, as well as take pictures of whiteboard notes or presentations and attach audio to them.
Also, you can make lists, keep notes and more. Other apps simply record and play audio.  
The only Evernote disadvantage is the need for subscription. The basic version of the application is free, and that includes the recording feature.
But if you want to expand its use, like sharing notes, for example, you have to sign up.
Audio recorder for online courses
To record your online course, depending on the outcome you want to achieve, either voice recorder options presented are valid.
If in doubt, start testing an app on your smartphone. If the audio does not get to your liking, try the simplest audio recorder and so on, until it reaches the quality you want.
Remember that the important thing is present a well produced content that responds to the questions and meet the needs of your target audience.
– Why use Vimeo to create great videos
There are several tools you can use to create quality and interesting online courses, such as videos, presentations, audio and more.
Material ready, the next step is host it on a complete elearning platform (LMS) as Coursify.me.
– Whats is a Learning Management System
Attending companies and professionals in more than 60 countries, Coursify.me is the ideal solution for those who want to create, sell and publish courses on the Internet, without having to invest to start their own business.
Visit our website, test the platform and see how easy it is profit by doing what you like.