5 strategies to sell courses on the internet using social media
Social networks have proven they are here to stay. Now, you just have to know how to sell courses on the internet using these powerful communication channels.
In 2020, purchases made through social media jumped from 22% to 34%, representing one third of small businesses sales in e-commerce.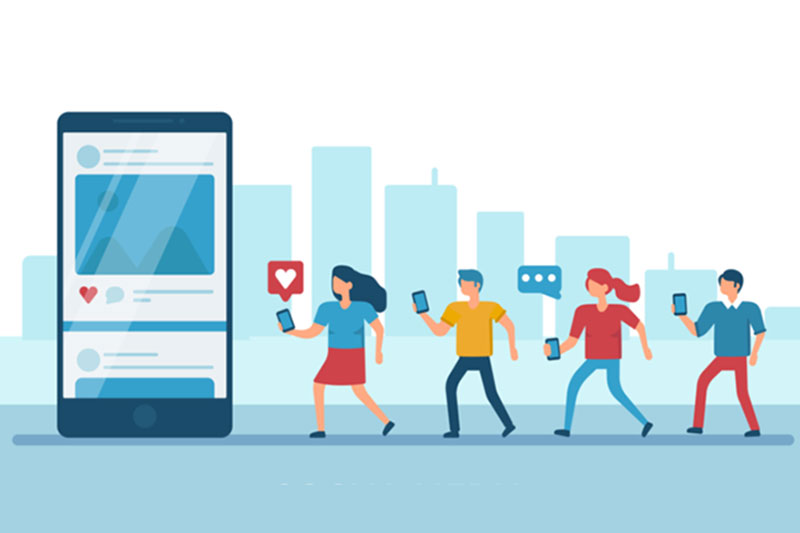 How to use social media to sell courses on the internet
When it comes to marketing on social networks, the first thing to do is a survey to find out which ones have the largest number of registered users at the moment. 
It is easy to conclude that networks such as Facebook, YouTube and Instagram are the most accessed and, therefore, where you need to be if you want to sell courses on the internet. However, before making that decision, analyze your target audience. Certain social networks tend to please one or another age group and user profile more, so determine who your audience is to find out on which channel to focus your efforts.
That done, the next step is to create a profile for you or a page for your company, and start producing relevant content to attract followers. This is where things start to get more difficult. 
Social networks, especially Facebook, have severely cut the organic reach of publications made by companies, forcing investment in paid ads. 
Therefore, you either set aside a value to invest every month, or you dedicate a lot of time, work and creativity to create consistent content, so that you can develop a relationship with your audience and publicize your brand in an organic way. 
– Content marketing to sell courses online
However, this can take time, so there is general consensus that you should apply both strategies. Investing in paid ads on Facebook and Instagram is an effective method of gaining visibility and, if you are a small business owner, or just a professional trying to sell courses on the internet, the amount to be invested at first will be low and can generate good results.
But in the meantime, there are other resources that have fallen in the public's eyes and can be used in favor of those who want to attract and gain an audience. Check out some:
Live Streaming 
With the new coronavirus pandemic, the famous lives conquered once and for all their space.
Several social networks already had features that enable live streams, such as Facebook Live.
Many people believe that Facebook is losing space, but the truth is that it is still the great king of social networks, with more than 2 billion active users. This means that about 1 in 4 people in the world has an active account on the platform, making it highly attractive for all types of business.
Anyone who wants to sell courses on the Internet can take the opportunity to publicize their material by giving a few minutes of free class via Facebook Live or talking about the content with their audience, who can send messages during the broadcast. 
– 3 tips to improve your live classes
Doing this is quite simple. The API allows you to throw signal from a camera into Facebook, which yields a good quality image. But, if you don't have access to that, you can record lives using your smartphone or tablet. Other similar alternatives are Live on YouTube and Live on Instagram. 
YouTube ranks second in terms of users with an active account, but their total viewership numbers are much higher. Every day, more than 1 billion hours of video are watched on the platform.
– How to use YouTube to promote your business
Another good solution to optimize marketing campaigns on Facebook is to use the Facebook Pixel, which allows you to monitor results and consumer behavior, tracking their interaction with your website and ads.
At Coursify.me you can add the Facebook Pixel to your account on Google Tag Manager and then register the Google Tag Manager container ID in the Resources -> Integrations -> Google Tag Manager menu and it will work. See how easy it is:
https://support.coursify.me/hc/en-us/articles/360016206819–How-do-I-add-the-Facebook-Pixel-javascript-on-Coursify-me-
Filters 
Many brands use the feature that allows you to create custom filters in applications famous for their short videos, such as Instagram, Snapchat and TikTok. 
However, the resource that started as something exclusive to the platform and that could be developed by anyone who was willing to pay for it, can now be used by practically everyone.
Filters that alter the quality and beauty of the image become more and more in demand, with several celebrities developing their own and using them in their posts. But you don't have to be famous to create your own. Instagram, for example, has released the creation of augmented reality filters through the tool Spark AR, which belongs to Facebook.
TikTok, a social network that has been successful with its music videos, also allows the application of visual and sound effects, a useful resource for creating videos different and striking.
– Tips for speaking well on video
Social selling
Social selling is when a company uses social media to sell its products directly. It is the latest way to develop meaningful relationships with potential customers by connecting with them.
67% of the customer's purchase journey is digital. People often read five or more posts online before making a purchase. With that in mind, Facebook launched a tool focused in creating online stores, the Facebook Shops.
This new tool works as a virtual store integrated between Facebook, Instagram and, in the future, Messenger and Whatsapp. Through it, the shopkeeper can create a selection with his main products to exhibit in a personalized digital showcase, make sales and receive payments online, completely free of charge. This feature turned out to be especially promising on Instagram.
According to Instagram, the platform is accessed by 70% of fashion enthusiasts to discover new products. In addition, 87% of its users have already made purchases inspired by an influencer.
So, the success of Instagram Shopping is not surprising, considering it allows followers of a brand to view and buy products without leaving the platform.
WhatsApp Business
WhatsApp is by far the most used messaging app, and can also be considered a social network. 
According to the 6th edition of the NuvCommerce study, carried out by Nuvemshop, in terms of customer service, Whatsapp is already adopted by 95% of companies, consolidating itself as the main channel, followed by Instagram (83.5%), E-mail ( 51%), Facebook (49.5%), Telephone (42%), Online Chat (17%) and others (5.5%).
WhatsApp Business, the version of the app for companies, lets you interact directly with customers, classifying and responding quickly to messages. Here are some interesting features it offers:
Company profile: Business profiles are listed as a "Business account", which contain useful information for your customers, such as description, address, email address, website and opening hours.
Bookmarks: You can "bookmark" your customers, which allows you to organize your contacts and easily find them again using filter functions.
Greeting messages: This kind of message can be used to introduce your company to customers when they send you a message for the first time or after 14 days of no activity.
Quick replies: Quick replies are frequently sent messages that you can create, save and reuse. 
Perfect for small businesses, WhatsApp Business is sure to help you improve your relationship with your customers and sell courses on the internet.
– 10 tips to improve your customer service
Stories 
Instagram has a very visual approach and is an excellent tool to increase your audience. In this application the focus should be on posting photos and videos related to your business, but maintaining a human side. You can post photos of yourself on a daily basis working, for example, giving classes, producing material or talking to your students.
A good tip is to bet on interaction. For this, nothing better than using Stories, an Instagram feature that allows you to share photos and videos of up to 15 seconds in length that "disappear" after 24 hours.
Easy to produce, all you have to do is turn the camera on what you want to record and pass on some quick information to your audience. There are hundreds of filters that can be applied to make captured images more beautiful and attractive.
Using stories, you appear more and can receive and respond to direct and private messages, such as questions about your product / service. All of this helps to create and strengthen the relationship with your audience, which increases your credibility and makes it easier to sell courses on the internet. But remember, viewers want publications that serve their real interests, in a genuine way.
How to make the most of Instagram to sell courses on the internet
App developed exclusively for smartphones, Instagram allows its users to take photos, record short videos, apply digital filters to images and share them on various social networks, such as Facebook and Twitter.
The growing number of users has also raised the interest of companies, which started to show sponsored ads. However, the best way to gain attention and followers is to use it in a traditional way, by posting photos and videos with the most personal and authentic content possible.
Anyone interested in publicizing their business using Instagram should pay attention to the following tips:
Download the application on your smartphone and create an Instagram account for your company / business / product.
Fill in your profile: Include a photo of your brand, a brief description of what it is about and place a link to your website.
Connect your Instagram to your Facebook page: Instagram was purchased by Facebook in 2012. It is possible to "link" the posts from the two social networks to boost your marketing strategies.
Create a strategy: Content, frequency of posts, language used. Instagram is used to post photos and videos quickly, usually in real time. A good strategy to captivate followers can be to maintain that intimate character, taking photos of the team, work, coffee break and other relaxed moments or that show a little of your routine, news of the company / product, etc.
Use hashtags (#): The use of hashtags on Instagram is essential. Through hashtags the user searches for topics of interest. There is no character limit. Include hashtags with your company name, with words or phrases related to your product / service and everything you find relevant and related to your content.
Explore and use hashtags of the moment: Keep an eye on the hashtags that have been successful. If they have any relevance for your business, use it in your posts. This is an effective way to connect with users and promote your brand.
Monitor your brand hashtags: Remember that your customers can use your hashtags to contact you. Make sure you are following your hashtags on Instagram and be sure to answer any comments or questions quickly. This attention is essential to build a good relationship with your customers.
Use Stories: Stories are short videos that stay online for only 24 hours. Widely used to show common scenes, with the addition of features such as gifs and filters, this feature has been gaining more space than feed posts and ensuring public preference.
These are just a few tips on how to enjoy this social network increasingly popular to sell courses on the internet. Easy to use and effective, Instagram can bring numerous benefits to your business.
– How to advertise your business on Instagram
Sell ​​online courses with Coursify.me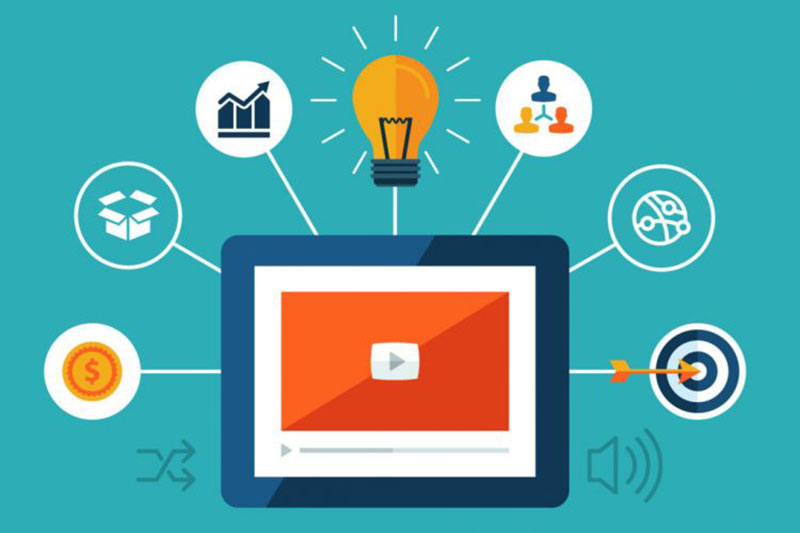 By applying these five strategies, you increase your online visibility and begin to consolidate your brand. Digital marketing campaigns that involve social networks are efficient and can be developed with low investment cost.
By hosting an online course on Coursify.me you personalize the course page with your identity and create links to your social networks, facilitating its dissemination.
Complete and optimized eLearning platform for SEO, Coursify.me is the ideal solution for those who want to create and sell courses on the internet.
Serving businesses and professionals in more than 60 countries, Coursify.me is a dynamic and customizable Learning Management System (LMS).
– Learning Management System: What is it?
To learn more, visit our website, test the platform and understand why we are the best option for your online course.