Black Friday 2020 Coursify.me – Plans with 50% off!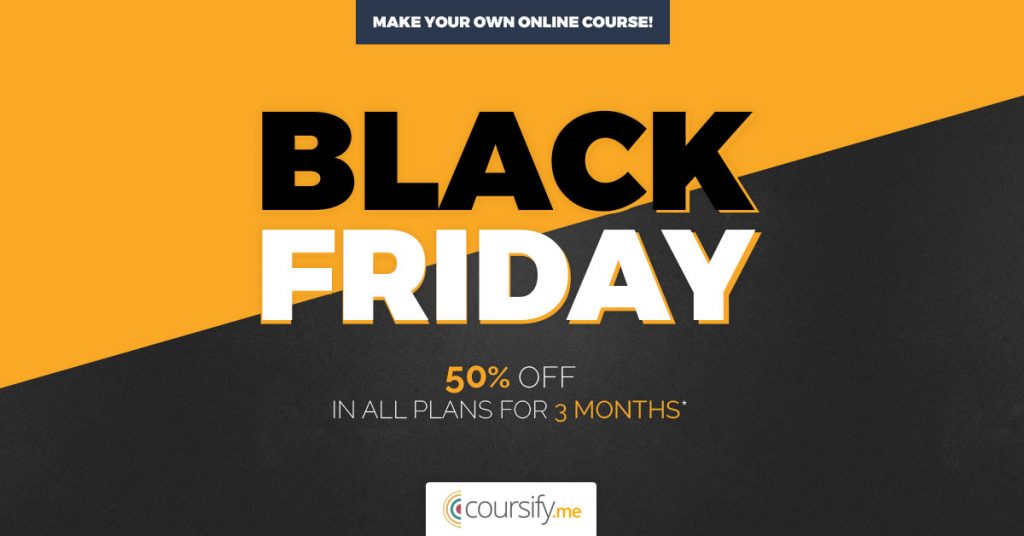 When it comes to Black Friday, we don't mess around.
From Tuesday (11/24) until 11:59 pm on Sunday (11/29), new customers will earn 50% DISCOUNT on the monthly fee when signing the Pro and Business plans.
What does that mean? It means that you will be paying HALF of the price to have access to the most complete plans on Coursify.me.
Check out what we have prepared for you:
Monthly Pro or Business Plan: 50% discount for 3 months on the monthly fee.
Annual Pro or Business Plan: 50% discount on the plan value for 1 year.
All plans provide access to all standard features of Coursify.me, plus the exclusive Pro and Business plans features.
The advantages of hosting your courses online in a complete Learning Management System (LMS) such as Coursify.me are several, such as:
No investment in infrastructure, maintenance and updates;
Teaching model tested and approved;
Saving time and money with systems development;
Easy configuration of functions and layout;
Specialized technical support.
What's more, Coursify.me has several features that your business will need, such as integration with other content platforms and ways to get paid online.
An incredible opportunity for anyone who wants to create and sell online courses without having to invest anything for it!
To discover all the resources you will have access to, visit our website:
Coursify.me Black Friday is your chance to enter 2021 with more money in your pocket and, best of all, doing what you love.
Remembering that the offer runs until 11:59 pm on Sunday (11/29), so run and enjoy!
In case of doubts, consult our regulations or contact us, our team is at your disposal.
Enter 2021 owning your own business!
Regulation:
1 – Black Friday offer valid until 11:59pm on November 29, 2020.
2 – Discounts do not apply to the 4% (Pro plan) and 2% (Business Plan) fees on the total enrollment fee in paid courses.
3 – Offer valid for new subscribers or for upgrading the current plan.