Coursify.me Updates – May 2020
Updates are good and everyone likes it, including us here at Coursify.me.
So it is with great pleasure that we came through this blog post, to announce and talk a little about our latest news.
These are functionalities whose main objective is to serve our users in the best way, enabling them to create better online courses.
So, without further ado, here are the four new features that Coursify.me has developed for you.
File Upload Limits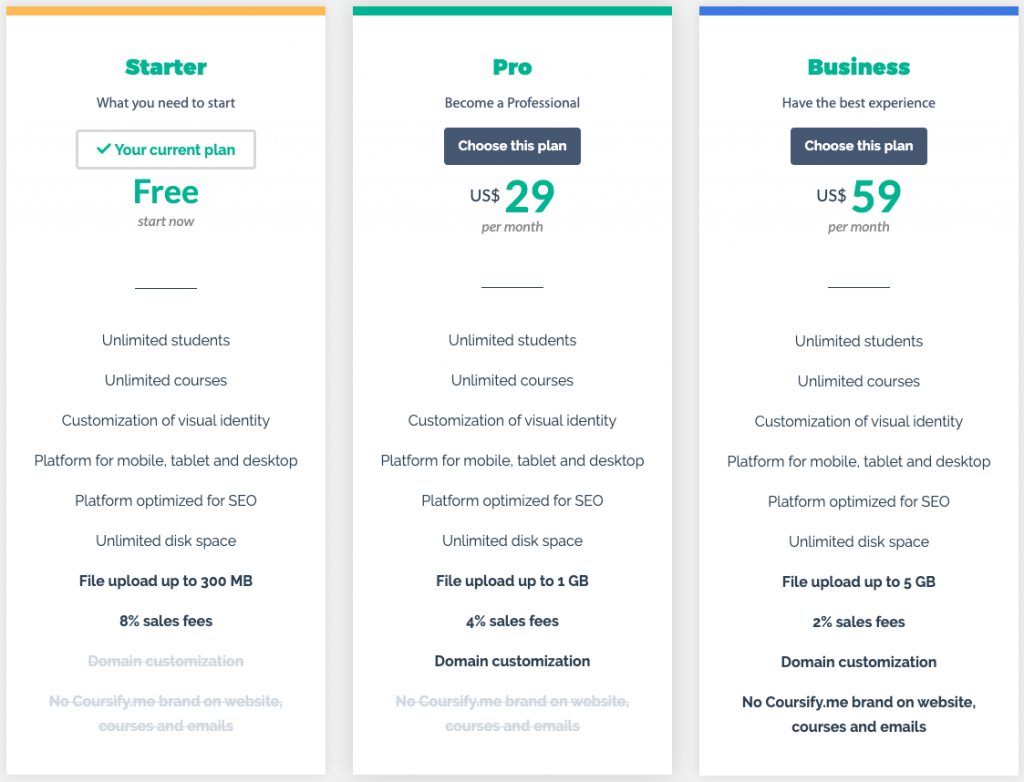 The first on the list is one of the most requested improvements by our customers.
Now, on Coursify.me, you can upload files up to 5GB. What does that mean? That you have space to publish videos with a much higher resolution and duration, guaranteeing the joy of your students and the quality of your material.
Each Coursify.me plan has an individual file upload limit, which are as follows:
Starter Plan: File upload up to 300 MB
Pro Plan: File upload up to 1GB
Business Plan: File upload up to 5GB
This means that each file sent to the platform can be at most the size mentioned above, according to your subscription plan.
Does your plan not fit your needs? Upgrade now, it's fast and worth every penny.
But if it is still not possible to make this investment, do not be sad, because you have UNLIMITED disk space, that is, you can send as many files as you want, 300 MB, 1GB or 5GB each. 
We hope that with this improvement you will have more freedom to create your online courses and continue to delight your students.
– How to create videos for online courses 
New Video Player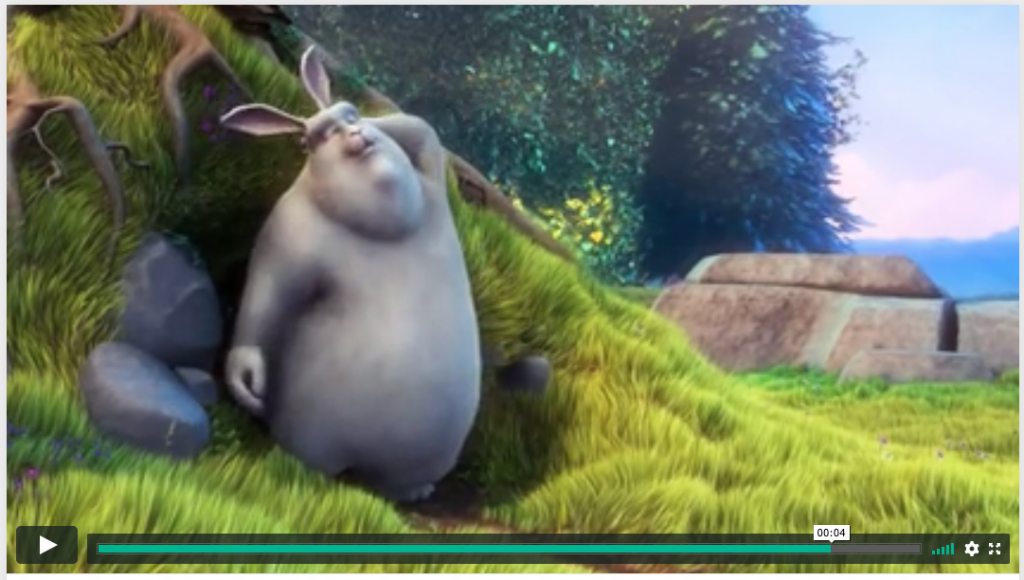 This is one of the news that has left not only our users, but all of us very happy to be able to offer and share: we have an intelligent video solution.
You can upload your video file in .mp4, .webm or .ogv formats and our system makes the immediate optimization so that it works well on any type of device.
This solution adapts the video to the viewer's internet speed, allowing him to watch the content with the best possible resolution. If the student is browsing on a 3G network, for example, with a weak internet signal, we are able to decrease the image quality automatically, so that he can watch the video in the best way.
It also means that if a student is browsing with a very good internet, we can present your video in 4K quality, and this is amazing! 
We are very happy to bring this new feature to your online course and we are sure that your students will also like the news.
– Basic Video Editing Techniques
YouTube Integration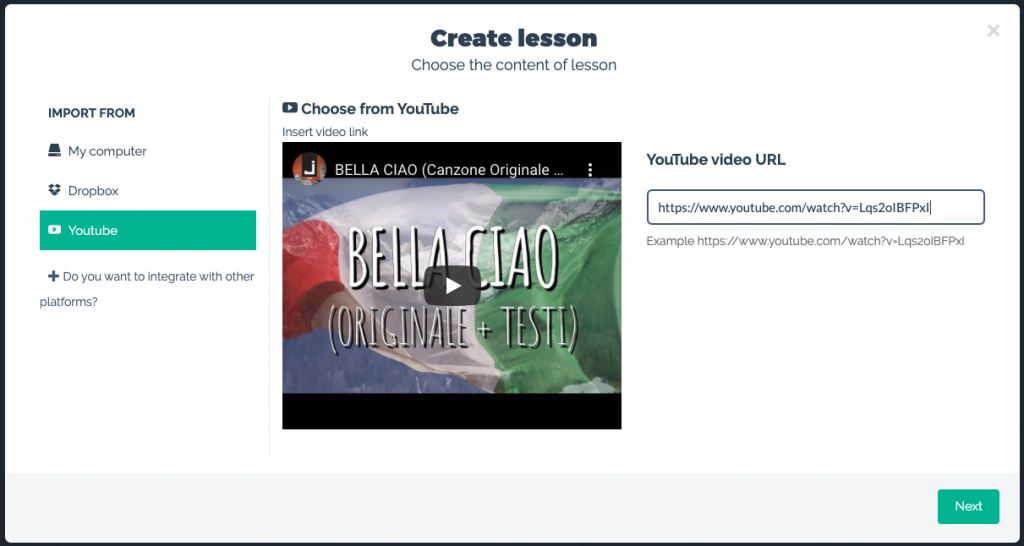 We know you love YouTube videos and, believe us, we love them too.
So we have greatly simplified the process of adding a video from that platform to your online course. 
Now you just need to copy and paste your video link into the YouTube video URL field and Coursify.me automatically incorporates it for you. Simple, practical and efficient! 
YouTube is the second largest search engine, with 1.5 billion connected users watching 6 billion hours of video every month, that is, publicizing your course online and publishing some classes on the platform is certainly not a bad idea.
Enjoy that everything just got easier and integrate your YouTube videos now with your page on Coursify.me.
– How to sell online courses on YouTube 
Platform Loading Optimizations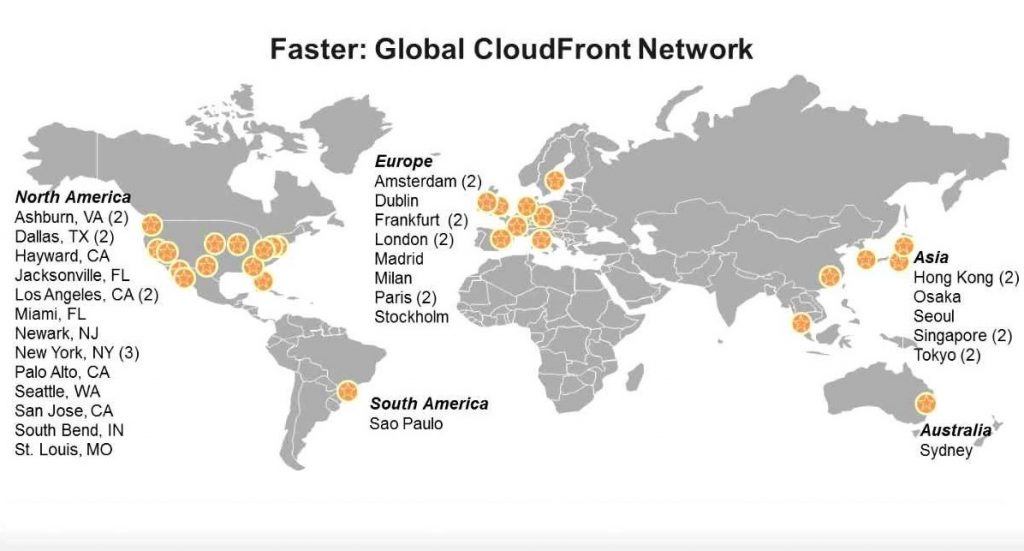 At Coursify.me we are maniacs for speed optimization. Like everyone, we hate a slow website.
For this reason, we have implemented our CDN on the platform, an acronym that means Content Delivery Network.
In a brief explanation, CDN are servers spread around the world with the technology to serve content quickly, that is, by implementing this on Coursify.me, we decrease the response time of loading the site, due to our servers being very close to you and your students.
In addition, we cache all content, so the loading time for anything is immediate.
With this new technology we have improved loading time by 78%! Incredible right ?! We are sure that your students will find it too.
It doesn't matter if your school on Coursify.me has 10 or 100,000 students, the response time of your pages and content will be fast.
Our servers are in:
South America (São Paulo)
Canada (Central)
Western USA (Northern California)
Western USA (Oregon)
Eastern USA (Northern Virginia)
Eastern USA (Ohio)
Europe (London)
Europe ( Frankfurt)
Europe (Ireland)
Europe (Paris)
Europe (Stockholm)
Europe (Milan)
Asia Pacific (Tokyo)
Asia Pacific (Osaka-Local)
Asia Pacific (Seoul)
Asia Pacific (Mumbai)
Asia Pacific (Hong Kong )
Asia Pacific (Sydney)
Asia Pacific (Singapore)
Africa (Cape Town)
Middle East (Bahrain)
We "embrace" the world so that our users have the best possible service.
What's next: Issuing Certificates on Coursify.me
As you may know, because you must have already made this request, issuing certificates is a feature that is very much requested by our customers.
We listened and it may have taken a while, but our development team is working on it with full force and soon we will have this functionality ready to serve you.
That's right, within a short time you will be able to launch personalized certificates for your students, within the Coursify.me.
Take a peek at what's coming up: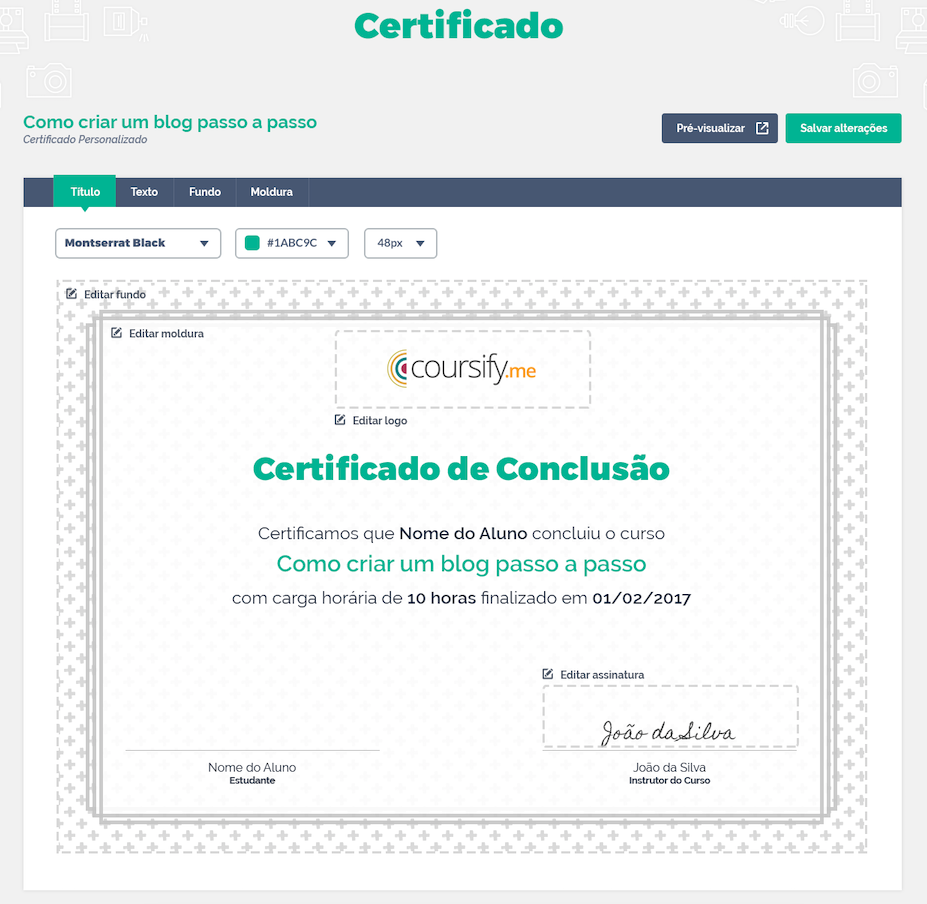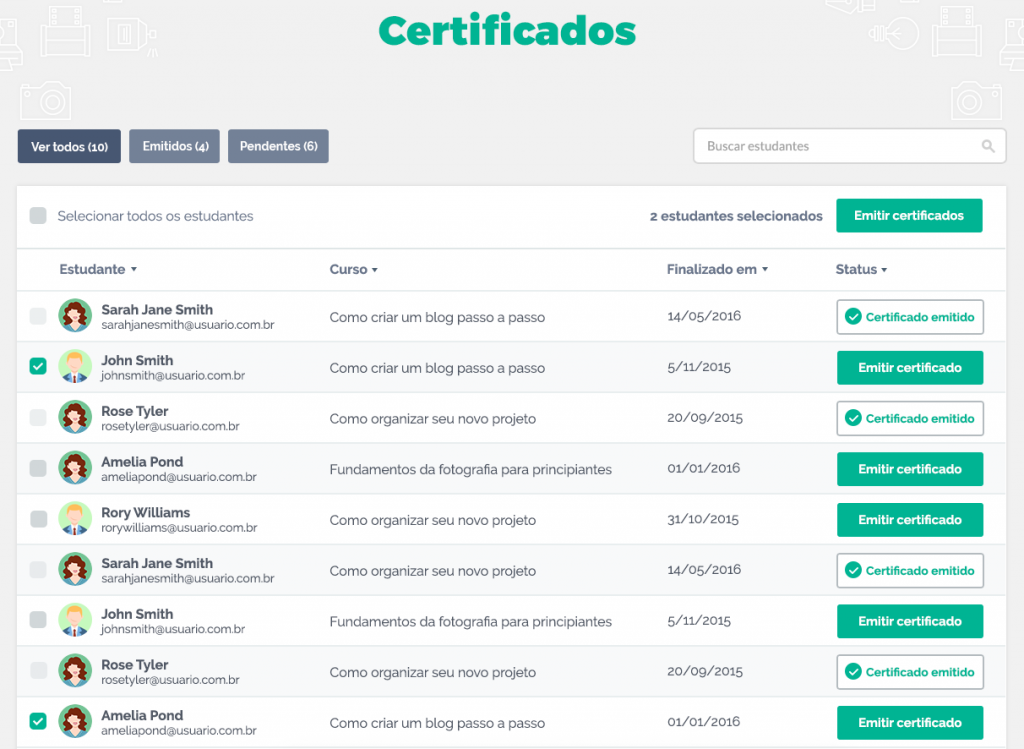 It's getting pretty, isn't it ?! And most importantly, easy and simple to use.
The issuance of certificates will certainly take your online course to a new level, in addition to giving your students deserved recognition.
Create questionnaires, quizzes or exams 
Right behind the issuance of certificates, another feature that is very requested is the possibility to create and add questionnaires, quizzes and exams to the online course.
Once again, our developers heard your cry, rolled up their sleeves and we already have a "tidbit" to present: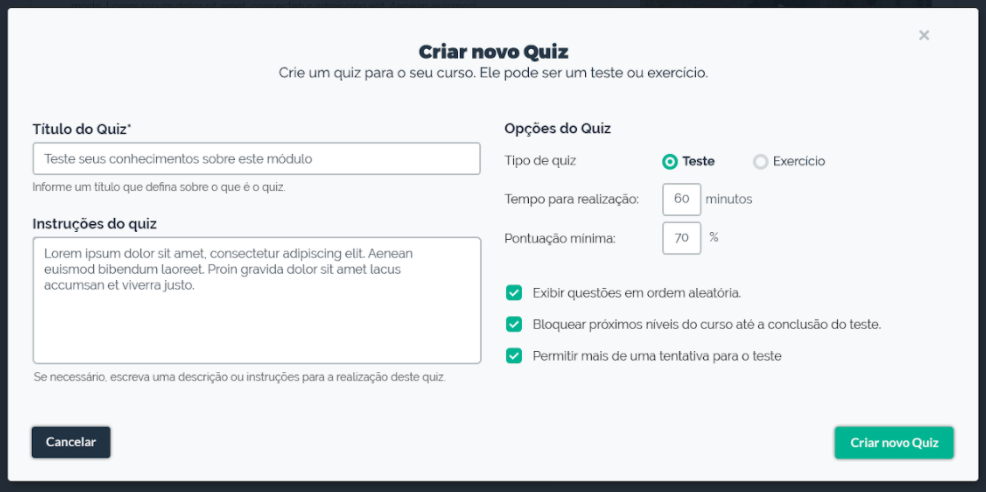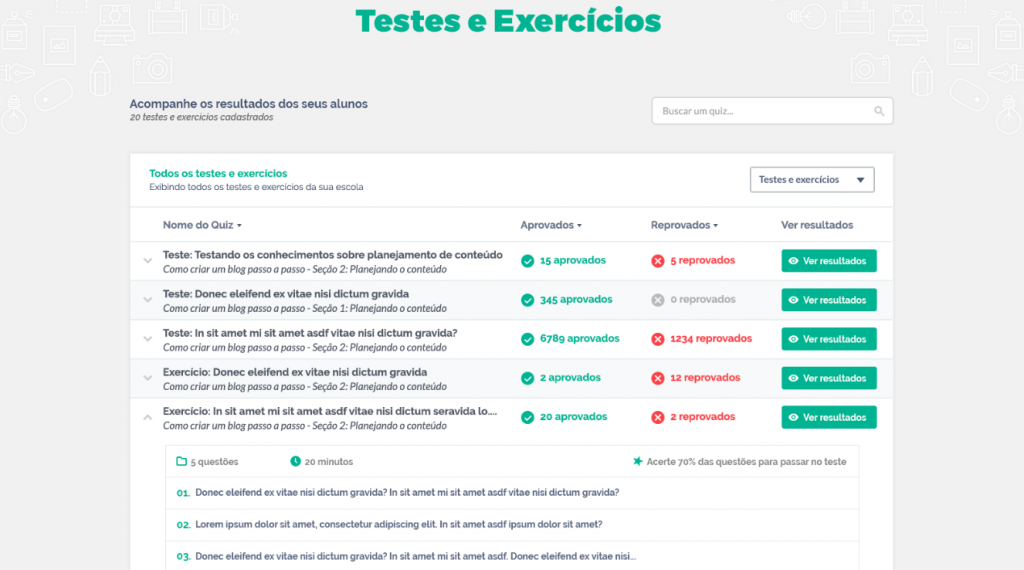 To not miss these long-awaited releases, keep your email on Coursify.me updated to be notified as soon as these features are available.
Host your online course on Coursify.me
The online courses market is undergoing a phase of accelerated growth, due to the pandemic of the new coronavirus and the social isolation measures adopted to avoid contagion. 
In addition to speeding up the digital transformation in many schools, this period of crisis has led professionals from the most diverse areas to seek distance education as a way to continue working without leaving home.
Take advantage of this period of change and digital acceleration to create your online course and invest in a new source of income, which can be a guarantee for the future.
Platforms that work as a Learning Management System (LMS) offer a very low cost to host online courses.
– Whats is a Learning Management System
In addition, a platform in the SaaS model (software as a service), as Coursify.me, has advantages such as a friendly interface, a responsive system and the possibility of being accessed from any device with internet access.
Coursify.me features integration with content platforms such as YouTube and Vimeo. In addition, the users can upload videos, texts, images, audios and any other material they have hosted on Dropbox or on their own computer.
Attending schools, companies and professionals in more than 60 countries, Coursify.me is a dynamic Learning Management System, ready to serve you. 
To learn more, visit our website, test the platform and start now to create and sell online courses.