E-Learning Market: Forecast 2019 – 2025
As predicted in previous reviews, the e-Learning market has grown significantly in recent years and continues to expand in several countries around the world.
Professionals from many different fields begin to enter this market with more security, and current market analysis reveals that this is a good business option.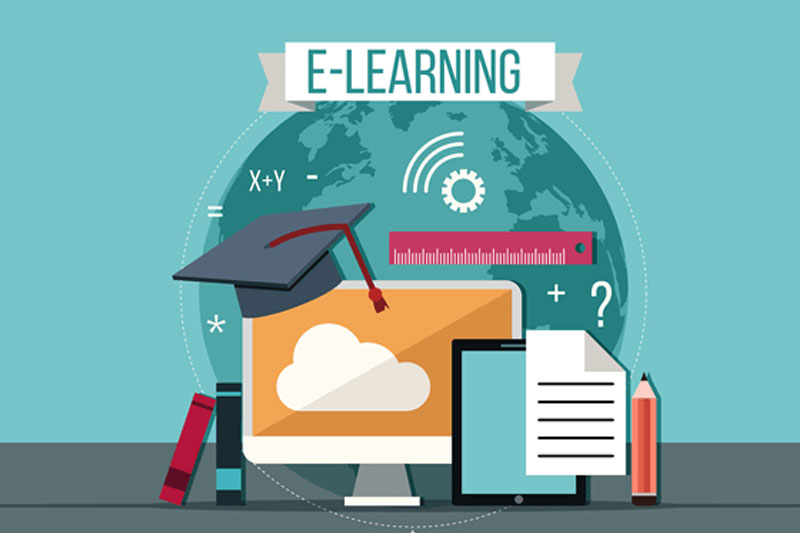 E-Learning Market Growth
Every year, several companies specialized in the subject, carry out studies on the growth of the e-Learning market in the world.
Recently, Forbes magazine reported data showing that the US distance learning market will hit the staggering US$ 325 billion mark by 2025.
The latest Forbes forecast projected US$ 107 billion dollars by 2015, which was proven and surpassed in the following years.
A Global Market Insights survey, begun in 2017 and updated in February of this year (2019), brings recent data and forecasts about the e-Learning market worldwide, and some information from this report we are going to present and review below.
The report was prepared from the following references:
Coverage of historical data: 2014 to 2018.
Growth projections: 2019 to 2025.
Expert analysis: industry, government, innovation and technological trends; factors that impact development; disadvantages, SWOT.
Performance forecasts of 6 to 7 years: main segments covering applications, main products and geographies.
Competitive Landscape Report: Market leaders and key players, competencies and capabilities of these companies in terms of production, sustainability and prospects.
1 – E-Learning Market: Annual Growth Rate
The e-Learning market in the US, valued at US$ 190 billion in 2018, will grow at a CAGR (annual compound growth rate) of 7% from 2019 to 2025.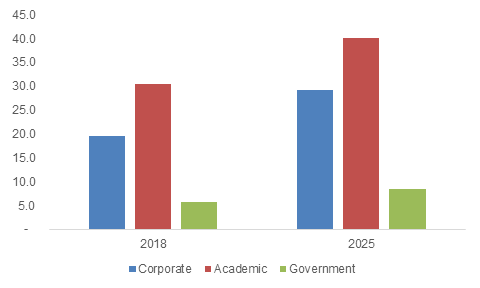 U.S. e-learning market, by application, 2018 & 2025 (USD Million)
Undoubtedly, the increased use of technology in education and the facilities it provides, are factors that contribute greatly to the growth of the Distance Learning market.
Some of the key emerging technologies in the industry include AR and VR devices, AI platform, Big Data, machine learning and wearable devices.
These technologies are enabling many professionals and companies, as well as educational institutions, to share and deliver educational content based on innovative and interactive methods.
To do this, we already see several service providers offering eLearning platforms to help students access online materials and participate in virtual classrooms.
Increasing the effectiveness of these programs with the help of multimedia content such as PPTs, videos, images and animated clips is an important factor driving the growth of the e-Learning market.
Part of this scenario, in recent years, cloud computing has grown and is expected to replace conventional systems over the following years.
Cloud-based e-learning systems delivers massive reductions in operating costs, allowing users to access content over the Internet, eliminating the need to download and install heavy softwares and applications.
For example, Coursify.me is a cloud-based e-Learning platform (SaaS) that does not require the installation of any program for use and can be accessed by anyone, from anywhere, anytime.
– Why Use SaaS to Host Corporate Training
2 – E-Learning Market: Technology
In 2018, the use of Learning Management System (LMS) technology was widely adopted in the academic and corporate sectors to facilitate and reduce employee and student training expenses.
– Learning Management System: what it is and what it is for
In the corporate sphere, in addition to simplified access to training material, this software technology helps companies to manage, record and monitor the performance of their employees.
The same goes for schools, universities and independent online courses instructors, where e-Learning platforms function as classroom and school office at the same time, organizing all teaching content and enrollment and student information automatically.
These tools are helping to expand the e-Learning market in different industries, assisting companies in training, skills management, and employee performance assessment.
– Benefits of Online Corporate Training for Companies
All of this increases demand for content providers, who are witnessing market growth due to increased demand for materials to train or educate employees and students in general.
To provide an efficient solution for all parties, business, instructor and students, these professionals are partnering with online teaching platforms.
E-Learning platforms act by hosting the content provided, in order to allow access and proper use by the students.
Learning Management System, Coursify.me, for example, hosts training courses for large companies, as well as materials from independent professionals such as language teachers, programming, crafts, music, etc.
This partnership allows all platform customers to add content based on video, presentations, texts, among others, to the specific page of their course, which can count on its own domain.
3 – E-Learning Market: Corporate Use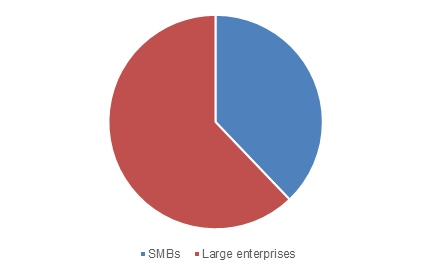 E-learning market, by corporate users, 2018 (USD Million)
The corporate sector is witnessing the adoption of technologies focused on online education due to the increased demand for effective training courses.
As the chart shows, both large corporations and small and medium-sized companies are contributing to the expansion of the e-Learning market, and the industry is expected to grow at a CAGR of about 8% from 2019 to 2025.
Corporate entities are investing with enthusiasm in incorporating modern learning technologies into their facilities as a way to help their employees understand business policies and their functions through an interactive medium.
– Corporate Education and Online Education
These companies are transforming their traditional training techniques, which include workshops and conferences, into more accessible, cost-effective and efficient virtual training platforms.
The reduction of costs and the wastage of time are factors of great weight in this change of training method.
Online education allows companies to train new employees through video or software-based programs, which avoids the need for special infrastructure, relocation and possible overtime.
4 –  E-Learning Market: Latin America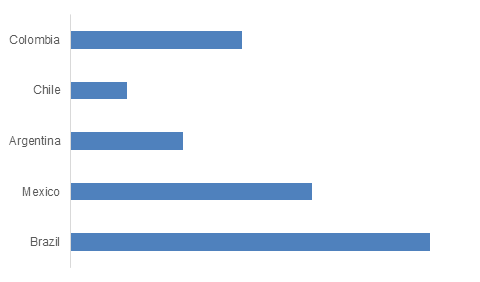 Latin America e-learning industry, by country, 2025 (USD Million)
Latin America's e-Learning market is expected to grow to reach more than $ 10 billion by 2025 due to the development of educational institutions that raise literacy levels in the regions.
In markets such as Brazil, Mexico and Argentina, it is noted that government agencies are investing in the development of educational platforms for students.
In May 2018, for example, the Brazilian government announced investments of about US $ 270 million in teacher training throughout the country. With the expansion of these resources, the demand for low-cost learning technologies is growing rapidly in the country.
In addition, increasing Internet access is accelerating the demand for online courses. The Brazilian higher education market has witnessed quantitative and qualitative levels of significant advances and developments.
5 – E-Learning Market: General Analysis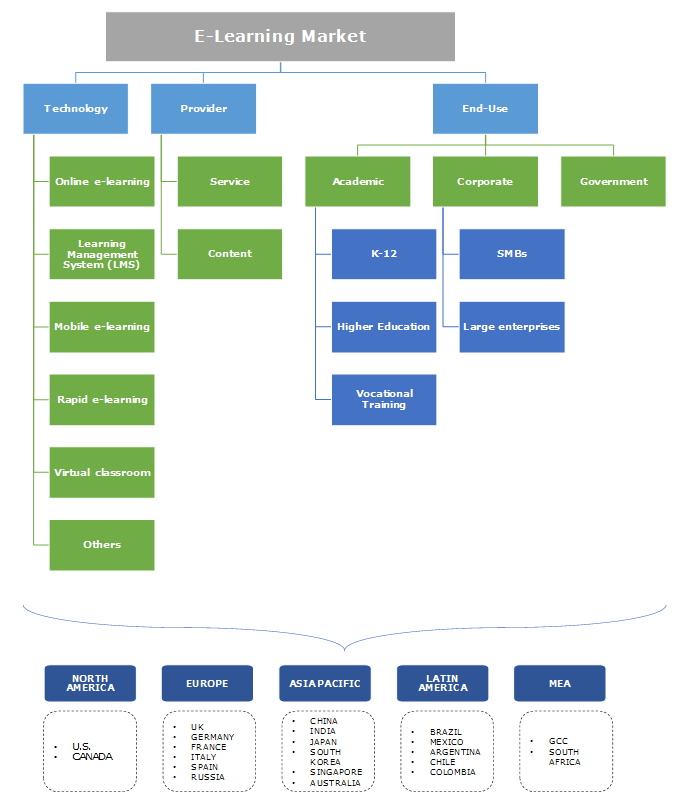 The e-Learning market includes a large number of players who are expanding their business operations around the world.
These investors and entrepreneurs are focused on offering their solutions and services to countries where favorable government policies and high development in the education sector favor their operation and growth.
Increasing government momentum toward online courses and the use of educational platforms is providing great opportunities for those who want to invest in the e-Learning market.
At the same time, the search for people interested in taking online courses and acquiring knowledge in a more practical way also increases every day.
This is largely due to the stance of most companies, which are focused on hiring skilled and well-trained employees who will value business operations and increase the organization's productivity.
E-Learning Market in Brazil
The e-Learning market in Brazil has already passed the 1.5 million students, but its potential is billionaire.
According to Natanael Oliveira, CEO of Marketing Com Digital and Make Sales Daily Corp., "The e-Learning world in Brazil is still very much related to colleges and vocational courses. Basically online options for those who can not get around, or live in more distant regions. The great opportunity that is still open is a new look at e-Learning as a business model, more properly as a new type of business."
In an interview for Exame magazine, Natanael cites the example of a company that sells children's toys. "It can create a new source of profit (new company) with courses for parents who want to learn how to help their children's development. It is a perfect combination that already happens in the USA in several branches. "
"There are still those who create their own online education platform and simply share their knowledge and experience, packed in online courses. Only when entrepreneurs from the most diverse branches of activity begin to see distance learning as a distance PROFIT platform, Brazil will move to the next level. "
In his analysis, Natanael adds that e-Learning is for those who want results and not only a certificate.
The truth is that while many are looking for online courses as a way to earn a certificate to add to the curriculum, there is another group that seeks that opportunity to grow in their career or advance in business.
In this scenario, which is still under development compared to the US e-Learning market, Brazil is growing at its pace, gradually discovering the potential of online education.
Complete e-Learning platform, Coursify.me is the ideal solution for anyone who wants to create, sell and promote courses on the internet without having to invest to start their own business.
Serving businesses and professionals in more than 60 countries, the platform is a dynamic and customizable Learning Management System.
The Coursify.me offers three plan options for you to decide which best suits your needs and the good news is that the Beginner Plan is free!
Visit our website, test the platform, enter the e-Learning market and guarantee your place in this story.