Corporate training and online education
The online education and corporate training began their relationship shyly, but the good results of this interaction made its partnerships solid and recognized. 
After all, bosses and employees need to work according to the same guidelines, recycling their knowledge periodically to ensure the company's growth and the delivery of better results.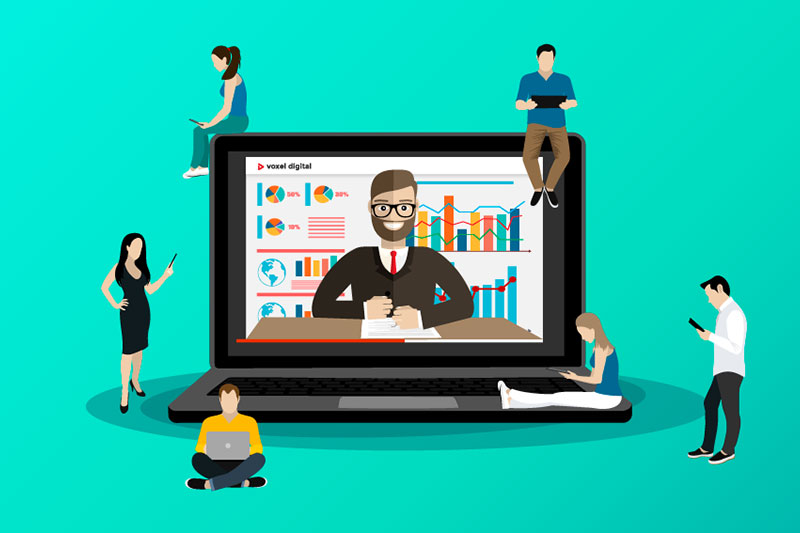 Importance of online education for corporate training
It is very common for companies that scam qualified labor, do not find prepared professionals, at the height of the challenges of everyday business.
Hence the need for training courses, which serve both to teach new skills and to inform employees about company policies and guidelines.
Online teaching meets this business need in an excellent way, serving as a means for information to reach all employees in an easy way, without the need to interrupt the work routine and for a much lower cost than that required for face-to-face classes. 
Face-to-face training requires infrastructure such as classrooms, teaching material and teachers. In addition to demanding time and displacement of employees.
As a more economical and practical solution, online courses have become the "apple of the eye" for entrepreneurs. 
Currently the market has several eLearning platforms in the SaaS model, such as Coursify.me. Ready to use, these platforms allow anyone to create their own course and use the platform and its resources to host the content.
– 7 frequently asked questions about SaaS
Thus, it is easy and economical for companies to make training material available for everyone to access, anytime, anywhere.
Another great advantage is security, since only registered users and released by the company have access to the content.
Benefits of online education for corporate training
If you are still not convinced to invest in online courses to empower your team, here are some more good reasons to start now.
Competitiveness
Move ahead of the competition. Whoever takes the lead takes advantage.
Several companies have already discovered the advantages of online teaching and are using this feature to enable and update their employees. After all, this method of corporate training does not require the entire company to move around and work overtime.
With eLearning platforms just update the content and you're done. Through a simple email, everyone will know about the update and will be able to access the material without causing any inconvenience to their work routine.
A qualified and well-informed team is more productive in less time, which puts your company ahead of the rest in excellence in providing services.
Efficiency
According to the Research Institute of America, online learning increases information retention by more than 60%.
This is because this form of teaching eliminates some disadvantages of classroom teaching, such as:
Interrupting the student/employee during some activity that he/she would like/should be developing, impairing the attention paid to both activities;
Distraction caused by other colleagues or side conversations, common in group activities;
It allows the student/employee to be discouraged by a boring teacher or with those they do not cultivate good relations. 
Economy
Forget inconvenience and costly investments with room rental, hiring teachers, teaching material, overtime and all the necessary equipment to set up a classroom. You already have the content, so all you need to do is host it in a Learning Management System.
A LMS is software, a program that hosts educational content and allows you to share it with anyone you want. 
– Whats is a Learning Management System
Practical, safe and easy to use, this is the solution that Coursify.me offers for you and your business.
With Coursify.me, you just have to upload the content on the platform and that's it, instantly it will be available for you to share with your students. Safe environment, you provide access password only to whoever you want and still use several other resources, such as:
Creating, managing and selling courses;
Student management;
Upload videos up to 4K quality;
Online payment management (via PayPal, PagSeguro and Stripe);
Monitoring of student performance;
Interaction tool with the student.
– Quick guide to online payment systems
Teaching methods for corporate training
For everything to go as planned and online education to be used for corporate training, it is necessary for managers to make their employees aware of the importance and benefits of this training. 
Arousing student interest is always the first step towards successful teaching.
One way to achieve this goal is to make organizational models less and less formal, facilitating interaction and communication between leaders, employees and staff in general. 
When communication and corporate education in companies are well done, there is greater efficiency in decision making, better management of internal conflicts and increased productivity.
The good news is that the virtual world is full of features that make learning more enjoyable, dynamic and interesting. 
– How to measure the effectiveness of your online business training
Entrepreneurs looking for innovative methods to train their employees can find different technological means of passing on knowledge, choosing a platform that corresponds to their expectations.
We've put together three corporate training trends relating to technology and innovation:
Gamification
The gamification is an online teaching method that makes use of game design elements and mechanics in the educational context, using its interactive and visual appeal to teach.
This is a method that hitchhikes in the attraction that the games cause, motivating employees to learn through challenges, feedback, rewards and recognition for good performance during the activities that are proposed to them. 
Teaching through games is recognized for attracting attention, motivating and teaching in a fun way.
Mobile Learning
Take advantage of the increasingly connected reality in which we live in favor of education.
Today almost everyone has a smartphone with internet access, so developers of educational programs should be aware of the creation of a responsive interface, which adapts to different devices, with varying screen sizes.
The great advantage of this type of learning is that it can be "carried" anywhere and allow access to the user at the time that suits him better.
Simulators
Technology in expansion, the use of simulators for educational purposes has already occurred on some occasions, for example, in driving lessons, where future drivers experience the sensation of driving a car through the virtual process. 
Some companies in the aerospace industry already offer personalized training through simulators in which the professional uses equipment similar to the real one, combining 3D modeling, education and simulation platforms.
An effective means of education, we will pay attention to more accessible options for the use of simulators that will certainly arrive soon.
As we can see, online teaching applied to corporate training is a reality that is gaining more and more space. 
Why use an eLearning platform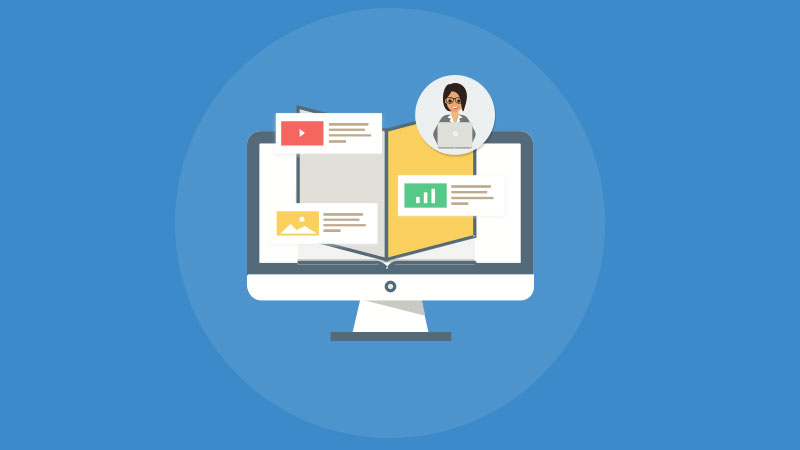 In general, corporate training has advantages for both parties. Because, in addition to investing in training aimed at the specific needs and objectives of the company, offering courses is also an excellent way to engage employees, encourage socialization and create a more participatory environment. 
To make the training available online, a Learning Management System is required, a LMS platform that has several features to make learning easier and more effective.
– Everything you need to know about a LMS Platform
Through these virtual learning software, it is possible to monitor student performance through reports provided by the platform itself. In this way, the person in charge will be able to know which people accessed the course, completed their modules, had better performance, among other data.
With the information presented by these reports, the managers will be able to plan promotions, job changes, bonuses, check if there are difficulties, etc.
Another advantage is the easy updating of the content. Just change the material online, adding or editing information, and that's it, the whole team has access to the changes without printing and having other costs for the company.
To improve learning, several functionalities can be used, such as forums to expose comments and doubts, chats, videoconference, assessments, certificates and whatever else is considered necessary.
It is worth remembering that in addition to facilitating learning, these resources promote greater interaction between the team, who have the chance to learn and discuss the subject together.
It is possible to find distance learning platforms on the market that can help in the implementation of these corporate training programs. This is exactly the solution that Coursify.me offers.
Through a friendly, intuitive and simple to navigate interface, the software provides several means by which the company can upload content safely and effectively. 
The Coursify.me is a Learning Management System completely dynamic and customizable, providing all the features you might need.
Present in more than 60 countries, Coursify.me is the perfect solution for companies that want to host online corporate training courses.
We offer three plan options for you to decide which one best suits your needs.
Developed for companies, with the Business Plan you customize your own domain and remove the Coursify.me brand from all your pages and courses.
In addition, we have an online support team ready to assist you and help you with any difficulty.
To know more, visit our website, test the platform and understand why we are the best option for your company.