COURSIFY.ME UPDATES – NOVEMBER 2020
Early Christmas gifts are good and we all like them! Therefore, we are very pleased to announce the second wave of updates from Coursify.me.
At this point in 2020, there is only room for good news and our team worked hard to bring this news to you.
There are three new features that will make the experience of instructors and students on the platform even better. Check out!
Custom fields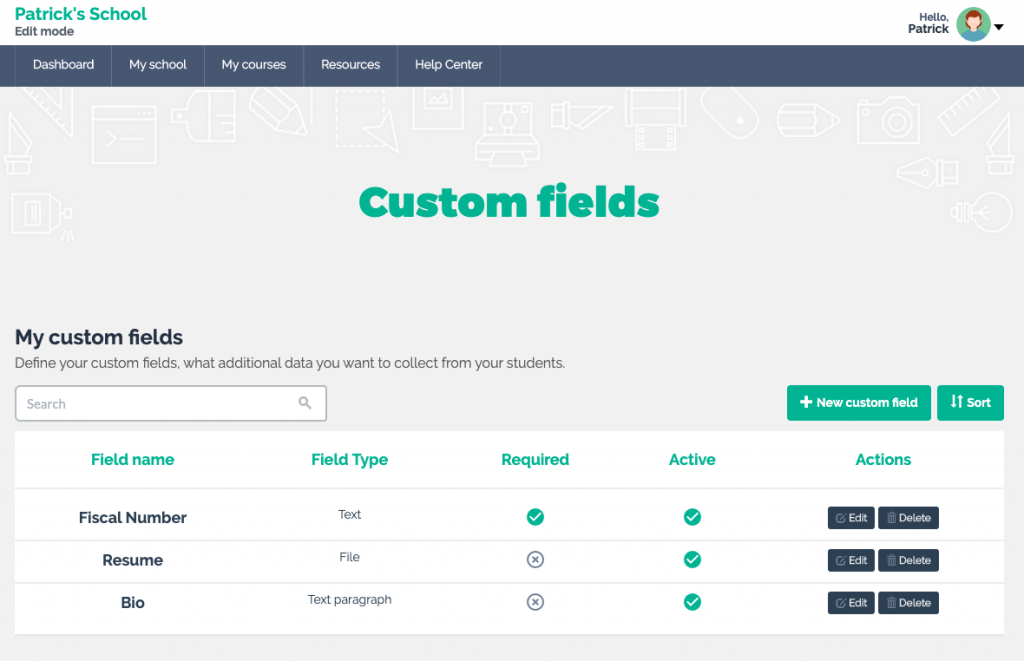 We know that each online course has its own characteristics and target audience, so to sell more it is important to better understand each student, what he seeks and what his needs are. To do this, you can use the custom fields.
With this new resource, it is possible to collect additional information from your customers, just ask questions and insert them in the student registration form at your school.
An example: you want to know the shirt size that each student uses to send a gift. To find out, just create a custom field with that question.
There are several types of information that you can collect to assist in the internal routines of your business and optimize your marketing strategy and attract new students.
There is no limit to the customized fields, you can enter as many questions as you like. 
To access this new resource, you must be enrolled in the Business Plan, navigate in the Resources menu -> Custom fields.
As soon as you register the new fields, Coursify.me starts collecting all the information automatically.
Stripe

The online payments market is constantly evolving. With each passing day, new companies are born that launch even better solutions.
Undoubtedly Stripe is one of these technological innovations that arrived to make a difference.
This payment gateway has been doing an incredible job worldwide, processing billions in online transactions.
Always focused on bringing the best to our customers, Coursify.me is pleased to announce that it has integrated with Stripe.
Now you can go to https://stripe.com/ and open your seller account.
Then, just go to the menu Resources -> Payment integrations -> Payments -> Stripe and activate the integration with your account.
This way, your students will be able to buy their courses using various payment methods, such as credit card, debit card, AliPay, Apple Pay, etc.
Best of all, you receive 100% of payments directly to your Stripe account with complete security.
One of the great advantages of this gateway is that it is not necessary to request withdrawal of funds, they are automatically deposited in your account.
Don't waste time, set up your Stripe account on Coursify.me and give your students more options.
New checkout page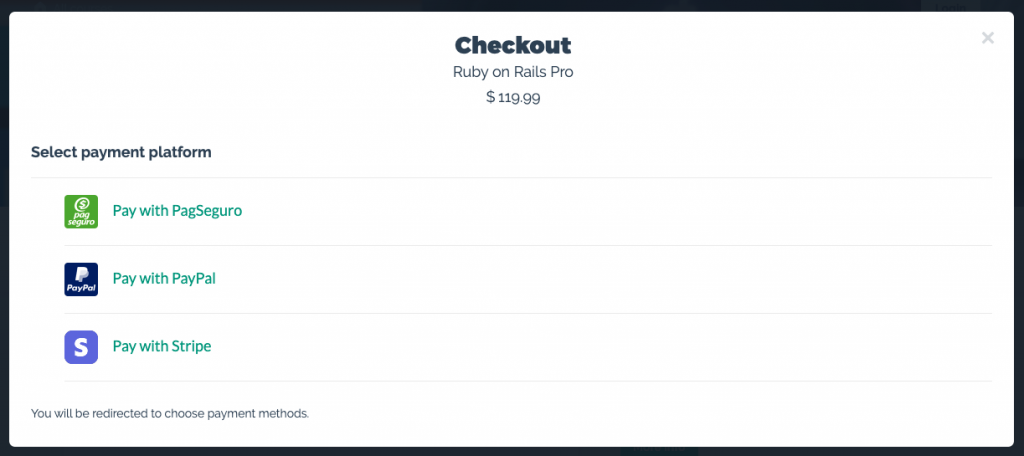 The easier you make your online course purchase process, the better. Less chance of losing a potential customer due to confusing or time-consuming transactions, or lack of payment options.
With that in mind, Coursify.me has integration with the three largest online payment gateways today: PagSeguro, PayPal or Stripe.
– Quick guide to online payment systems
Our customers can enable the integration of their school with all three solutions, if they prefer, offering more possibilities for their students and facilitating the sale of the course. 
For a detailed step-by-step on how to make this configuration, access the following link: 
https://support.coursify.me/hc/en-us/articles/360017047779–How-do-I-include-two-or-more-payment-platform-options-for-students-in-my-paid-course-
Once you enable these options, your student will have access to the following checkout page when they click to buy the course:
At checkout, he just has to choose how he wants to make the payment. Option made, the student will be redirected to the selected platform and make the transaction in a 100% secure environment.
See how easy it is?
Enjoy these features to improve your online course and sell even more. 
If you need help, don't hesitate to contact our support at the link above or via email hello@coursify.me.
And stay tuned, soon we will have more news for you!