Mobile learning: how to create mobile friendly courses
Concept that is gaining popularity, mobile learning  is a broad term that refers to the process of learning via the internet using personal mobile devices.
With the popularization of the use of smartphones, it is necessary to make learning mobile so as not to lose students.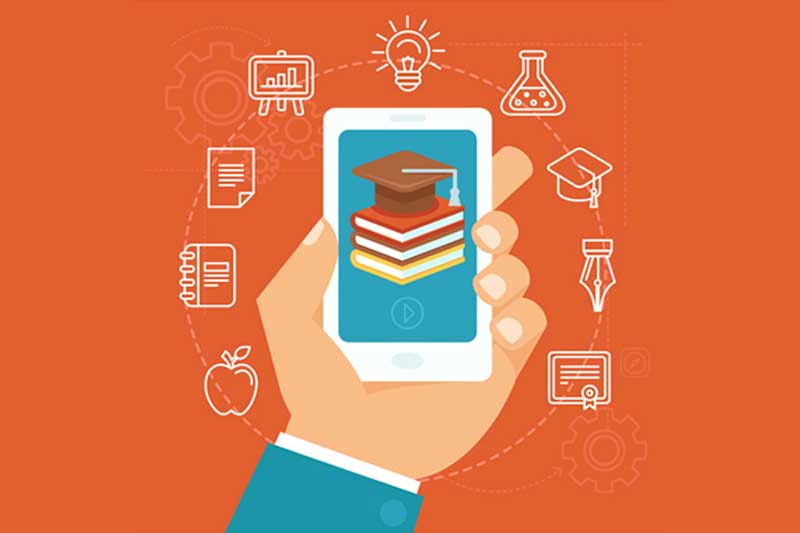 Advantages of creating mobile learning courses 
There is a lot of talk about a responsive website, but few people know that even if the content on the desktop adapts to the screen size of different devices, it may still not look good, and even facilitate navigation.
This is not an issue that you can solve just by scaling images and fonts, because mobile-friendly content is designed from the start based on different principles.
Mobile friendly is a term used to designate websites optimized to work well on devices such as cell phones and tablets.
Why is it important? Because it is undeniable that mobile devices have transformed the way we live and conduct daily activities. Not only can we access almost any type of content on our cell phones, but with most smartphones today we can deposit checks, accept credit cards, order food, sign digital documents and even lock our door.
Many of these tasks have become easier due to the existence of this new technology: the smartphone.
How did this happen? Well, part of this is due to the fact that the generation of millennials, which now occupies the largest segment of the workforce, cannot live without a cell phone in hand. Another important factor is that mobile learning has become an increasingly relevant component in eLearning programs and learning management systems in general.
There are many reasons why mLearning can be a great choice for your business, such as:
Instant access to material: Mobile learning gives students access to the course at the "point of need", which is especially useful for online corporate training courses. If a problem or question arises, your team can get an answer by accessing the training material via their phones, which helps to save valuable time.
– Benefits of Online Corporate Training for Companies
Knowledge retention: Mobile learning allows easy, instant and repeatable use of content to neutralize the forgetting curve. Some mobile courses launch periodic updates for this purpose.
Time optimization: Mobile courses allow people to learn anytime, anywhere (stuck in traffic, waiting for a plane, in bed before sleep) taking advantage of the time they have available.
How to create mobile learning courses in the right way
As we pointed out earlier, it is not enough to adapt the content for different screen sizes to have a quality result.
Let's look at some basic rules for creating mobile-friendly courses.  
1. Divide content into 1-2 minute modules
The internet has dramatically minimized our ability to concentrate. A survey by the Nielsen Norman Group found that our average mobile attention is 72 seconds in one session.
Conclusion: large courses are not intended for mobile devices. It is best to divide the content into short modules to facilitate engagement.
A module is a small course within a larger one. It covers a topic, like a chapter in a book.
Dividing your course into modules or short lessons, in 2 minutes, users obtain a small part of the knowledge and can apply it instantly.
– How to create and sell online courses
2. Make it easy to follow the course
A good mobile app creates a digital marker when users take a break and reminds them to pick up where they left off.
If you don't want to split a larger course into modules, the app saves progress and allows students to study the material in several stages. 
Mobile learning courses should also have resources that allow the monitoring of students' progress, which makes it easier for the instructor to offer assistance if necessary and to notice if there are modules with more dropouts, which may be presenting an excessive level of difficulty and need revision.
3. Define how to use the device
People hold their phones in different ways depending on the model, situation and specific task.
A study by Steven Hoober showed that 49% of users hold and use the cell phone with one hand. 
36% of users use both hands to hold a cell phone, but use only one hand to touch the screen or buttons. According to Hoober, people use this position to select an object on the screen or touch a link.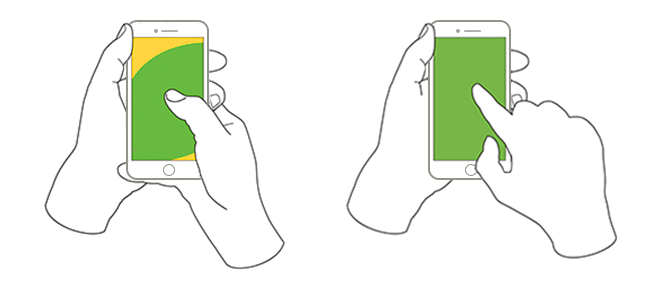 15% of users prefer to use it with both hands. This position is convenient for typing.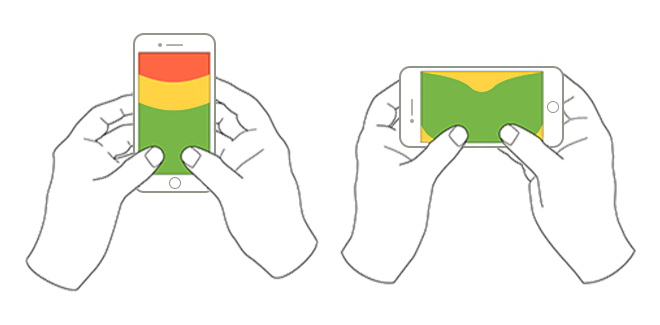 Define what actions you expect from students:
Scrolling: For articles and longer readings;
Touch objects on a screen: For slide-based courses;
Scroll, touch and type: For courses with tests and simulations.
The way you expect students to interact with the content determines the choice of orientation; that is, portrait or landscape.
Show students how to secure their devices before starting.
– Strategies to improve your online courses 
4. Put important things in the center
When people read on mobile devices, their attention is focused on the center of the screen. Take a look at these heat maps: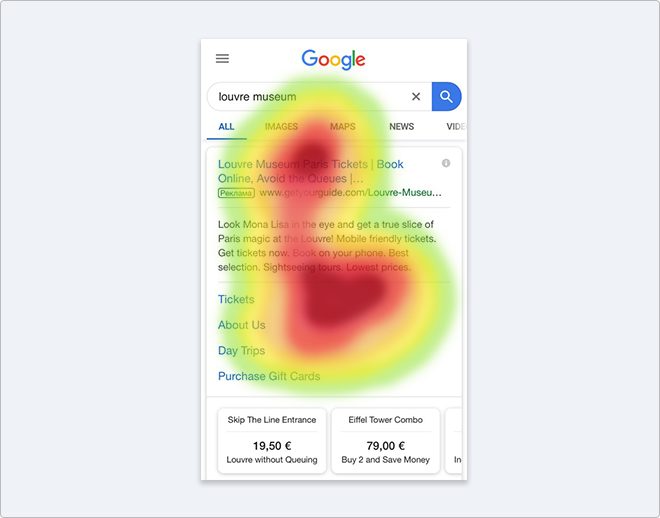 This is a heat map from the Google search results page. Users click in the center of the page.
In most cases, people scroll through the content to bring the part they're focused on to the middle of the screen. Place the most important buttons and notifications in the center, so that users can see immediately.
5. Create a usage tutorial
To make life easier for your new students, take a quick tour of your course: show all the buttons and explain their functions.
Remember that in mobile courses, the information must be passed in small parts, so, instead of long tutorials at the beginning, it is better to insert small tips in the course flow. 
Gradually inform your new users about how to perform each task, and leave to explain the details at the necessary times.
– Record video tutorials: tips for getting the best result
6. Minimize the text on the slides
If there is a lot of text on the screen, it gets small and difficult to read on mobile devices. Remove unnecessary words and split long sentences; a line must contain a maximum of 40 characters. 
Also remember that when reading articles on the web, the text can be resized as needed. For mobile learning courses this is not always possible, so use fonts of 16px or larger. Smaller letters are unreadable.
In addition, it is better to use sans serif fonts, such as Arial, Verdana or Trebuchet, they are more pleasant to read on screen.
7. Make interactive objects more user friendly
Fat finger syndrome occurs when interactive objects are very small and users can easily click on the wrong element. Therefore, be sure to leave enough space around the buttons and that they are large enough that users' fingers can easily touch them.
8. Stop using hyperlinks 
Hyperlinks are often used in online courses for desktops. However, when creating content that prioritizes the mobile phone, it is best to avoid them, because users may accidentally touch a link when sliding between pages. 
It is much better to use buttons, tabs and other large elements that are native to the mobile user experience.
Another challenge for mobile courses is the stunning range of display sizes; that is, how much your users will see depends on the model and type of device they are using. It is practically impossible to ensure that your content looks perfect on each of the gadgets. 
But don't worry about it, do the best you can and for sure your students will have a good experience with mobile learning.
Mobile learning courses on Coursify.me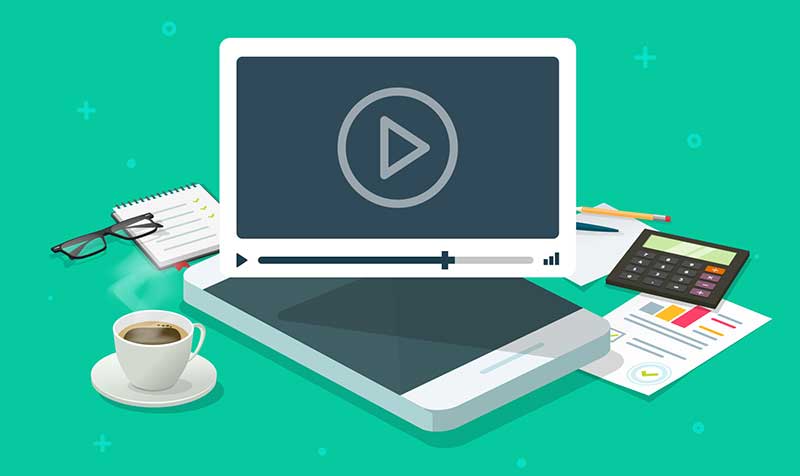 With these simple tips, instructors are already able to create mobile courses that will deliver a much better user experience, which means engaging and retaining students.
The growing use of smartphones and the ease they bring to our daily lives is undeniable, and adapting content to these devices is necessary for companies and businesses that want to remain relevant and attract customers.
Attending schools, businesses and professionals in more than 60 countries, the platform is a dynamic Learning Management System, ready to serve you.
– Whats is a Learning Management System
This means that you do not need to invest in building your own website. The Coursify.me is ready for you to enter your course and create a fully customized page for your business.
Complete eLearning platform, mobile friendly, you can upload content through your computer or other platforms, such as YouTube, Dropbox and Vimeo, and your classes will be ready to be watched.
– Features of an e-Learning platform
With a friendly and intuitive design, anyone can use Coursify.me, whether as a teacher or student, without having to understand computing for that.
To learn more, visit our website, test the platform, learn about our plan options and know why we are the best option for you to create online courses.