5 tips to sell courses on the internet using social networks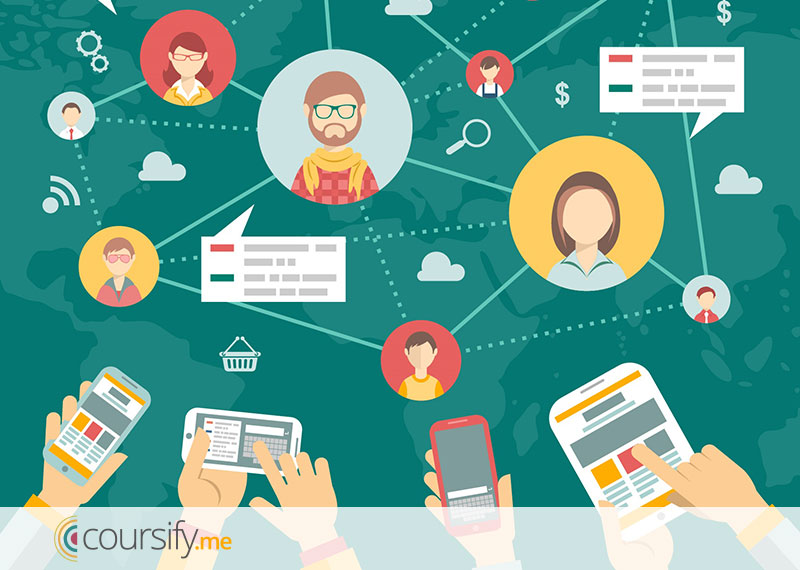 Social networks have already proven that they came to stay. The one on the spotlight can even change, but that users do not exempt a means of posting information about their personal lives and follow the others, this is more than clear. Now, you only need to know how to use these powerful channels of communication in favor of your business, how to sell courses on the internet through these applications.
How to use social networks to sell courses on the internet
The first thing to do is a search for what social networks have the largest number of registered users at the moment. It is safe to say that Facebook, Snapchat, Instagram and Twitter are the favorites of the time and, therefore, where you need to be if you want to sell courses on the internet.
The next step is to create a profile for you or your company and begin to produce relevant content to attract followers. This is where things start to get more difficult. Social networks, especially Facebook, has cut the range of publications made by companies, forcing investment in paid advertisements. And let's be clear, it is there that the whole world is, are 1 billion users logged every month, then put Facebook on the side is not an option.
Thus, or you separate a value to invest every month in publications, or you devote a lot of time, work and creativity to develop a relationship with your audience and promote your presence on social networks through other means.
We advise you to do both. Investing in paid ads on Facebook is an effective method to achieve visibility and, if you are a small business owner, or just a professional trying to sell courses on the internet, the amount to be invested in principle will be low and you can generate good results.
But in the meantime, there are other resources that the public enjoy and can be used in favor of those who want to draw attention. Here are some:
Facebook Live
The big trick of Facebook is that it updates its algorithm constantly and is decreasing more and more the range of business publications. So, a good way to ensure that the app gives you more emphasis is using tools that they want to promote, as Facebook Live.
For those who want to sell courses on the internet, that is, by luck, a feature very useful. You can take advantage of to disclose your material giving a few minutes of free class through Facebook Live or talking about the content with your audience. It is fairly simple to do. The API allows you to play a camera sign inside of Facebook, which yields an image well-defined and professional. But, if you do not have access to it, you can do with your smartphone/tablet, what matters is the content of the transmission. Other alternatives are the Periscope, on Twitter, and Live directly to YouTube. 
Snapchat Filters
Many famous brands have already used this feature that allows you to create custom filters in the application of short videos more popular at the time, the Snapchat. Heavy weight products as Harry Potter and famous TV series have already created their own filters for promotion.
However, using this feature comes at a price that will depend on the specifications requested by you. Since February the North Americans were able to create filters of Snapchat on demand, and the novelty arrived in Brazil at the beginning of August. All you have to do is to define the scope and duration of the filter, the amount to be paid will be proportional to it. The idea is that everyone can use this tool, creating filters for their birthdays, weddings and other events. If you want to create your own, click here.
Use rich media on Twitter
Twitter is an application that has been losing popularity with an older audience. Probably because of the time required to manage the large amount of social networks and due to its flow of information be too fast, the social network is more successful today among younger users.
But this does not mean that you should not use it as a further means of selling courses on the internet. The trick to stand out is to create tweets with more than just text. Tweet with video, for example, draws more attention. Soon after comes GIF/photo/meme. So, what we call "rich media", brings more engaging for your tweet. In addition, try exploring all the application toolbar as the Periscope, creating lists and collections.
Investing in emoji
Emojis fell easily into the good grace of users and there are few people who resist using them as a means of expression to send any message or as a legend in publications. Everyone has noted the success that they do and the social networks offer a wide range of options.
The Twitter, for example, makes automatic emoji in hashtags, but it is still something very restricted. The app is also introducing stickers, which are another novelty. But if you have some money to invest, it worth to search for companies that draw keyboards (custom keyboards) to create your own emojis, or browse for free apps that offer emojis that are interesting for your business. Although this may seem simple, distinguished emojis call attention and this is the first step for any company that wants to find customers.
Interact using Instagram
The Instagram has a fairly visual approach and is an excellent tool to build a relationship with your target audience. In this application the focus should be on posting photos related to your business, but keeping a human side. You can publish your photos on a day-to-day working, for example, giving online lessons, producing material or talking with your students.
A good tip is to invest in the interaction. To do this, create a specific hashtag, in which your customer can share photos related to your product. In addition to encouraging the customer to appear in the profile of the brand, you strengthen the relationship with your students, which helps to create credibility to sell courses on the internet and improve the buying experience of the audience. Remember, users want publications that meet their real interests, in a genuine way.
Applying these five tips, you increase your visibility and begins to consolidate your brand. Digital marketing strategies that involve social networks are efficient and can be developed with low investment value.
When hosting an online course in Coursify.me you customize the course page with your own identity and creates links to your social networks. Please contact us via e-mail help@coursify.me and learn why we are the best option for those who want to sell courses on the internet.