Digital marketing glossary: everything you need to know to promote your online business
Is defined as digital marketing communication actions carried out through the Internet, cell phones and other digital media that can be used to advertise and market products and businesses, attract and win customers and increase your network.
To head into this world and successfully promote your online course, check out a list of terms and concepts that you need to master to design the right strategy.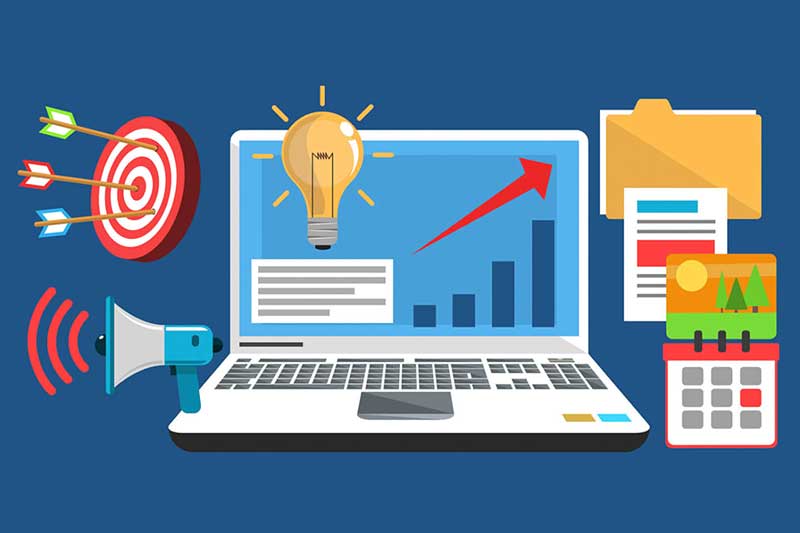 Digital Marketing – Content 
Digital marketing aims to promote products or services through electronic channels, taking them to the consumer in an attractive, relevant and efficient way.
To understand how this strategy can help your business, you first need to have a clear sense of how it works. 
According to the definition established by professionals in the field, digital marketing is a set of strategic, economic and operational actions adapted to digital media, in order to obtain, in these channels, the same effectiveness of traditional marketing, and, when working with both models simultaneously, potentiate its effects and obtain better results.
For those who maintain an exclusively digital business, studying and promoting actions in this area is no longer a choice but a necessity. 
So, if you have a company that operates strictly online, know, for starters, that digital marketing is a set of actions operated in three distinct phases: content, conversion and metrics.
Each of these steps has its own theory and practice, and to understand and be able to apply it, you need to be aware of the meaning of several specific terms.
– Benefits of Content Marketing
Pillar of a digital marketing strategy with a focus on SEO and lasting results, let's start by talking about content and how it presents itself and is used to attract and retain customers in the online world.
Blog: Site composed of articles (posts) with themes related to the company's operating area (product / service).
– How to Create a Blog to Promote Your Business
Post: Article published on a blog. The term is also commonly used for publishing content on social networks. A post can contain texts, videos, images, whichever is preferred by the author.
Email marketing / Newsletter: Content segmented and sent to the public through emails, periodically. 
– How to create a successful e-mail marketing campaign
Editorial Calendar: System for planning and organizing content. Key to define and know what to publish and when.
Data-backed Content: Content based on data. Content produced based on statistics, research or studies.
Dynamic Content: Content of a website that changes according to the user's profile. A widely used strategy, the content of an e-commerce site, for example, can adapt to offer visitors products related to their previous purchases.
Ebook: Digital book. Easy to produce and format, offering a free ebook is an excellent lead generation tactic.
Guest Posting: When a blog invites an external author to write about a topic that he/she has mastered and is interesting for both parties.
Podcast: Mix of the words broadcast and pod (from iPod). Series of audio recorded programs that can be heard via the web or applications.
Webinar: Online seminar usually broadcast live, in which people debate or explain a certain subject. Tactic widely used to create engagement and prove the authority of the company / professional in their area of ​​expertise.
Infographic: Information in visual form. Infographics are text and / or numbers organized and transmitted through images and short phrases, providing the information so that it can be understood quickly.
These are the types of content that usually win the preference of companies and customers, but there is still much more to be explored, such as checklists, white papers, tutorial videos, among many others. It all depends on your creativity!
With the advancement of technology and the constant appearance of new channels of communication with the public, there is no shortage of ways to use digital marketing to attract new customers. 
Using its strategies to promote your online course, your chances of getting results increase and become faster.
Digital Marketing – Conversion
Conversion happens when the customer performs an action desired by the company, such as filling out a form, subscribing to a newsletter, buying something, etc.
In addition to content generation, there are several factors and elements that can be used in a digital marketing strategy to get visitors to take action.
You need to know the following:
CRM: Customer Relationship Management. To do this important management, there are CRM software that offer solutions such as organization and storage of information and control of contacts (conversations, meetings, schedules, etc.).
CTA: Call to Action. These are commands designed to take the user to perform an action of interest to the company. These commands are usually buttons, banners or links with some text calling for action, such as "click here" or "enjoy this offer".
Conversion form: Name given to the fields of a website that the visitor fills in order to achieve something, such as contacting the company, participating in a promotion, receiving newsletters, etc.
Lead Generation: Convert your company's website visitors into leads. 
Lead: User who visited your website, ad or landing page and filled out a form with personal and contact details, showing interest in your business or product. The lead is a potential customer, through a good relationship the chances of selling are great.
Lead Segmentation: Technique widely used in relationship actions such as email marketing, for example. It consists of segmenting the contact list according to criteria such as sex, age, region, job, etc. Segmentation helps to focus efforts and optimize results.
Lead Nutrition: Marketing automation technique that aims to continue the relationship with the conquered lead. One of the most effective ways to do this is by sending emails related to the subject in which the user is interested. For example: after downloading an eBook on Content Marketing, the company sends the user via email a suggestion of materials related to the subject, offer of courses, etc.
Lead Qualification: Process to classify leads – which are promising and should be addressed by the sales team; which are not yet at the time of purchase and which have very little chance of becoming a customer.
Landing Page: Name given to any page that serves as a gateway to a website. In Digital Marketing this term is usually more applied to refer to a page with a specific purpose of conversion, such as a page that presents a product and several types of CTAs.
Sponsored Links: These are paid ads that appear prominently on the results pages when the user does a search. This term is commonly used interchangeably with Google Adwords.
Remarketing (or retargeting): Displaying ads after a user visits a website. Example: after the user enters a website that sells shoes, when visiting a next website, an advertisement from the previous company (shoes) appears on an advertising banner on the current page. This is quite common and occurs due to the installation of "cookies" on the user's computer. Retargeting is the name of the practice and remarketing is the name that Google gave its retargeting service.
– Understand what Remarketing is and how it works
Squeeze page: Landing page model focused on capturing emails.
Conversion rate: Percentage of visitors who perform the desired conversion, that is, visitors who convert into leads.
It's quite a lot, and there's a lot more out there. However, if you master this, it is a good start to know what your digital marketing strategy should aim to achieve conversions.
Digital Marketing – Metrics
To end our glossary, here's the key terms related to metrics that allow you monitor the performance of your digital marketing campaign:
Analytics: Software data analysis. Its function is to collect visit data from a website page, analyze and produce reports on the behavior of users who accessed the website or application. The best known is Google Analytics.
KPI: Key Performance Indicators. These are the essential items that must be measured to assess the success of an action. For example, if your marketing strategy is designed for lead generation, the total number of leads generated is a KPI.
CPA: Metric that represents cost per acquisition. In the case of sponsored ads, the advertiser pays for the platform only when the objective of the campaign is reached (number X of sales, clicks, views, etc.). 
CPC: Cost per click. If your company invested a thousand dollars in a banner and 2000 thousand people clicked, its cost per click was 50 cents.
CPM: Metric that shows spending generated per thousand ad impressions. It is the value per 1000 views of your ad. The more noble the advertised location (renowned websites and portals, for example), the more expensive the CPM will be.
Direct traffic (Blog / Site Traffic): Through this data you can analyze the amount of people visiting and accompanying content produced in a blog or website, the growth of this public, the time for greater access, from where these visits are, the age and gender of visitors.
Branded Search Traffic: Traffic generated by the research of a brand in search engines.
Subscribers: One of the best indicators of a website's success. Visitors become subscribers to receive their updates via RSS or email.
Page view: Show how many times a page has been viewed by users (whether unique or not).
Unique Page Views: Show how many unique visitors accessed and viewed a page. If this visitor comes back again, he will no longer be counted, making the access information more correct.
Views per Post: This information is used to compare posts and give an idea of what kind of post matters most to people. If they are posts with texts, photos, videos, what kind of subject produces more engagement, etc.
– 7 marketing metrics you must follow
Digital marketing to sell online courses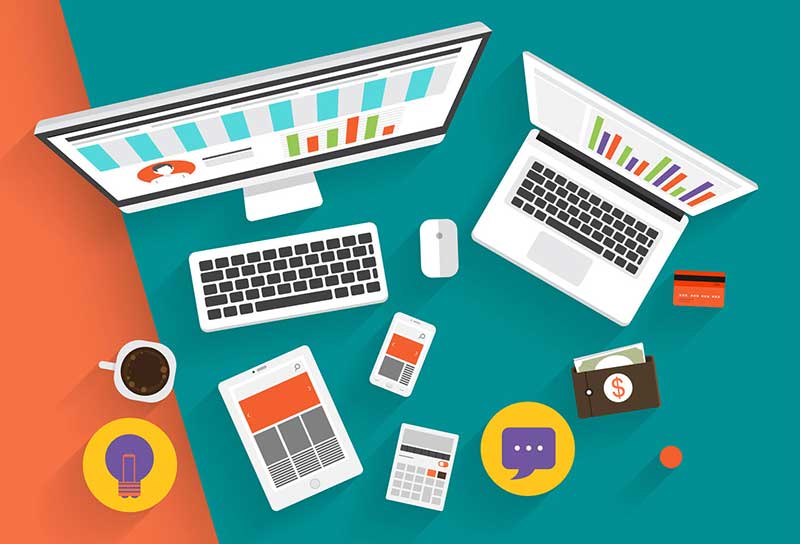 Professionals who are dedicated to producing and selling online courses need to be aware of digital marketing strategies and techniques. 
Even if you hire specialized companies to manage the dissemination of your business, it is important to know which methods are most efficient and how to analyze the results.
Digital marketing is a very broad area of ​​knowledge, with its concepts and methodologies, and requires a lot of study to understand its full potential and functionality, as well as the countless terms that are part of its vocabulary.
For those who create online courses, this is an excellent way to attract and retain students.
Complete eLearning platform, Coursify.me is the ideal solution for anyone who wants to create, sell and advertise courses on the internet without having to invest to start their own business.
Serving companies and professionals in more than 60 countries, Coursify.me is a dynamic and customizable Learning Management System.
– Whats is a Learning Management System
Visit our website, test the platform and see how easy it is to profit by doing what you love.