Mobile marketing as a strategy to sell online courses
Mobile marketing is an umbrella term for different types of marketing through mobile devices. 
With more than 6.7 billion people in the world using smartphones, let's see how to apply this strategy to your business to increase sales.

Advantages of Mobile Marketing to Sell Online
According to the State of Mobile 2022, in 2021, people spent a third of their waking hours browsing their phones. There are 4.8 hours of navigation per day, on average.
Numbers like these prove that investing in mobile marketing is essential for any company that wants to stand out in the market, as well as an efficient tool for those who want to sell online courses.
– A Practical Guide to Creating and Selling Online Courses
The good news is that the days when mobile marketing was dominated only by big brands are gone. Currently, research indicates that more than 70% of small businesses optimize their marketing efforts for mobile devices.
With the rise in smartphone usage and the availability of broadband cellular networks, more advertisers are choosing to invest in mobile ads each year.
Mobile ad achieved a 23% annual growth in 2021 and is expected to exceed $330 billion by the end of 2022.
With clear advantages for customers and companies, see below some of the reasons that make mobile marketing a good investment.
Immediate Access
Mobile marketing allows you to reach your target audience anytime, anywhere. 
With people spending a record 3.8 trillion hours on mobile in 2021 alone, your message is seen instantly, particularly in the case of SMS marketing.
According to the latest statistics, SMS marketing has an open rate of 82%. That means your target market is likely to consume your message as soon as they receive it.
Multiple Marketing Strategies
Another benefit of mobile marketing is its versatility. 
Businesses and professionals have the option to choose from various types of strategies such as SMS marketing, QR codes and mobile apps. 
These strategies help improve brand awareness, communicate offers and opportunities to customers more quickly, and make shopping more convenient.
Personal Connection
Mobile marketing facilitates the creation of a personal connection with customers, as contact is made through their personal devices, such as smartphones, smartwatches or tablets. 
By sending a message via SMS or in your social media feed, mixed with your friends and family, you are entering the daily lives of your target audience, and accessing them when they are most comfortable and receptive to new information.
With consistent communication, in a short time your brand becomes part of the consumer's routine, who starts to see you as someone trustworthy.
– 5 tips to sell courses using social networks
Low Cost
All marketing strategies cost something, whether your time or money to a greater or lesser extent. 
But a big advantage of digital marketing is that you can optimize your budget by choosing the right strategies, and mobile marketing is even better for that.
Clicks from a mobile device cost 24% less than those from a desktop, making this channel a great choice for small companies looking to save money.
5 Most Popular Mobile Marketing Strategies
Mobile marketing has come a long way since the first mobile ad was shared via SMS in the year 2000. 
Since then, the strategy has expanded to include websites, MMS (Multimedia Messaging Service), social media and even email.
The latest mobile marketing trends now also include the widespread use of augmented reality and user-generated content.
At the moment, according to a Salesforce survey, the most popular types of mobile marketing are:
83% Social Publishing/Advertising
79% Display/Banner Ads
72% Mobile App
69% Mobile Messaging
Important to note that the types of strategies used vary by the platforms on which they appear and the technologies on which they are based.
Some of these types of mobile marketing are paid, while others are free (organic).
Check out some of the most used mobile marketing strategies today.  
SMS Marketing
Sending text messages may seem a little outdated, but it's still one of the most successful strategies.  
A big advantage is that you can send SMS to any cell phone, regardless of whether it has an internet connection or not.
By sending a message, it is possible not only to advertise a product, but also to create a relationship with the customer, whether to inform them about the status of orders, promotions, launches, carry out a satisfaction survey, among others.
The main advantage of SMS Marketing is that it has a very high message opening rate, approaching 82% as mentioned above.
It's an impressive number, especially when compared to the open rate of email marketing campaigns, which is around 20%. Certainly an advantage to consider when designing your strategy to sell online courses.
Social Media Marketing
Major social media platforms have billions of users, and are accessed most of the time through mobile devices.
The Pew Research Center shows that globally, Facebook and WhatsApp are extremely popular, used by 62% and 47% of people respectively. 
There's no question that these channels make it easy to connect with customers through comments and messages. Plus, they offer a powerful sales feature that is social proof.
It is already more than proven that comments and evaluations left by other customers have great weight in the purchase decision of online consumers, which is why influencer marketing keeps growing.
In addition to the periodic publication of content, it is increasingly common to use paid social media advertising to reach customers. 
Some of the options include:
Facebook Ads or Promoted Posts 
Promoted Tweets on Twitter
Buyable or Promoted Pins on Pinterest
Sponsored Posts/Stories on Instagram
Typically, this mobile marketing strategy allows you to target an audience with demographic information and set goals, budgets and campaign durations.
– How do paid ads work in digital marketing?
Location-based Marketing
Mobile marketing allows for location-based targeting.
Widely used in mobile marketing campaigns, Google reports that the number of queries that include terms like "where to shop" and "near me" is constantly growing.
This is because people carry their phones everywhere and expect to be able to count on them wherever they are.
So you can leverage a customer's location to deliver relevant, personalized ads or offers. This can improve click rates and conversion rates.
You can also use this strategy through geofencing. This involves using GPS and IP addresses to set up a virtual fence around a location. Thus, users who cross the virtual fence receive relevant and location-specific advertisements. 
Another option is geographic targeting. For example, if you sell sports equipment and accessories, you can use geo-targeting to send push notifications to the devices of people who have recently been to the gym.
Mobile Commerce Marketing
Another widely used type of mobile marketing is mobile commerce, a crucial strategy if your business is sales-based.
Mobile commerce has been booming for years, but the pandemic has made it explode. Forecasts indicate that time spent in app shopping will increase by 40% by 2025 (Source: App Annie).
In order not to miss this opportunity to sell more, one of the best things you can do is create an app for your business that makes the experience of using and buying easier.
Another thing you should take advantage of is social commerce. Currently, the main social media networks (Facebook, Instagram, TikTok) have features that allow you to buy online without having to leave the platform. 
Using Instagram Shopping, for example, you can create shoppable ads that can even be displayed in video format, a preference among the vast majority of online users.
In-App Marketing
Did you know that users spend 92% of their time on some type of app? 
As we said earlier, developing an app for your business is a great idea, but that doesn't mean it's your only option to take advantage of this feature.
The truth is, you can simply advertise on existing apps. This is a form of paid mobile marketing.
In-app advertising is made possible thanks to mobile ad networks like Google Ads, Facebook, Instagram and many others that place ads in third-party apps.
Ads that appear in mobile apps can come in a variety of formats, such as banners, video interstitials (full screen), and rewarded video ads.
If you are going to adopt this mobile marketing strategy, keep in mind that users prefer to engage with dynamic ads rather than static ad formats.
– 12 Apps to Record Quality Video
Use the Right Strategies and Sell More Online Courses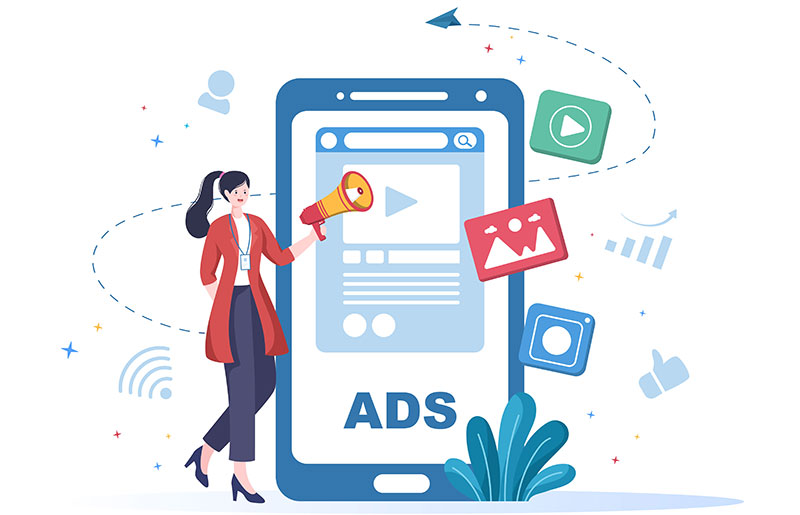 Mobile marketing is an effective complement to any outreach strategy, especially for companies looking for new ways to engage with their customers. 
It can also be a useful tool to provide better customer service and convert more of your target market into paying customers. 
If you sell online courses, you can count on Coursify.me to take the first step in your mobile strategy.
Mobile friendly eLearning platform, you can upload content through your computer or other platforms such as YouTube, Dropbox and Vimeo.
With an interface optimized for SEO, Coursify.me also has perfect integration with the main social networks, facilitating the dissemination of your business.
– Resources of a eLearning platform
Serving companies and professionals in more than 60 countries, it is the ideal solution for those who want to create, sell and promote courses on the internet.
To learn more, visit our website, test the platform and learn about the best way to profit doing what you love.