Mobile marketing as a strategy to sell online course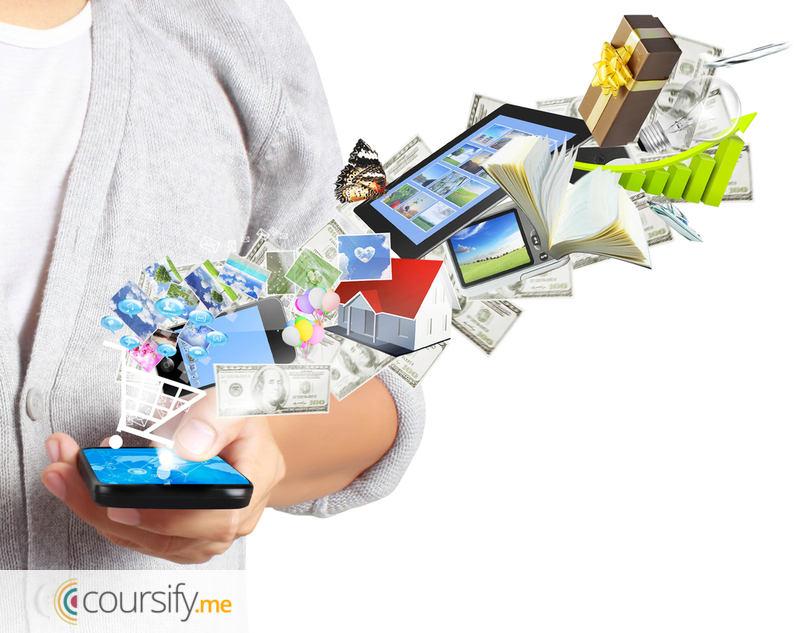 If some years ago cell phones were used primarily to make and receive calls, it is safe to say that this reality has changed.
Nowadays, we rely on the mobile technology for everything and the smartphone has become an indispensable item in our daily routine. In this scenario, marketing focused on mobile devices is a strategy of many companies, including for those who want to sell online course.  
Why use mobile marketing to sell online course
The number of users of smartphones grows each day, and the device is becoming the primary means of access to the internet for the users. Knowing this fact is enough to understand why you should use mobile marketing to promote and sell your online course. But it is not sufficient, there are data quite impressive to leave no doubt.
Nowadays, more than 72 million Brazilians use daily their smartphones to access the Internet. More than 70% of Brazilians don't leave home without their smartphones and consider the most important item to be carried with them, more important than the personal documents and money.
Numbers like these prove that investing in mobile marketing is essential for any company that wants to stand out in the market, in addition to being an efficient tool for those who want to sell online course.
The concept and benefits of mobile marketing
Mobile Marketing can be defined as the set of marketing strategies that seek to take advantage of the features and functionality of mobile devices to interact, relate to and influence customers and potential customers of your company, in any mobile device that users use in their day-to-day.
Among the many advantages of investing in strategies of mobile marketing, we can highlight the following:
The number of purchases via mobile is growing: According to the report WebShoppers, purchases made on mobile devices accounted for 14.3% of all applications, representing a turnover of more than R$ 5 billion reals, and the expectation for the coming years is that this value be even greater.
Allows you to segment the ads according to the user's location: Most mobile devices available in the market have GPS location. With this feature it is possible to display ads only to users who are in a city or specific neighborhood, close to your business.
The popularization of the use of applications: Apps like Facebook, Snapchat and Instagram are accessed daily by users, either to communicate or keep informed. Companies can use these channels to build a close relationship with their customers and, with this, increase the visibility of your brand.
Strategies of mobile marketing to sell online course
There are several ways of promoting your product and sell online course using mobile devices. Check out some:
SMS Marketing
Send text messages may seem a bit outdated, but still is one of the strategies that more give results.
By sending a message to the people previously indexed in the contact lists, it is possible not only to advertise a product, but also create a relationship with the client, is to inform about the status of orders, promotions, product launches, among others.
The main advantage of SMS Marketing is that it has a rate of opening messages too large, coming closer to the 98%.
It is an impressive number, especially if compared with the rate of opening of the e-mail marketing campaigns that is close to 20%. Certainly an advantage to be considered at the time to plot your strategy to sell online course.
Bluetooth Marketing
Also known as Proximity Marketing, Bluetooth Marketing is a strategy that uses the functionality of the bluetooth of mobile devices to share multimedia files and inform about products and services.
The big advantage of Bluetooth Marketing is that this is a strategy completely free. There is no maintenance cost for your company distribute files to your customers.
However, the use of this feature consumes a lot of battery and for this reason it is common for users to keep it off. Therefore, take into consideration that despite being a great tool to communicate with people near to your business, its scope is still very limited.
QR Code Marketing
Technology that is already widespread and appreciated, the QR is a barcode in 2D, where the user uses your smartphone's camera to scan the code and be redirected to another page.
This feature is very used to extend the range of actions of traditional marketing, directing customers to your company for any internet address quickly and safely.
By inserting a QR Code in a pamphlet of your company, for example, you can direct users directly to the website of your online school, which works as an action quite straightforward to sell online course.
In addition to the actions mentioned, it is important to remember that the website for your online course must be responsive, i.e., the user should be able to open and view it on any mobile devices file formats, such as mobile phones and tablets, correctly and without any problem.
Besides to make navigation easier for the user, this is a criteria used by Google to ensure a better positioning of the site in searches tools.
Sell online course can be more simple than it seems. Draw a marketing strategy concise and focused and within a short time your first students will appear.
The Coursify.me allows you to host your course on a page completely customized with your visual identity and provides tools to help you promote your business. Contact us via e-mail help@coursify.me and learn why we are the best choice for your online school.