How to Measure the Effectiveness of Your Online Business Training 
Conducting an online business training has a number of benefits for both your business and your employees.
Empowerment through distance learning courses, in addition to saving resources and overtime, contributes to increasing the productivity, creativity and competitive advantage of your staff, which means an excellent return on investment (ROI).

Online Business Training: The Importance of Performance Metrics
Despite their huge potential, unfortunately, not all online business training programs achieve the expected results.
What everyone knows about online learning is the need to monitor student performance, but few remember that it is also necessary to evaluate the effectiveness of the course.
– Corporate Education and Online Training
This is where training metrics come in. They aim to help you identify problems before they are repeated and nullify your training efforts. 
Let's say you have created a high quality assessment for online business training, but you find that most students are not performing very well.
You could just ignore it and blame it on the students. Alternatively, you can investigate the problem (which may be a difficult to understand assessment, for example) and fix it in time not to compromise the results of the whole training.
Capturing problems before they are out of control is great, but it is far from being the only advantage of using the right training metrics. 
Being able to track and measure the effectiveness of your training and make continuous improvements results in a better experience for your employees and a better ROI for your business.
Importantly, this applies not only to online business training, but to all types of eLearning courses that want to ensure effective teaching for their students.
– Practical Guide to Creating and Selling Online Courses
Know Your Metrics and KPIs
Before delving into the different metrics, let's take a short break to explain what we really mean when we talk about "metrics." 
Today, metrics have become a buzzword in almost every industry, to the point that the true definition of training metrics has been somewhat forgotten.
Typically, metrics refer to the broad measure of something and aim for a quantifiable result, so that it is easy to compare with other metrics. 
For example, a training metric can be used to measure course completion rates for different courses.
On the other hand, key performance indicators (KPIs) are a deeper measure of a specific aspect of your training. Once a metric becomes an important factor in deciding which action to take, it becomes a KPI.
In general terms, KPIs are quantifiable measures used to track and evaluate the status of a specific process.
For example, you want to know exactly what percentage of sales increased after your team was trained to use the new active customer database.
It is important to remember that training metrics are not good unless they can actually be measured, either through KPIs or sub-metrics. For example, "improving sales team performance" is not a metric per se. It is more of a business goal. "Improving sales staff call rates by 25%" is much more measurable.
Therefore, when planning how to measure the effectiveness of your online business training, keep in mind that the details of each defined metric may require the establishment of more detailed KPIs.
– Why Implement Corporate Training in Companies
Key Training Metrics
Efficacy in a training context can take a few different forms. A popular angle is a positive return on financial investment. Another is increased productivity or improved teamwork capacity.
Before starting any online business training program, define exactly what you expect to achieve with the program and how your success should be measured.
While there are many ways to measure training effectiveness, some of the most important metrics fall into the following categories:
Activity and Engagement Metrics
Considering the time, planning, and resources invested in an online business training program, it is important to know that your employees are really taking it seriously.
After all, if your employees are not involved, they are not learning and therefore are not approaching the goals you are aiming for.
Some of the points to monitor with training metrics include:
Time spent on each activity: Are students having difficulties with any specific activity? Why? Do they need more support or is the activity too difficult?
Time to complete the course: Are students taking too little / too long to complete the study? Why? Is the course too difficult, easy or time consuming?
Course Completion Rates: How many students are successfully completing the course?
Activity Completion Rates: What activities are students not completing and why?
Dropout Rates: How many students are not reaching the end of the course? Why?
Student Drop Out Points: Where did the course lose more students? Why?
These metrics can be automatically collected by your Learning Management System (LMS). A well-structured LMS, such as Coursify.me, can also generate automatic reports.
These analyzes can be used to alter and test different variations of online business training and to improve the effectiveness of future courses.
Proficiency and Business Impact Metrics
Learning new knowledge, skills and behaviors is the main goal of any training program.
Fortunately, training metrics related to these goals are relatively easy to calculate.
Taking tests before and after the course, for example, can be helpful in measuring how much knowledge has been improved.
During training, to measure student performance, assessments such as written tests or hands-on simulations can provide timely feedback, helping students to evaluate their own performance and to understand points to which they need to pay more attention.
These are simple but effective metrics for evaluating training and development. This is also the easy part. 
Measuring the extent to which this new knowledge has been applied in practice in the work routine is a little more challenging.
Here are some metrics that measure the impact of training directly on business:
Impact on Work: Have there been changes in productivity, sales, customer service ratings, or operational efficiency? Are employees faster, more effective or produce with higher quality?
Time to impact on work: How much time elapses between course completion and noticeable performance improvement?
Business Impact: Is there a relationship between training and increased profits or the execution of strategic goals? Has there been a decrease in staff turnover?
Training ROI: Has the cost of development and / or delivery the training been reduced and training ROI improved?
Behavior change can be difficult to measure quantitatively but sometimes specific changes in performance can be measured. 
For salespeople trained in a new database system, for example, the percentage increase in the number of daily customer calls can be easily measured.
Learning Experience Metrics
While all of the above training metrics are crucial in understanding if your training efforts are paying off, it is also important to understand how your employees felt about their online learning experience.
– How to Create a Successful Online Class
After all, if they think the training was too easy or too difficult, unrelated to their career development goals or simply boring, it impacts their performance and their metrics.
So how do you measure the learning experience and satisfaction of your employees? Through feedback surveys that measure user experience, asking them to answer questions that measure diverse course factors, such as:
quality of learning materials and content;
the relevance of past information;
ease of tracking content;
organization and coherence of teaching material;
adequacy of evaluations;
online learning experience in general.
There are several free tools available on the internet that make it easy to create satisfaction surveys or even quizzes and ratings.
– How to create online questionnaires
Quality research focuses on 20 or fewer key questions and is built on an easily interpreted scale such as a range from 1 = strongly disagree to 5 = strongly agree.
LMS Features to Measure Performance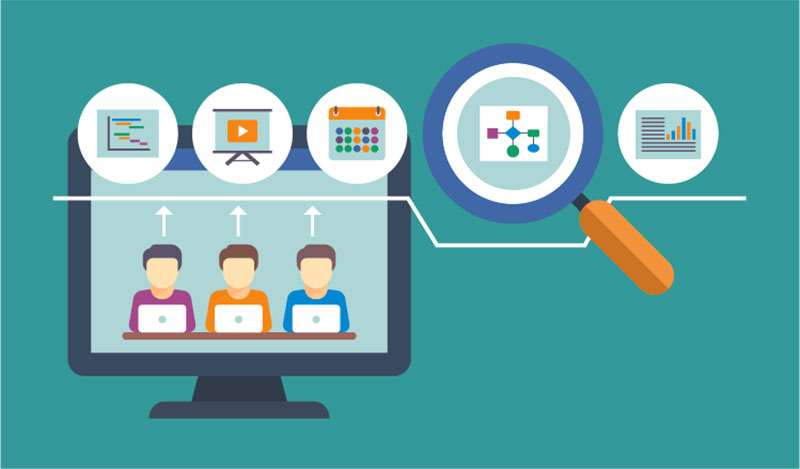 It is much easier to measure the effectiveness of your online business training by using the appropriate training metrics. 
And that's much simpler to do if your online learning platform provides the tools you need to automatically measure student and course performance rates.
Complete eLearning platform, Coursify.me lets you manage your students and track their progress and performance in real time.
The platform also provides growth charts through which you can accompany the growth of your courses through graphs that show the number of sales and enrollment.
Present in more than 60 countries, Coursify.me is the perfect solution for companies that want to host online business training courses.
– Whats is a Learning Management System
Coursify.me has three plan options for you to decide which one best suits your needs. Developed for companies, with Business Plan you customize your own domain and remove the Coursify.me brand from all your pages and courses.
That means you do not even have to invest in building your own elearning platform. The Coursify.me is ready for you to enter your courses and create a fully customized page for your business.
To learn more, visit our website, test the platform and know why we are the best option for your company.