8 tips for creating online courses with success
If you are thinking about creating online courses or already have one, but you are not getting the expected results, this article is for you.
We've gathered a lot of what we've learned in ten years in the eLearning market in eight valuable tips to help you. Check out!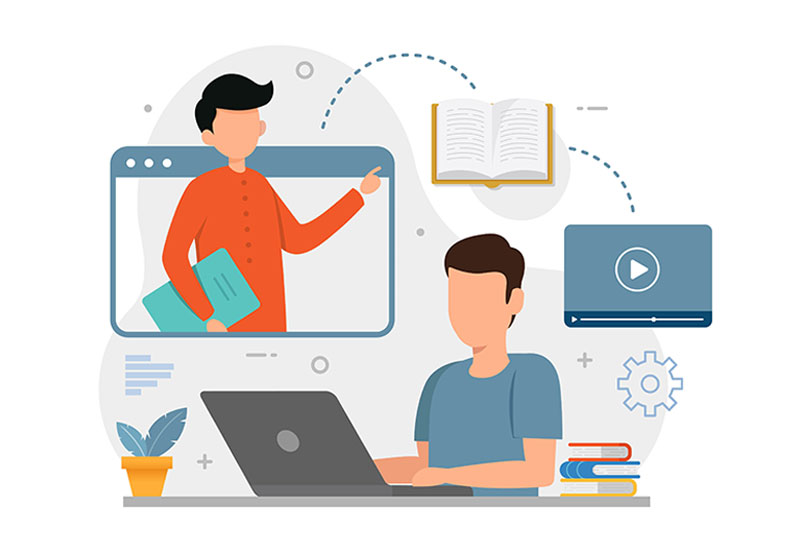 8 Tips for creating online courses
There are several ways to create online courses and you can choose which one best suits your niche and audience.
Those who want to teach crochet, for example, may have more success with a course based on handouts, with instructions written in detail.
Those who want to teach grammar can have better results with video lessons and text materials to complement.
It all depends on the topic you are going to address, who your target audience is, what suits your profile best and facilitates teaching and learning.
Although setting up the course is the hardest part, there are several other issues that can raise doubts during the process, make you fearful and end up disturbing your results.
It is these questions, these "gotchas" along the way, that our tips will address below.
– 3 Tips for creating more effective video classes
1. One course is all you need
Many people, before setting up even one course, are already concerned about the next ones, as if they owe students who they don't even have yet a sequel.
Focus on creating just one well structured course and with full focus on your target audience.
Launch, get feedback, and worry about later when it comes.
2. Better done than perfect
Another major obstacle for those who start creating online courses is the eternal search for something perfect.
This just slows you down and prevents you from reaching your goals.
Create your course, publish and make adjustments while conquering your audience. 
The truth is that you will need feedback to achieve the best possible result and that will only come after you are already in the market.
Do your best and let time, experience and your students help you arrive at the ideal result.
3. Be bold with your sales copy
A good copywriting is key to selling courses on the internet.
You're not selling a tangible product, something people can see and prove. It is necessary that they trust your word about the quality of what you are offering, so your sales copy needs to be attractive and highly persuasive.
Make it clear what your offer is, what advantages it holds and what your guarantees are. For example: Online customer service course with certificate and letter of recommendation. Ideal for those looking for their first job. 30 day guarantee with full refund of the amount paid.
Remember that you only have a few seconds to capture the user's attention, so your core message needs to be strong and bold.
Afterwards, complement it with other guarantees and benefits, such as testimonials from those who have already taken their courses, support team, easy payment, etc.
Keep in mind that your copy on the sales page attracts or repels. It goes along with a certain energy and people can usually feel it.
So, if you still don't feel capable of creating a bold offer, maybe you need to adjust something in your course to feel secure and pass this on to the customer.
– 3 Copywriting Tips to Sell More
4. Humanize your offer
Many people are still afraid of buying online courses because they feel that their learning will be hampered by the lack of a teacher nearby or because they feel that they will be bored without the dynamics of a classroom.
To end these insecurities, humanize your offer as much as possible. Create a presentation video showing your face, talking about yourself, your resume, intention with the course and whatever else you find interesting to captivate your audience.
Ask other students or colleagues to leave testimonials talking about what they think about the course, the classes and you. This type of material serves as social proof and has great power of persuasion.
Include channels in your sales proposal to answer questions and live classes, as well as the possibility of a chat for students to leave questions and talk to each other.
Don't hide your personality, show that you like what you do. People are naturally attracted to those who show good will and energy.
5. Videos make the difference
It is true that we have successful cases of courses based on handouts and texts, but they are for more specific situations, such as tutorial classes, for example.
Nowadays, we recommend everyone who wants to create online courses to invest their time in producing video lessons, even if it's just some and the rest of the content in other media formats.
Main means of online content consumption these days, videos are engaging, it humanizes the course and makes it easy for the learner to connect with you and what is being said.
Record some explanatory classes and be sure to go live to talk and answer questions, this is definitely a differential that your students will appreciate and it will look great in your sales copy.
– 9 tips for recording professional-looking videos
6. The launch doesn't always go as we expect
If you thought the production part was the biggest challenge in creating online courses, get ready for launch week.
You may have noticed by now that there is a launching formula that is used a lot these days, and there's a reason for it, it works. BUT, it takes work and that doesn't mean it will bring super results right at the beginning.
If sales are below the expected average, don't get discouraged or give up, keep growing your audience and investing your time in advertising.
Offer a few free lessons to prove your authority and show students what they can expect from your course.
Creating one free online mini course and offering it in exchange for subscribing to your email list is a great way to get a qualified audience.
You can use this strategy in the pre-launch phase to test your course acceptance. This gives you time to make minor tweaks, if necessary, before the official launch.
– 5 Steps to pre-launch online courses
7. Never stop growing your audience
Before, during and between launches. Otherwise, you run the risk of seeing your sales stagnate.
One of the best things about creating online courses is being able to sell the same product over and over again. That is, you dedicate yourself to producing it only once and it generates revenue indefinitely.
However, the same people will not buy the same course twice.
If your message hasn't changed, you simply won't make new sales until there are new potential students in your community.
Take advantage of the fact that your course is ready and dedicate yourself (for a while) exclusively to growing your audience.
Keep a schedule of regular posts on your social networks, organize an email-marketing campaign, create materials that serve as lead magnets, produce content for your blog, partner with small influencers to talk about your course, and so on. 
Anyone who sells something on the internet can never neglect digital marketing.
– Digital marketing to promote online courses
8. Focus on delivering what was promised
Keep a direct communication channel with your students, ask for feedback, pay attention to all their comments and opinions, answer your questions as quickly as possible.
Your online course will only be successful in the long run if it delivers the promised results and receives good reviews.
Don't rest until you get these ratings, until you're worthy of them.
Keep improving your course, updating your material, show the student that you are there and you care.
Create groups on Facebook and WhatsApp to facilitate communication and knowledge sharing.
For creating online courses with success, you need to go beyond selling. Be present and propose to work and help your student until he has the transformation he seeks.
Host your online course on the right platform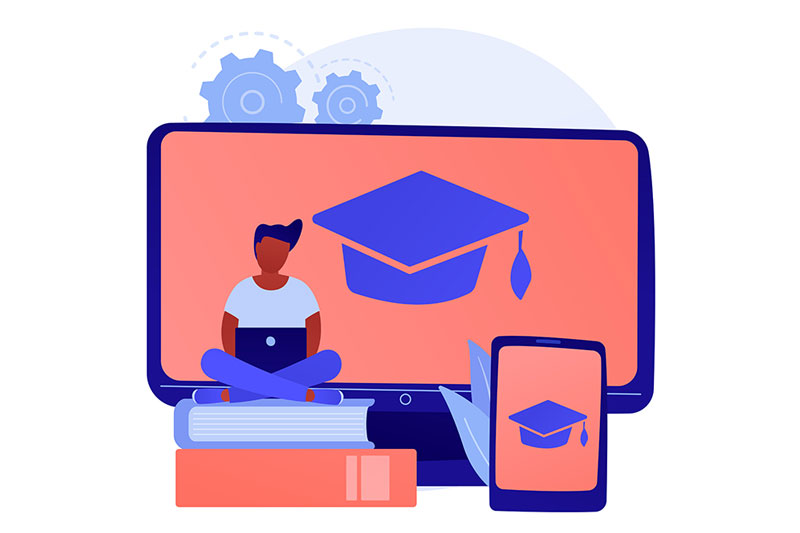 This may be your first course, but it doesn't have to be your last.
Creating online courses is also a matter of practice and over time it becomes simpler and faster to produce new content.
As your business grows and becomes more professional, so does its value, and it can be a good source of income.
However, a determining factor in the success of your course is the platform on which it is hosted.
If your students have trouble purchasing it or accessing the content, it can all go downhill.
Choose one platform with a user-friendly interface, so anyone can use it without having to be a computer genius.
Also make sure that this Learning Management System (LMS) has all the necessary resources for your course, such as integration with video platforms, possibility of hosting videos and other types of media, integration with payment platforms, etc.
– Whats is a Learning Management System
Chats that allow interaction between students and teachers are also an important differential for teaching and student satisfaction.
A good LMS still has regular updates, support staff, responsive systems so that it can be accessed on any type of device and much more.
Complete eLearning platform, Coursify.me is the ideal solution for those who want to create, sell and promote courses on the internet.
Serving companies and professionals in more than 60 countries, the platform offers several customization options, so you can create a virtual school with your identity.
To find out more, visit Our site, take a test and start creating online courses right now.