How to write great content for your online school
When it comes to creating an online school, a lot is said about how to plan the content and in what formats it can be presented, such as videos, tutorials, audio, etc. However, regardless of the chosen format, one element will always be present, the texts. 
Whether it's in support materials, handouts, tests or your class summaries, written content will show up and, to create clear and effective communication with the student, your writing needs to be the best it can be.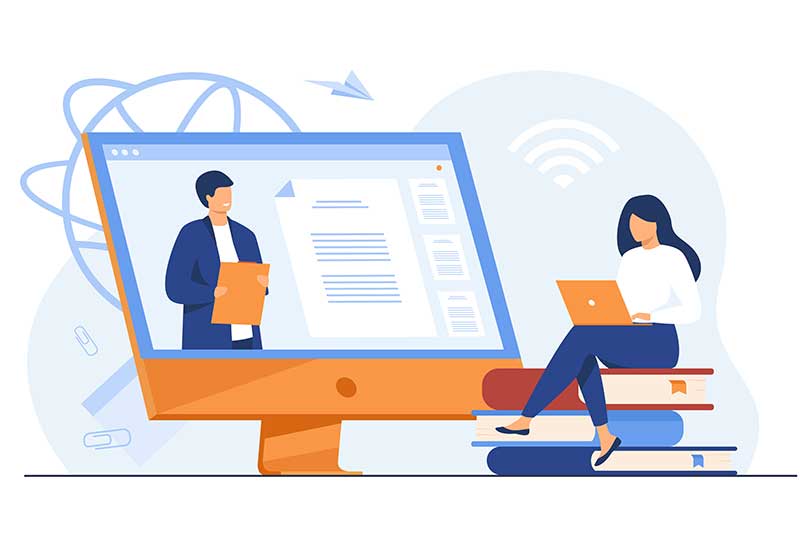 Tips for creating texts for your online school
When creating an online school, care with writing in the production of textual material is fundamental.
Even if you opt for a course whose classes are on video, you will still need to prepare a basic script to organize what will be presented, not to mention that it is highly recommended that you use subtitles to make the content more accessible.
Another very common way to create online courses nowadays is to deliver the material in eBook, handouts and powerpoint or PDF presentations. Needless to say that in these cases the writing must be excellent.
Any grammatical or concordance error gives the image of amateurism and can cost the client's trust, who will hardly recommend your course. In addition, poorly worded sentences hinder understanding and impair learning.
Adopting good written language when developing an online school is a prerequisite for creating a motivating and engaging elearning experience.
In order not to fail in this regard, we have prepared some tips to guide you in the development of well-crafted and easy-to-understand texts.
– 7 Strategies to Build a Successful eLearning Course 
Make a plan
Everything that is previously planned is easier to execute. If you are going to write a text, the first thing to do is define the theme. 
When the subject to be addressed is clear, the next step is to research, gather ideas, classify them according to their importance to what you want to say and finally put them in order. 
It is from this planning that you will develop your text and, believe me, it will be much easier.
Know who you are writing for
If you are writing texts for the content of your online school or to promote it, one thing is for sure, you need to know who you are writing for.
Knowing your target audience is your main mission. When you know your audience it becomes much simpler to write for them, once you know their pains and desires, what they are looking for, how they communicate, etc. 
Producing content focused on your prospects is one of the best ways to grab their attention and not waste your marketing efforts.
– Content marketing to sell online courses
Avoid redundancy and information overload
The motto, "less is more", also applies in the production of good written content. 
Avoid stuffing words, you don't need to fill in a certain number of lines and you won't even earn more points for that, quite the contrary, a convoluted and redundant text loses the reader's attention quickly, in addition to making learning difficult. 
To create a well-organized text for your online school, do the following:
Use short, relevant headings to provide the main information about each chapter, this helps the student to stay organized and keep a train of thought. 
Keep the content concise, online course students will usually access the classes in the little time they have off from other day to day activities, so get straight to the point.
Images that represent something being taught are important to facilitate understanding and give a pause in the reading process, but be careful with the excess of purely decorative images, which add nothing to the content.
Organize information correctly
An informative text is composed of a introduction in which the topic to be addressed, the development of the idea and the conclusion are described. But other than that, there are means to organize the way information is presented to the reader, considering that he will be reading the material on a screen.
Studies of neuroscience applied to virtual education/graphical interfaces suggest that Instructional Designers arrange information in an "F" shape, as they show that this is how we read online. 
Use this quadrant to diagram information so that the most relevant information is well positioned.
Divide the content into topics, offer the information in chunks. This helps the student more easily retain what he has learned. Put what matters most first.
An online school can offer content in different formats, which helps to make everything more interesting for the student.
If there is a subject that is more difficult to understand or that deserves more emphasis, use images, audio, video and infographics to support the written material and explain it better.
– How to apply Instructional Design principles in your course
Be original
Produce your own content. Of course, you can reference materials from other authors, but your online school must have original content, something that students value a lot, even more so if they are paying for it. So, you would need to avoid plagiarism in your written content to maintain its originality.
Look for new ways to teach. Even if your content is largely theoretical, there is always a way to deliver it in a more engaging and entertaining way. 
A procedural text may work best with a series of visual steps, for example, and different concepts can be explained through tutorials.
Materials that can be studied offline are also very important, as they allow the student to absorb the information at their own pace. Develop reading content or activities such as quizzes to help them test their knowledge.
Bear in mind that writing is not just a resource used to produce texts. It helps you to organize your thinking, create scripts for your lessons and support your videos through the captions and slides shown in parallel.
Writing is a powerful tool and whoever knows how to use it in the best way will be able to communicate effectively and will achieve better results.
– Record video tutorials: tips for getting the best result
Promote an enjoyable reading
Informing does not necessarily mean being serious and pragmatic. 
If there's one thing people like to do on the Internet it's interact, give their opinion. Perhaps for this reason most of the texts we found are written as if it were an informal chat with the reader, instigating interaction. 
With a little detachment and creativity you can create content that, more than informing, will also entertain your readers and make them more enthusiastic about your online school.
And remember, never ignore comments and observations made, respond to everyone and show that you are attentive to your audience.
If you are hosting your courses on Coursify.me, you can use the Student Area chat to promote interaction between your students and answer questions.
A support group is one of the most important things for effective learning. It gives your students the opportunity to ask questions, get feedback, and share their big and small wins.
In these groups, people will want to interact with you and this is a great way to show your knowledge, help, build a relationship and build student loyalty.
BONUS TIP: Understand a bit of SEO and Copywriting
When promoting your online school you will probably have to deliver free content as a way to attract an audience, which can be done through blog posts and social networks , for example.
When it comes to producing texts that need to stand out online, some extra factors are added to attract the attention of search engines and improve the positioning of your page, such as the use internal links, images, sharing buttons, among others.
These are the so-called SEO (Search Engine Optimization) techniques, a group of strategies applied to the text that are fundamental to gain relevance in search results and increase your chances of visualization.
Google itself has already released several strategies that can be used to get a good position in search engines, such as the use of keywords, titles and subtitles, and much more.  
Another thing you should study, especially when producing texts to promote and sell your online school is copywriting.
Copywriting is about producing texts for sales, that is, with persuasive appeal. Understanding and applying a little copy makes a big difference when it comes to attracting the user's attention and believe, it brings good results.
– Practical guide to SEO and Copywriting for online sales
Promote your online school with Coursify.me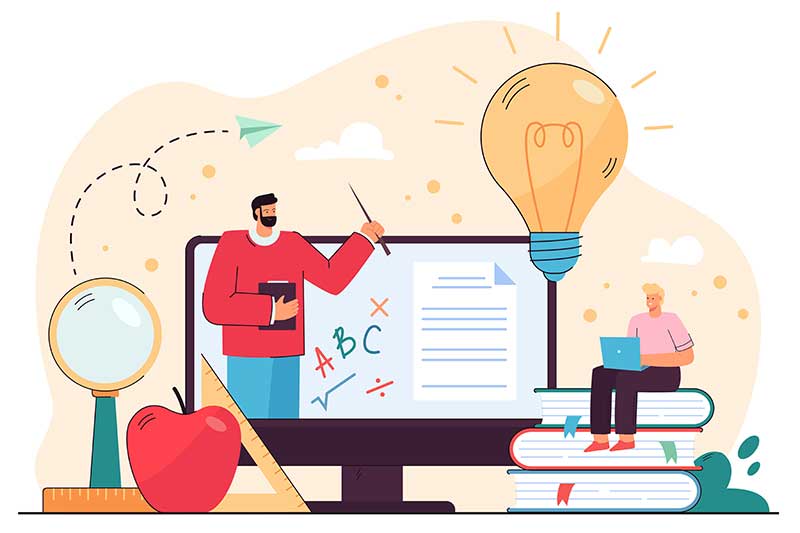 Knowing how to write is very important for anyone who has an online school, which in addition to having written content, will have advertisements on websites, blogs and social networks as its main means of dissemination. 
We hope that the tips we've gathered above will help make this process easier, or at the very least serve as a guide for you to start improving your writing.
Another very important tip for those who have difficulty producing texts is: read more. Reading is the main means of vocabulary formation, the first step in creating a quality text.
Course ready, the next step is to create your online school on Coursify.me and start selling it.
Complete eLearning platform, Coursify.me has all the resources you need to create and sell online courses, like the ability to upload content from channels such as YouTube, Vimeo and Dropbox and integration with payment gateways such as PayPal.
Serving businesses and professionals in more than 60 countries, Coursify.me is a dynamic and customizable Learning Management System (LMS).
To learn more, visit our website, test the platform and start creating your online school right now.