Email automation: how to use it in your marketing campaigns
One of the many reasons email marketing is such an effective strategy is email automation. 
With this feature, you can configure emails to be automatically sent to your subscribers when they sign up for your list or when they take a specific action.
Valuable tool for capturing and retaining customers, in this post we are going to talk about how email automation works and the best ways to use it.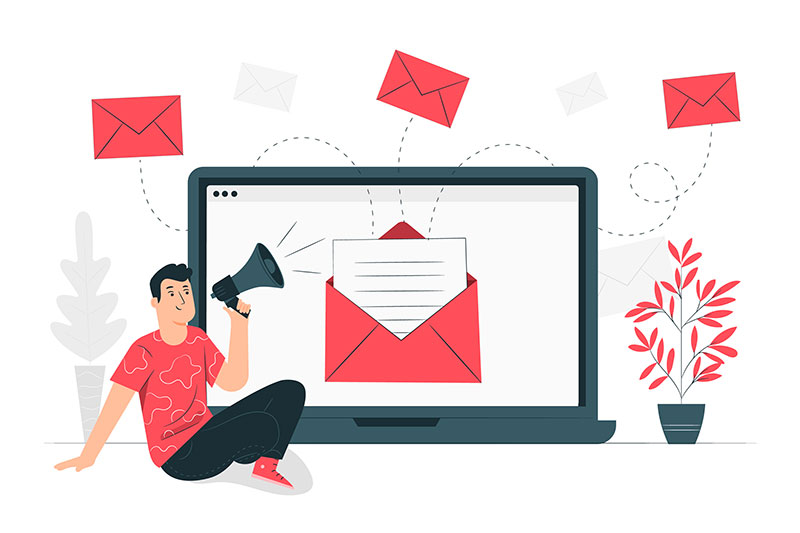 What is email automation?
Automated email is any message sent automatically from your email service provider in direct response to specific actions by a user.
A simple example of this is when you enroll in an online course and receive an enrollment confirmation email. Or when you leave an item in your shopping cart and receive an email from the store reminding you to complete your order.
Among the main benefits that sending these individual messages in real time brings to your business, the following stand out:
Loyalty: E-mail is a powerful tool to communicate with the customer, which favors the creation of a relationship. By submitting relevant content that helps and informs the reader in some way, they are more likely to be satisfied, buy from you and recommend your brand to others.
Retention: Everyone likes to feel seen and valued, which is why brands that offer personalized communication and assistance have a higher rate of customer retention. 
Action: One of the reasons automated email is so powerful is that it targets people who have already engaged with your website or app. This means they are further down the sales funnel and more likely to take action.
Even though it is a valuable strategy, many companies still seem to have doubts about its implementation.
However, starting a automated email marketing campaign is simpler than you might think.
–  6 Email Marketing Tips for Small Businesses
Email Automation Overview
Here's an overview of how email automation works:
A user fills in the signup form on your website, providing his email address;
An email is automatically sent to the user to confirm the entered address;
Once the email is confirmed, the user's details are added to a predefined list along with other data such as the subscription source, the reason the user subscribed, etc;
A 'Welcome Email' is automatically sent to the subscriber, along with what was requested in exchange for signing up (if any), such as a free download, discount coupon, etc.
This entire process is performed automatically and in a few minutes. From that point, the user becomes part of your email list.
– How to build an email list for your business
You can then choose to enroll them in one or more email automation tasks (events) based on various parameters such as:
The date they subscribed to your list
Whether they opened a specific email campaign or not
A product they purchased from your store
Specific pages they visited on your website
Specific actions they took on your website like adding a product to their cart, clicking on a button, etc
Personal and Demographic Data
Email Automation Events
The next step is to create messages for each of the listed parameters. 
Each message type corresponds to an email automation event, the most common and effective are:
Double Opt-in: Email verification message sent to a user when they subscribe to your list. 
Welcome email: Sending a welcome email to the registered user after double opt-in.
Cart abandonment email: A very effective sales strategy, it refers to sending an email reminding the user to complete an order that they left open on the website. 
Feedback/Comments: Excellent for improving your operation and generating social proof for your business. You can schedule an email to be sent X days after the user completes a purchase and remind them to add a comment or provide feedback.
Cross-Sell and Up-Sell: Two classic email types to increase sales, they are planned based on the customer's purchase history. Its content focuses on the indication of a product that is a new version or upgrade of the one that he has already acquired, or complementary items to the one acquired.
Subscription renewal reminders: Very useful for those who sell online courses on a monthly basis or run a SaaS business, this email is automatically sent to remind users to renew their subscription when it is close to expiry.
Win customers back: If a customer doesn't renew their subscription, you can automate emails with discounts and new offers to win them back.
It's a lot, but it's still little compared to the huge list of opportunities that email automation offers. Let's continue to take a look at what else it can do for your company.
Email Sales Funnels 
In addition to the automation tasks mentioned above, which are easy to implement with the help of an email server, you can also implement email sales funnels.
– Understand How the Sales Funnel Works
These funnels are known as autoresponders and are very effective in scaling sales.
Here's an overview of how a funnel works:
A visitor signs up to your list, confirms their email and receives the welcome email;
Two days after subscribing, you send an email with your best content;
You wait a day and send more personalized content to those who opened your previous email.
Based on this strategy, you can create even more complete funnels. Suppose, for example, that someone subscribed to your list in exchange for downloading an ebook:
Thevisitor confirms his e-mail address;
You send the welcome email with the free download link;
Two days later, you submit more valuable content, related to the ebook;
Three days later, you send the person who opened your previous email a personal email with more information about your company and products;
Two days later, you send the person who opened your previous email a sales email with a CTA (call to action).
The opportunities are endless. You can use the user data you have at your disposal (personal, demographic, purchase history, email open history, etc) to create an email sales funnel that works best for you.
The best way to start is by segmenting your list. Divide your subscribers into different groups, mainly taking into account their interests to ensure you send content that really appeals to them. 
Keep in mind that not everyone subscribed to your list for the same reason.
This segmentation is very important not only to design a more effective email automation strategy, but also because it shows respect for the customer.
Nobody likes getting tons of promotional emails, especially when they have nothing to do with what they're looking for.
The first step is always to try to capture their interest with valuable content, and only then present your products or services.
– Benefits of Content Marketing
Email List Segmentation
If you still have questions about how to segment your email list, ask your audience.
For example, if you have an online crochet course, you can send an email to your list asking a question and offering options:
What kind of messages do you want to receive from us:
Launching new course modules
How to Make Apparel Items
Anyone who clicks on Everything will get all your emails, but those who click on How to Make Bags, probably don't care about Tips for Beginners, because they are already at a level more advanced.
A second type of segmentation indicated is focusing on the group of people who did not open your first email.
You can segment this group and create the "Resend to those who didn't open" email automation task. 
It's normal for not all people to open your emails, don't worry. Often just changing the title is enough to convince them. Make tests!
How does automated email sending work?
Doing email automation is a lot easier than it sounds, thanks to email marketing apps like MailChimp and so many others on the market today.
The process is simple: create a campaign and set up a trigger (a predefined event) that will activate automatic sending when the event happens.
To illustrate better, let's consider a welcome email automation. Its configuration must be done according to the following steps:
Install an email marketing tool: MailChimp, Hubspot Email Marketing, LeadLovers, ConvertKit, etc.
Create and segment your email list. 
Configure an automation trigger. A trigger is an event or condition that will trigger the automated campaign (course enrollment, newsletter signup, abandoned cart, among others).
Create email campaigns: craft email content using text, images, CTAs, your logo, contact details, etc.
Activate automation: choose the time to send the campaign and activate it. Monitor performance to find opportunities for improvement.
With the right tool, setting up email automation is simple even for beginners. Do a search on the internet and see which ones are most recommended for your type of business.
For those who produce online courses and create content, for example, ConvertKit is a good option (although it pays). It even has courses to teach you how to use all the resources it offers. 
The most time-consuming task is creating the content of the emails. Remember to do your copywriting right. 
– How to create email campaigns with MailChimp
Use Email Automation to Sell More Online Courses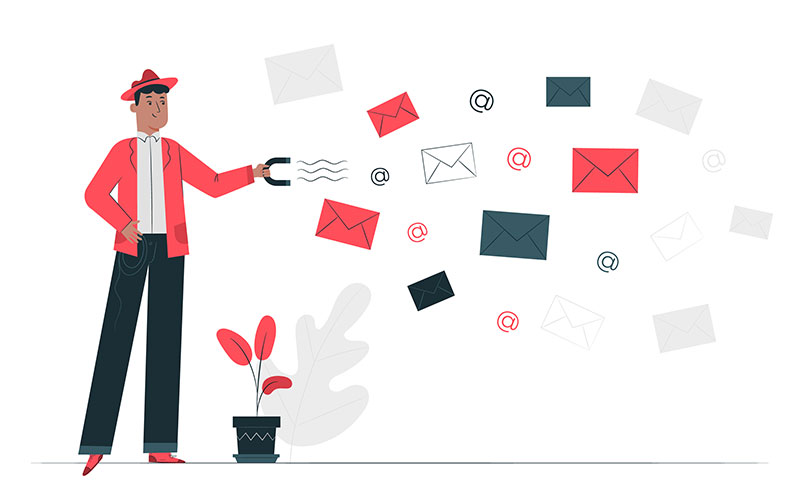 If you want to enjoy all the benefits that email marketing offers, you will need to use email automation.
Most email marketing platforms have box workflows that you can start using right away.
Automated messages like cart abandonment, follow-ups, upselling and cross-selling emails are easy to set up and don't take a lot of time.
What takes the most time and effort is crafting the right messages to address your audience. 
– 3 Copywriting Tips to Sell More
Make sure you test (and then test again) for the best results.
Test subject lines, content, CTAs, timing, and even custom metrics that reflect the purpose of your email, like page views and enrollments in your course.
Also be sure to provide easy unsubscribe options and email preference management. This will allow you to focus your efforts on truly engaged users.
The good news is that once you figure out the best workflows to use, you can leave your campaigns running automatically and focus on other tasks to grow your business. That's the beauty of email automation.
Complete eLearning platform optimized for SEO, Coursify.me is the ideal solution for those who want to create, sell and advertise courses on the internet.
Serving businesses and professionals in more than 60 countries, the platform is a dynamic and customizable Learning Management System.
– Learning Management System: What is it?
To learn more, visit our website, test the platform and understand why we are the best option for your online course.